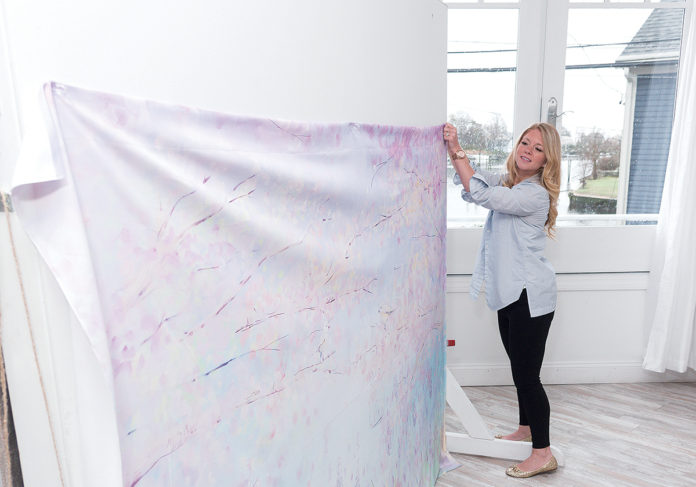 Mix babies, creative artistry, entrepreneurialism, technological savvy and female drive and you get a leading Rhode Island photographer and businesswoman named Heidi Hope Guerard.
Guerard is president, founder and creative director of Heidi Hope Photography, a private, international small business headquartered in Cranston, with clients from Europe to Brazil and the Philippines.
While Guerard runs a spacious studio on Broad Street in the heart of Pawtuxet Village, she has become adept at global marketing on the internet through her website, www.heidihope.com.
The Heidi Hope brand is unmistakable. Smiling babies emerge from large eggs; others sleep or pose charmingly on flying pillows; a young brother and sister romp through autumn leaves; a smiling 2-year-old boy stands in a rowboat before a painted, dreamy, nautical scene; a happy couple with their children stroll in a bucolic setting.
"We create our photographic brand," Guerard said, "by knowing how to relate to our clients, exercising great patience, loving children and what we do."
Guerard was born in Warwick in 1991, attended parochial and public schools and graduated with a fine arts degree and teaching credentials from the University of Massachusetts Dartmouth in 2007. UMass Dartmouth is also where she met her future husband and business partner, Shaun Guerard, a finance major.
"We were married the year I graduated from college and I began teaching as a substitute in a suburban Worcester high school, where I really had to learn a lot on the job of what I was supposed to be teaching," she said. "Child care, cooking, video production, digital photography and internet mastery were not on the fine arts major course at UMass.
"I became very interested in advanced photography and the internet, and after our first daughter was born the following year, I started taking artistic pictures of babies and families to earn a little extra grocery money," she said.
That sideline was so successful that Guerard borrowed $7,000 from her mother for camera equipment. Encouraged by revenue totaling $30,000 the first year, she opened a studio first in her condo in Worcester, Mass., then in Warwick. Shaun became her chief financial officer, eventually quitting his banking job.
Heidi Hope Photography's business growth is driven by internet marketing, with heavy use of social media and successful employment of search engine optimization. As a result, the company attracts clients from throughout the world.
"Along with clients from many states, we have international clients coming to us here from Australia, the Philippines, Brazil, Saudi Arabia, England, Mexico and Canada," she said. "We seldom have walk-in business. … Many make an appointment with us [as] part of vacations or business trips. They come attracted to our brand."
The pictures are taken in the Heidi Hope Photography studio or on Rhode Island beaches and other outdoor settings. The studio, which contains a jungle of stuffed animals and toys, was designed as a children's play land to put them at ease. The studio also contains various imaginative backdrops painted by Guerard for use in setting photography scenes.
"Part of our success is based in understanding the parental wish to capture the fleeting image of their children at different moments of their lives," she said. "As a mother of three children, I fully appreciate that wish. Great, artistic pictures of your baby and then maybe the same child at 3 give a parent something captured forever."
As the business has grown, it also has expanded into a number of new, related products and services:
• Paid educational speaking engagements to professional organizations that have led to development and offering of live photography video courses, photography marketing workshops and online educational photography courses.
• A line of limited editions of Guerard's painted photography backdrops marketed to other photographers.
• Development of elegant, high-end photography gift and display packaging manufactured by HB Packaging in Central Falls.
• Serving as New England area developer for Little Nest Portraits photography-business franchises.
• Fashion photography promoting high-end products.
Guerard estimates revenue this year will be approximately $1 million. Current total payroll is seven employees, including two additional photographers besides Guerard.
She says the nature of her business and adding new products and services make scaling particularly difficult.
"We must provide excellent artistic photography, the highest quality and service," she said. "That's not easy. But beyond that, because we are dealing with babies, young children and parents, we also need extraordinary sensitivity."