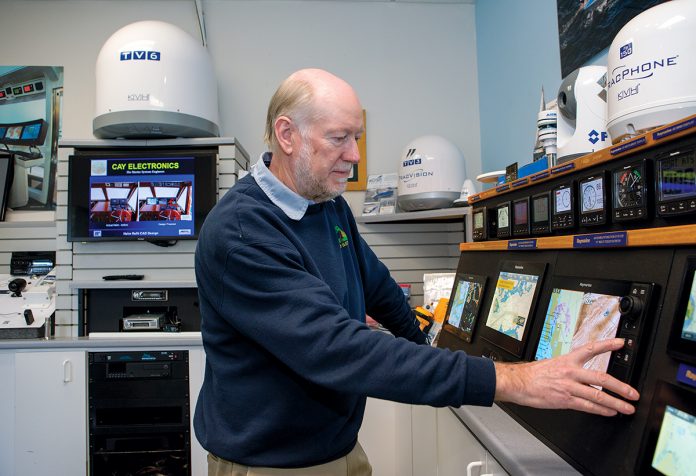 When your business is Cay Electronics Inc., which equips yachts with electrical, navigational and communications systems, the unexpected computer emergency can take place in any ocean of the world.
Not long ago, options for on-deck repairs would have fallen to the crew. But tech advancements now allow repair employees to access computers anywhere in the world through the use of satellite, explained owner Rufus Van Gruisen.
Just as a tech employee might remotely take control of an office computer that isn't functioning as it should, the marine techs at Cay Electronics can diagnose a problem and resolve it for a sailor at sea.
"They can call and say, 'Hey, this isn't working, what should I do?'" Van Gruisen said. "On bigger projects, we can go in remotely through the satellite phone."
The equipment in sailboats and powered vessels is now integrated and highly sophisticated, ranging from fish finders that illuminate the shape of the schools to programs that map the shape of objects, such as ship wreckage on the floor of the sea.
The displays have also evolved, with LED technology, into large and animated showcases. The packages for electronics vary greatly, depending on the size of the boat, but owners can expect to spend between $30,000 and $150,000 for a full system, Van Gruisen said.
Most owners understand that it's essential for safety. In some cases, the equipment is required.
Cay started its business in 1982, in one of the world's busiest spots for sailing enthusiasts, the British Virgin Islands. It continues to operate a location at Nanny Cay Marina, managed by owner Rob Wassell.
In 1990, Van Gruisen moved to Rhode Island, to tap into the Newport sailing and boating market, and established the new headquarters in Portsmouth.
Since then, the company has had reductions and growth, often coinciding with economic conditions. Much of its work is related to installations in newly built boats, but it also retrofits older boats with the updated electrical systems, as well as the ongoing service and repair functions.
As powerboats have gained in popularity over traditional sailboats, the company branched into that. It now employs 14 people in Rhode Island.
Last fall, the company raised funds in the Ocean State for the British Virgin Island of Tortola recovery effort.
Five months after Hurricane Irma struck, on Sept. 6, 2017, Tortola remains heavily damaged. When Wassell, his business partner, told him residents of the island needed basic necessities, Van Gruisen organized a local fundraising drive for items that could substitute for the loss of electricity, including solar lanterns.
The company itself was lucky. The offices of Cay Electronics on Tortola were not heavily damaged. "It survived," he said. "The roof stayed on." But the business on the island has been impacted. About 45 of the 300 hotels on the island had reopened by February, Van Gruisen said.
About half of the charter boat companies had resumed operations.
But the Tortola people are highly resilient, and the natural beauty of the island will continue to attract tourists and sailors, he predicted. "It will recover."
OWNERS: Rufus Van Gruisen and Rob Wassell
TYPE OF BUSINESS: Marine electronics
LOCATION: 1 Maritime Drive, Portsmouth
EMPLOYEES: 14
YEAR ESTABLISHED: 1982 (in British Virgin Islands)
ANNUAL SALES: $2.5 million