As 2018 reaches the end of its first quarter, the restaurant industry is looking toward its youngest guests. At the beginning of the year, a predicted trend was kids would be dining out more often and eating a wider range of foods. The forecast seems to be coming true, but with a twist or two along the way.
One prognostication from the National Restaurant Association quoted chefs as saying "healthful kids' meals" would be important, but less so than in the past. However, gourmet items in kids' meals and ethnic-inspired kids' dishes joined the top 20 trends for the first time this year. The jury is still out, with locally owned-and-operated eateries reporting a move away from a "kids' menu" approach, catering instead to individual tastes with smaller-sized portions of entrees and appetizers.
Another trend gaining in popularity nationwide and in Rhode Island is "eatertainment." These are restaurants where the initial attraction is not the food, but fun and games with food. A well-known example is Dave & Buster's. These places appeal to a wide swath of customers: youngsters love them, 20- and 30-somethings gravitate to them, and nowadays, parents can bring their families and perhaps relive their own youth.
According to industry analysts, the category is exploding nationally, attracting a bevy of competitors. They have names such as Pinstripes and Punch Bowl Social. They offer expanded, often hi-tech facilities even for traditional games such as bowling. And they offer competition for the dining dollar. While the hottest areas for eatertainment venues seem to be in the South and Southwest, the phenomenon has a beachhead in Rhode Island.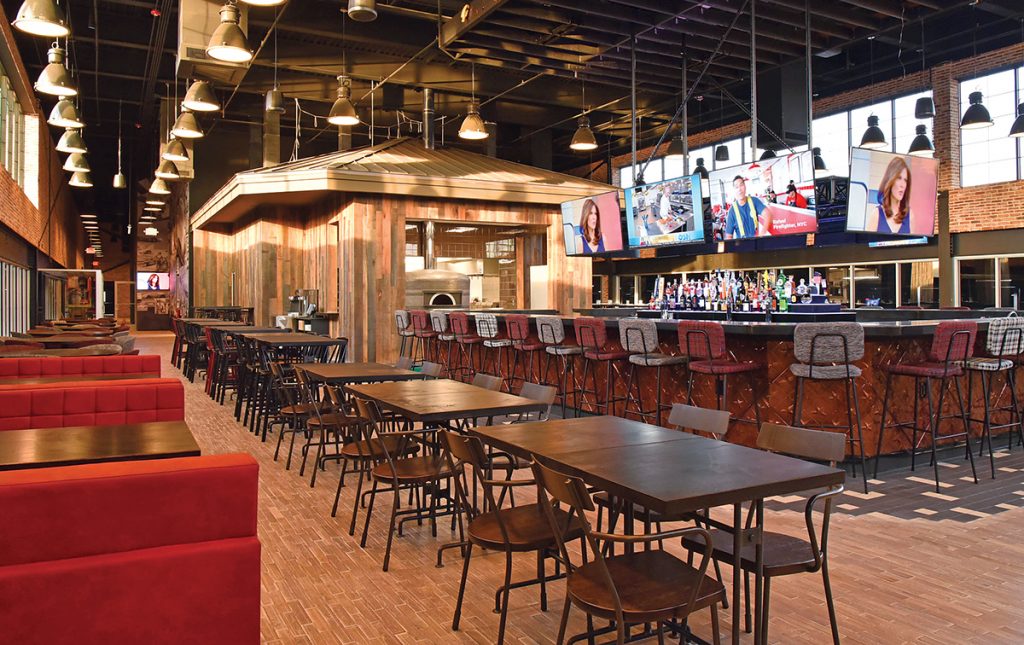 R1 Indoor Karting in Lincoln describes itself as an "indoor Adventureland." It consists of an indoor go-kart track, game rooms and a full-service restaurant. The venue opened last year and has become popular for events such as team building, as well as family nights out. R1's restaurant is called Fuel. Its menu features vegetarian-fed, hormone-free, farm-to-table rotisserie chicken from ­Baffoni's Poultry Farm in Johnston. The burgers are made from a custom blend of chuck, brisket and short rib. There are pizzas in varieties such as wild mushroom and fig or one featuring San Marzano tomato sauce, a house cheese blend, antibiotic-free pepperoni, sausage, house-made meatball and pancetta. Desserts are from Duck and Bunny in Providence.
Punch Bowl Social CEO Robert Thompson told an industry online publication that eatertainment is taking revenue dollars from traditional casual-dining spots.
But there is more competition from supermarkets such as Dave's and Whole Foods, which are being referred to as "grocerants."
It seems a simple enough proposition. Sit down to dinner as a family. But how do families get everyone to agree on when to eat and how to compete with all the demands on everyone's time, not to mention the options for everyone's leisure time?
It is just possible that eatertainment venues offer a realistic alternative for families to have dinner together and reap the benefits. With so many families finding themselves relying so much more on takeout and repeated attempts at dining out, your family just may find the experience so positive that you make it a regular habit. You may find you can get the whole crew out to a restaurant without the games, which is always a good thing.
Bruce Newbury's Dining Out radio talk show is heard Saturdays at 11 a.m. on 1540 AM WADK, through the TuneIn mobile app and via smart speaker. Email Bruce at Bruce@brucenewbury.com.