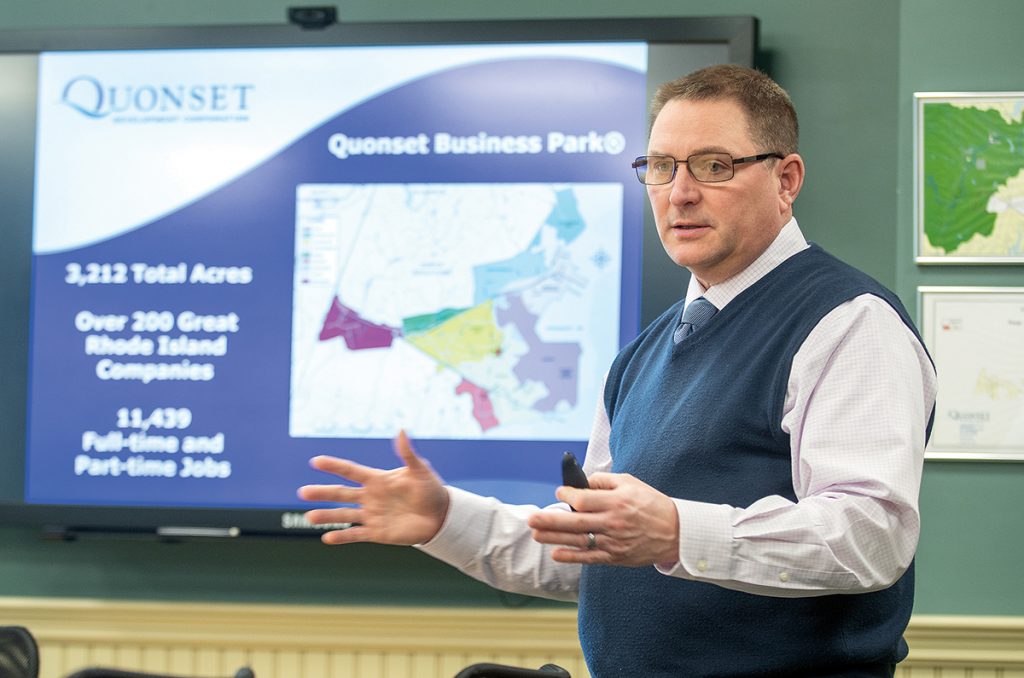 Have you ever been on a bus with nobody on it? It was a lot like that when the Rhode Island Public Transit Authority started its free "Quonset Express" bus service in late January.
State officials wanted the daily shuttle between RIPTA's hub at Kennedy Plaza in downtown Providence and the Quonset Business Park in North Kingstown to help connect people to what has become one of Rhode Island's primary engines of job creation.
Ridership on the new nonstop route has been "steadily rising" and lately has been drawing about 50 people a week, according to RIPTA. But that includes some of the same people, counted each time they board.
RIPTA recently announced it won't start charging fares on the Quonset Express, as originally planned, but will keep the service free through the end of the year. The agency also is considering extending the free route north to Pawtucket and tweaking the schedule to better fit work shifts in the park.
"We know there are a lot of jobs at Quonset and people who need to get to work," said RIPTA spokeswoman Barbara Polichetti. "The challenge is the size of the park and the varying shift times of all the different employers. … Another challenge at Quonset is the fact that there is ample free parking for employees, so we knew from the start that it was going to [be challenging] … to get people to start thinking about leaving their cars behind and trying transit."
The Quonset Express runs Monday through Friday, from Providence to Quonset twice each morning, then back twice each afternoon. The new service is in addition to RIPTA's long-standing daily pay-to-ride bus service to the outskirts of the business park. The new route runs through most of the park, making about a dozen stops – many at Quonset's largest ­employers.
Quonset Development Corp. Managing Director Steven J. King and other state officials aren't giving up on the Quonset Express. "As Gov. [Gina M.] Raimondo has noted, this bus service is about jobs and economic development – connecting workers with opportunities," King said.
If anything, RIPTA's public service to Quonset needs expanding, says Scott Duckworth, plant manager at Trussco Inc., a 35-person manufacturing operation located at the park's west end. Duckworth said the new RIPTA bus stops even further from his company than the pay service and not at the times his employees need. That leaves some to rely on the original RIPTA bus that stops at the park's outskirts, giving them a still-long walk to Trussco.
"They don't have to drop us off at the door like kindergartners," Duckworth said about RIPTA. "But we work together as a team and when one person isn't there or is late, it has a dramatic effect."
Scott Blake is a PBN staff writer. Contact him at Blake@PBN.com.