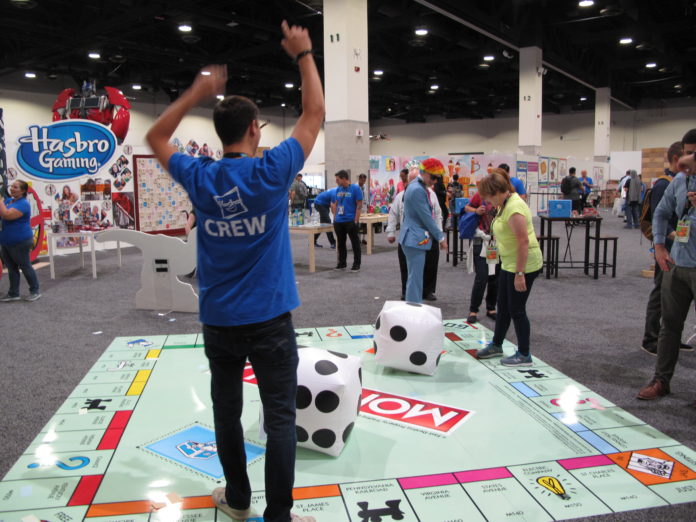 PROVIDENCE – Hasbro Inc. kicked off its first-ever HasCon event Friday, a celebration of the company's brands, which span from Transformers and Star Wars to My Little Pony, drawing fans of all ages to the three-day event.
This is the first time in the company's 94-year history where all of its brands and partner brands have been brought together for an exhibition, which lasts from Sept. 8-10 at the Rhode Island Convention Center and Dunkin' Donuts Center.
In addition to hands-on exhibits, the event will feature celebrity appearances and panel discussions, meet-and-great sessions and concerts by Daya and Flo Rida. Another draw: fans can speak directly with some of Hasbro's designers, storytellers and talent, as well as experience a behind-the-scenes look at their favorite films, toys and games.
"We know we're going to have a really robust audience," said Hasbro president John Frascotti, who expects tens of thousands of attendees over three days. According to Frascotti, the event has been set up to avoid crowding and lines for exhibits, ensuring attendees have a chance to interact with the brands. HasCon will utilize both the Convention Center and the Dunkin' Donuts Center.
"The need and desire to play doesn't have an age limit. As you walk around, there's people of all ages. Fans come in all shapes and sizes," said Frascotti.
For Brian Merchant of Dennis, Mass., HasCon was nostalgic. "This is my childhood," he said. "A lot of things that Hasbro makes, I grew up with – Transformers, Star Wars, G.I. Joe – these are all things I enjoyed while growing up in the 80s and 90s." Today, Merchant was eager to hear from Marvel legend Stan Lee in his panel discussion.
Eric Misner and Adriel Grapes made a four-hour trip from Oneonta, N.Y. to attend HasCon. The draw for them was Magic the Gathering – a trading card game – and the fact that HasCon attendees were the first to receive the new "Iconic Masters" card pack a month before everyone else.
"We've given fans of particular brands a much more in-depth experience, with panel discussions, exclusive products and collectables, and movie replicas that you can't see elsewhere," said Frascotti. "We're calling HasCon a FANmily event. We've tried to create experiences for fans and families, and I think many people will come to experience all of the brands – not just one. We have made an effort to provide something of value to fans every day of the event."
The diversity of brands was a selling point for fans like Michael Cornell, who drove from Pittsburg, Penn. for HasCon. "This was the only con event that catered to all of the things that me and my friends wanted to see," he said. "I came for My Little Pony, and they came for Magic the Gathering. You can't get that at other cons."
Frascotti said he does not see necessarily see HasCon as competing with popular events like Comic-Con. "This is a celebration of all things Hasbro," he said.
Will there be more HasCons to come? Maybe.
"This is our first HasCon. After this, we'll evaluate whether we want to do more events, host HasCon annually, or even host one somewhere outside of the state."
Nicole Dotzenrod is a PBN staff writer.