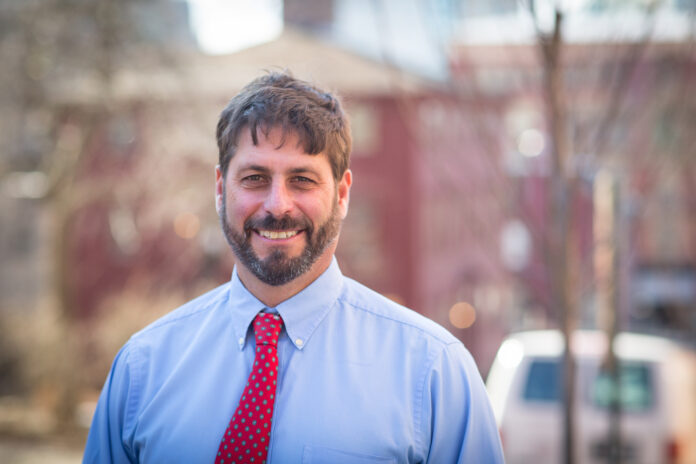 Jack Silva is the vice president of campus services at Rhode Island School of Design. He responded this week to questions about North Hall, the new residence hall that opened this semester at the RISD campus on College Hill in Providence. The building is the first newly constructed residence hall at RISD in more than 30 years.
PBN: What is the name of the new building? Is it named that for the location on campus?
SILVA: The new residence hall at RISD is called North Hall. It's located in RISD's "quad block" of buildings, an area that includes multiple housing structures, a dining facility and a fitness center. We already have East Hall and South Hall and given that; the locational name resounded.
PBN: How did the school select the architects?
SILVA: North Hall was designed by award-winning architect and alumnus Nader Tehrani – Class of 1986 – in collaboration with fellow principals Katherine Faulkner and Arthur Chang and their Boston-based firm, NADAAA.
RISD followed its standard selection process for these types of projects, led by an internal capital planning committee. The committee engages the president, the board of trustees and other campus leadership, as well as the general community, regarding campus master planning projects.
The first phase of this project was to invite select firms to propose a master plan for an overall multiyear quad enhancement project, which included the construction of this new residence hall and sequential renovations of the other adjacent structures. NADAAA was selected first, based on master plan proposal and ultimately retained to design North Hall.
Nader also designed the award-winning Fleet Library at RISD, an adaptive reuse of a beaux-arts banking hall that he and his former firm, Office dA, completed in 2006.
PBN: Why was the sustainable design a priority and did it add to the cost of the project?
SILVA: Sustainability has long been a guiding principle in RISD's campus master planning process and it is one of the three main pillars of our recently released strategic plan. This new residence hall demonstrates the institution's dedication to sustainability as a key priority. Sustainable design can seem more expensive from a materials standpoint, but often the investment ends up paying for itself when you look at the bigger picture. We utilized an integrated project-delivery methodology in the design and construction – this process allowed us to achieve our sustainability goals while finding savings and efficiencies.
For example, compared to a typical code-compliant building housing a similar number of people, North Hall will use approximately 27% less energy annually. Because it will require less natural gas than a more traditional structure of its size, RISD will save about $16,400 per year. Also, the structural design is an innovative hybrid of cross-laminated timber and steel, a cutting-edge material technology that reduces the carbon footprint of new construction.
North Hall is the first CLT-steel hybrid college residence hall in New England. While the CLT materials for this project cost about $300,000 more than traditional concrete decking materials would have, the installation process is much less labor and time intensive than concrete, so we netted out about even in the end.
PBN: How many students live in the building and were they chosen by lottery, or is it a building for all freshmen at RISD?
SILVA: North Hall houses 147 first-year RISD students. The 40,790-square-foot structure includes a first-floor workroom and gallery, and five residential floors. All RISD students select their rooms through an online room selection process. Students are assigned a selection time slot randomly by class year, and they then choose their room in the order of those time slots. North Hall is part of the first-year housing quad, and therefore only available to first-year students.
PBN: What is the population at RISD now living on campus?
SILVA: RISD enrolls approximately 2,500 undergraduate and graduate students, and of those, nearly 1,450, or about 58%, live on campus.
Mary MacDonald is a staff writer for the PBN. Contact her at macdonald@pbn.com.

Want to share this story? Click Here to purchase a link that allows anyone to read it on any device whether or not they are a subscriber.