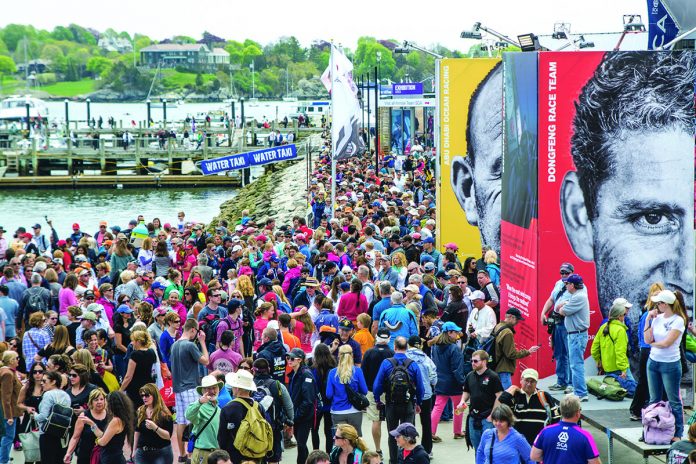 R.I. Commerce Corp. last year unveiled a much-anticipated statewide tourism marketing campaign that included an updated website and digital ad initiative.
Both centered on what was dubbed the "Fun-Sized" campaign – 10-second videos highlighting specific Rhode Island attractions. The campaign was actually begun quietly in October and November of 2017 but the agency, stung by the poor reception of the failed 2016 "Cooler & Warmer" campaign, waited until January to provide details after repeated requests from Providence Business News.
Halfway through the year, Commerce announced the campaign had netted $1.9 million in hotel revenue – most of which stemmed from residents in the Mid-Atlantic states and the Northeast.
By October, Commerce had released 23 "Fun-Sized" advertisements marketing local culture to day-trippers and vacationers. A large majority of PBN readers, 82 percent, said in an online poll they liked the new campaign and its attempt to let each region of the state display its unique assets.
The year closed for the Commerce marketing department with the announcement of Chief Marketing Officer Lara Salamano's departure and return to the private sector as of mid-January 2019.
In May, the Volvo Ocean Race descended upon Newport and surrounding communities.
It marked the second consecutive race in which the City by the Sea was chosen as a stopover destination by the around-the-world yacht race and the second time it acted as the sole such North American locale. The 2017-2018 race allowed Sail Newport, the host organization, to improve upon the prior event.
Brad Read, stopover executive director and head of Sail Newport, explained that meant sharing host and marketing responsibilities with everyone from Commerce, to the Newport Chamber of Commerce, Discover Newport and local retailers, hotels and restaurants.
'The new facility … really positions us to develop that medical-tourism activity.'
MARY ELLEN ASHE, Ortho Rhode Island executive director
The result? In the first week, the race village at Newport's Fort Adams State Park saw more than 40,000 visitors.
After years of contention among Ochre Point Avenue residents, Newporters and the Preservation Society of Newport County, the much-argued-over Breakers Welcome Center opened 13 months after ground was broken in May 2017.
The $5.5 million facility was constructed by Behan Bros., of Middletown.
Summer also saw the loss of two tourist draws. In August, the Pawtucket Red Sox minor league baseball team announced it had signed a letter of intent to move to Worcester, Mass., in 2021.
Less than a month later, the Oliver Hazard Perry Rhode Island, the nonprofit which manages the state's official sailing school vessel, announced it was "pausing" operations due to a lack of funding. A $961,415 loss was marked in OHPRI's 2016 annual report, its most recent filing, a year after announcing a $3.4 million profit.
The 200-foot, three-mast tall ship is set to be dry-docked at Quonset Point in North Kingstown.
Establishing the state's second operational casino, the Twin River Tiverton Casino opened for business Sept. 1. Newport Grand, also owned by Twin River Management Group, closed upon the opening of the Tiverton facility. Necessitating a new traffic pattern on Tiverton's Stafford Road, the casino features an 84-room hotel, 32 game tables and 1,000 slot machines.
Not long after, the first live sports-betting opportunities in the state became available at both Twin River locations, in Tiverton and Lincoln. In a Nov. 26 ceremony to mark the occasion, House Speaker Nicholas A. Mattiello and Senate President Dominick J. Ruggerio placed the first bets – both of which benefited local charities.
Martha Sheridan led the Providence Warwick Convention and Visitors Bureau for 12 years but planned to leave the organization at the end of the year to head up the Greater Boston Convention & Visitors Bureau, effective Feb. 15, 2019.
After a March report found $1.4 billion in tourism money is generated from local historic preservation, 2019 could see an emphasis on marketing Rhode Island's history and culture to visitors.
The new year may also bring a new form of tourism to the Ocean State.
Ortho Rhode Island Inc. plans to build a three-story building next to the Crowne Plaza Providence-Warwick. The project was able to get expedited approval under a state law designed to promote medically inspired travel.
The law creates an exemption for medical tourism-themed development from the R.I. Department of Health's certificate of need. Medical practices that have more than 50 percent of their clients or patients from out of state are exempted.
The new site will allow Ortho Rhode Island to house specialists and to perform procedures all under one roof, allowing it to attract patients from out of state seeking comprehensive care in a single spot.
"The new facility … really positions us to develop that medical-tourism activity," said Mary Ellen Ashe, Ortho executive director.
Emily Gowdey-Backus is a staff writer for PBN. You can follow her on Twitter @FlashGowdey or contact her via email, Gowdey-backus@PBN.com.