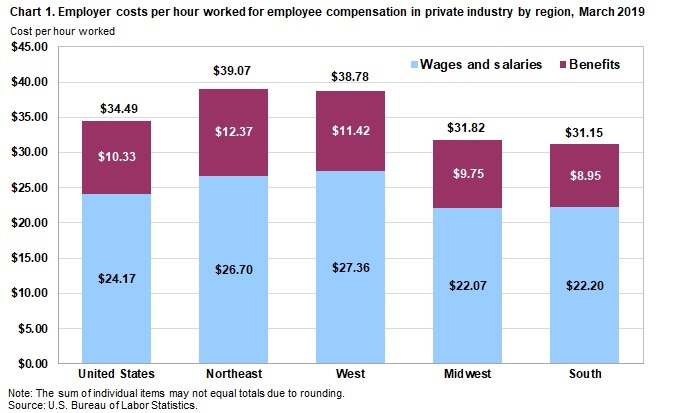 PROVIDENCE – Private employer compensation costs were $41.13 per hour in New England in March, according to the U.S. Bureau of Labor Statistics this week.
In the Northeast, including New England and the Mid-Atlantic region, employer compensation costs per hour were $39.07. Compensation cost per hour in the United States totaled $34.49 for the month.
In New England, wages and benefits accounted for 68.5% of compensation at $28.19 per hour, compared with $24.17 per hour nationally.
New England had the second-highest employee compensation cost in the nation of any regional division behind the Pacific region, where costs were $41.27 per hour.
Benefits per hour in New England totaled $12.94, $2.61 more than U.S. benefit cost per hour.
The largest benefit costs in New England were insurance ($3.40 per hour, almost entirely driven by $3.20 per hour in health insurance) and paid leave ($3.28 per hour, including $1.71 per hour for vacation).
Legally required benefits in the region, such as Social Security, Medicare and Medicaid, cost employers $3.04 per hour in New England.
Chris Bergenheim is the PBN web editor. You may reach him at Bergenheim@PBN.com.