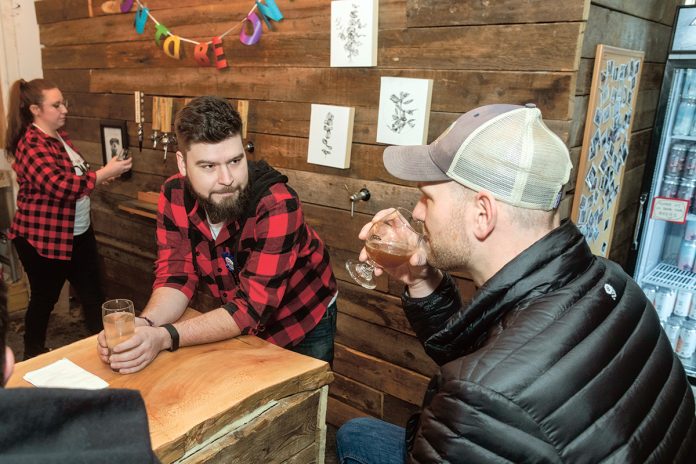 In one year, Buttonwoods Craft Brewing LLC has grown from a Kickstarter campaign to an employer of seven.
Co-owner Morgan Snyder Jr. opened the Cranston-based brewery in December 2017 with his father, after more than a year of planning.
"When we opened, [the brewery received] such a warm welcome that the sigh of relief [came easily]," said the 30-year-old.
Snyder decided to pursue a career in craft brewing after taking up homebrewing in the months after graduating from Virginia Commonwealth University in Richmond, Va., in 2011.
"I didn't have much of a direction of what to do [for a career and] I started homebrewing and fell in love," he said.
That passion led to multiple jobs in the industry prior to when Snyder decided to strike out on his own a little more than two years ago. He launched his brewing career as an intern at a beer distributor operating out of Brooklyn, N.Y., before moving to a Bronx-based brewery in January 2015, where he worked as a production brewer. The next year, he decided to put in motion his longtime desire to own his own brewery.
Named after the Buttonwoods neighborhood of Warwick where his parents have a retirement home, Snyder and his father started the permitting process for Buttonwoods Brewery in October 2016 and construction concluded a year later.
Recalling the months prior to when the brewery was scheduled to open, Snyder described the company's bank account as "pretty sad." So, he decided to launch a Kickstarter campaign – for two reasons.
First, he said, so that the community could feel like members were a part of making the brewery happen and not simply feeling like customers visiting the tap room. Second, he added, was to ensure that when the time came to open the brewery, the pair didn't find themselves "cash broke" at the start of the endeavor.
In 10 days, the father-son pair surpassed their $10,000 goal, raising just over $12,000.
Thirteen months in, the brewery is best known for a double India Pale Ale called "Hip Hop is Dead," said Snyder. He explained their signature brewing style is "rotational," meaning a customer won't see the same brews on tap month after month.
Two additional brews Snyder has received positive feedback on are a tequila-barrel-aged stout, called Midnight Lecture, and a saison, called Lionheart, which includes in its ingredients list Rhode Island-grown hops from a farm in Richmond.
Snyder, who feels the local industry has "plenty of room for more breweries," boasts multiple collaborations with nearby breweries in Middletown, Providence, Portsmouth and Westerly.
He plans to become politically active in advocating for an increase in the amount of beer allowed for purchase or consumption at a tasting room.
"As we grow, we don't want to be limited," he said of the current legislation.
"The rest of New England has very few restrictions" and to compete, Rhode Island has to make it easier for breweries to grow, he said.
OWNERS: Morgan Snyder and Morgan Snyder Jr.
TYPE OF BUSINESS: Craft brewery
LOCATION: 530 Wellington Ave.,Suite 22, Cranston
EMPLOYEES: Seven (five part time)
YEAR ESTABLISHED: December 2017
ANNUAL SALES: $340,000
Emily Gowdey-Backus is a staff writer for PBN. You can follow her on Twitter @FlashGowdey or contact her via email, Gowdey-backus@PBN.com.