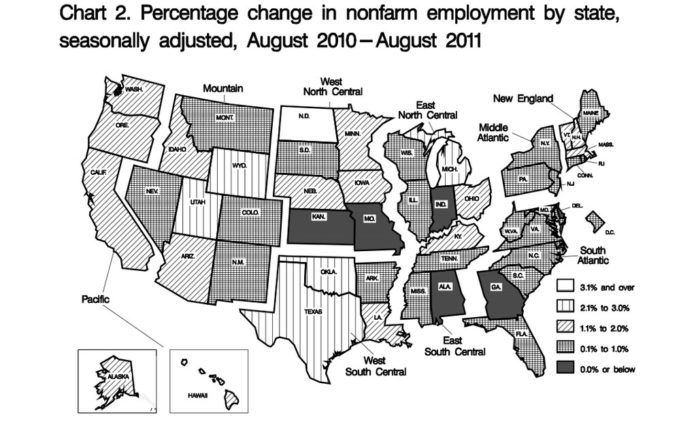 BOSTON – New England had the second-lowest unemployment rate among the nation's nine geographic divisions at 7.8 percent.
The lowest jobless rate was in the West North Central (part of the Midwest region) at 6.9 percent, according to seasonally adjusted data released Friday by the U.S. Bureau of Labor Statistics.
Among the four geographic regions, the West had the highest rate of joblessness, at 10.6 percent while the Northeast had the lowest at 8.2 percent. In between the extremes were: the South, 9.1 percent, and the Midwest, 8.7 percent.
The highest rate was seen in the Pacific division with a rate of 11.2 percent.
Also in the Northeast was the Middle Atlantic division, with a rate of 8.4 percent.
Separately, the R.I. Department of Labor and Training said Friday the unemployment rate dropped two-tenths of a percentage point in August from July to 10.6 percent. The national jobless rate was 9.1 percent.
Regional and state unemployment rates were generally little changed in August from a month earlier, the BLS said. Twenty-six states and the District of Columbia reported unemployment rate increases, 12 states recorded rate decreases, and 12 states had no rate change.
When looking at a year earlier, 37 states registered unemployment rate decreases, 11 states and the District of Columbia had increases, and two states experienced no change.