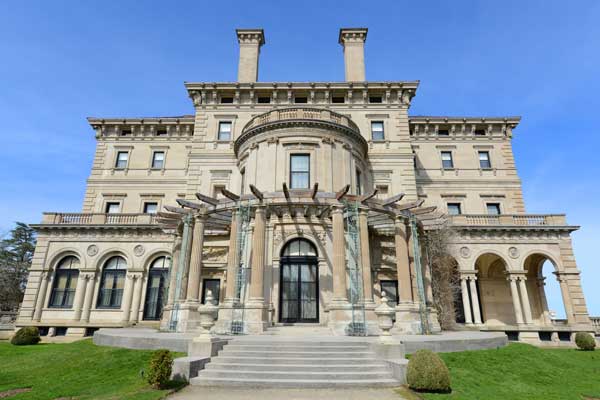 NEWPORT – More than one million vists to the Newport Mansions were made over 2018, the third consecutive year such a feat has been accomplished according to the Preservation Society of Newport County. The achievement follows similar milestones reached in 2016 and 2017.
On Wednesday, after the end-of-year figures were calculated, the Preservation Society reported the total 2018 count as a record-breaking 1,022,277 of self-guided visits or group tours. This figure reflects 105,838 tours given in December, also a record when comparing December figures year-over-year.
According to the society, visitors to the 11 properties, among them seven national historic landmarks, hailed from all 50 states and more than 100 nations. Visitors were able to experience guided, audio and family tours, as well as self-guided landscape tours. Audio tours were offered in French, German, Spanish and Chinese.
"People from around the world are curious and interested to know more about American history," society board chairman Monty Burnham said in a statement. "It is incredibly gratifying to see the commitment of our board, donors and staff rewarded by people from six continents making their way to Newport, Rhode Island, to experience what we are preserving here."
"Historic Preservation is labor intensive and extraordinarily costly," said Trudy Coxe, society CEO and executive director, in prepared remarks. "It takes nearly 400 people to preserve, protect and present the historic buildings and landscapes we hold in trust. Every one of those people deserves credit, along with our tourism industry partners."
This year marked multiple milestones for the society. In June, The Breakers Welcome Center, a project marked by contention among local residents and museum administrators, opened to the public.
American Alliance of Museums accreditation was renewed in 2018 as well, and Trip Advisor awarded the Newport Mansions "Hall of Fame" status for the fifth consecutive year due to the high number of positive recommendations from its subscribers.
Currently, The Breakers, The Elms, Marble House and Rosecliff are open year-round, while the remaining homes – Chateau-sur-Mer, Chepstow, Hunter House, Isaac Bell House, Kingscote and Green Animals Topiary Garden – are open seasonally from early spring to late fall.
Emily Gowdey-Backus is a staff writer for PBN. You can follow her on Twitter @FlashGowdey or contact her via email, gowdey-backus@pbn.com.