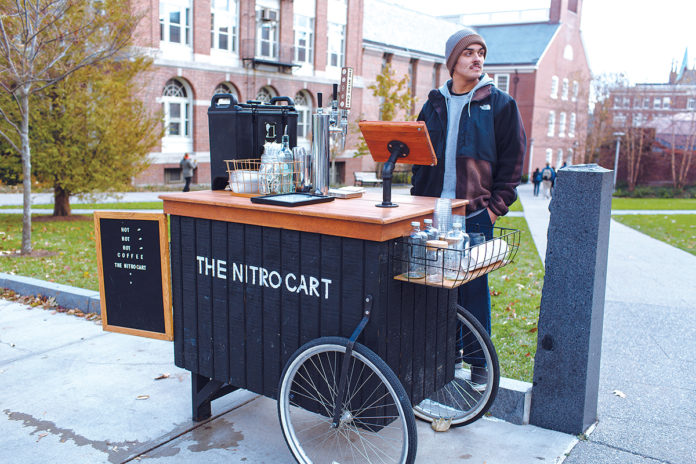 At the tender age of 13, coffee became a critical part of Audrey Finocchiaro's morning routine.
"And it still is," said the North Kingstown native and co-owner of Pawtucket-based mobile coffee distribution company The Nitro Cart.
After graduating from Marymount Manhattan College in New York City in 2015, Finocchiaro returned to Rhode Island and worked for a Providence startup and waitressed. Her business partner, Sam Lancaster, bartended, before they both decided to quit their jobs and pursue coffee.
"I've had that entrepreneurial spirit since I was very young," she said, remembering a time when she was 5 years old and went door to door in her neighborhood selling a newspaper she wrote and designed.
Returning to her roots was the best decision, said Finocchiaro, because she "knew the market pretty well" and thought she had more of a chance establishing a business than if she launched in Boston or New York, where she wasn't as familiar with the communities.
Eighteen months in, The Nitro Cart consists of two mobile coffee carts located on Waterman and George streets in Providence's West Side. Selling Monday through Friday from 10 a.m. to 2 p.m., Finocchiaro estimates close to 200 customers receive their caffeine fix from the company each day.
The reason for the small-scale nature, said Finocchiaro, is because, starting out, "it was easy, financially."
A year out of college, she remembered having "no money … and the only credit we had were school loans."
With the help of Finocchiaro's father, the pair built the first cart out of scrap wood. While there have been many iterations of carts, the current Nitro Coffee cart is the most professional yet. From this the company serves four brews: the signature Nitro, "the most popular," said Finocchiaro; a Nitro vanilla latte; the Dark Horse, a concentrated cold brew; and Nitro cold brew virgin cocktails.
Offerings change seasonally, she explained, but the signature hot and cold brews are always available.
In addition to selling on Waterman and George streets, Nitro Cart coffee is also available at 33 local bars and restaurants. The wholesale end of the business was "kick-started," said Finocchiaro, when PVDonuts asked to add them to their tap.
From there, Lancaster and Finocchiaro began to cold call local companies and the movement grew organically as word-of-mouth spread, recognition spread among business owners and customers.
"We were really excited when we got in 20 restaurants," said Finocchiaro – a feat she thought would never happen.
Building on that momentum, Finocchiaro said the company plans to open a Nitro Bar in a 400-square-foot space in DASH Bicycle Shop on Broadway in Providence's Federal Hill neighborhood.
The timeline remains fluid, but Finocchiaro said she expects to open the retail space "before ­January."
OWNERS: Audrey Finocchiaro and Sam Lancaster
TYPE OF BUSINESS: Coffee-distribution company
LOCATION: 881 Main St., Pawtucket
EMPLOYEES: Six (two part time)
YEAR ESTABLISHED: 2016
ANNUAL SALES: WND