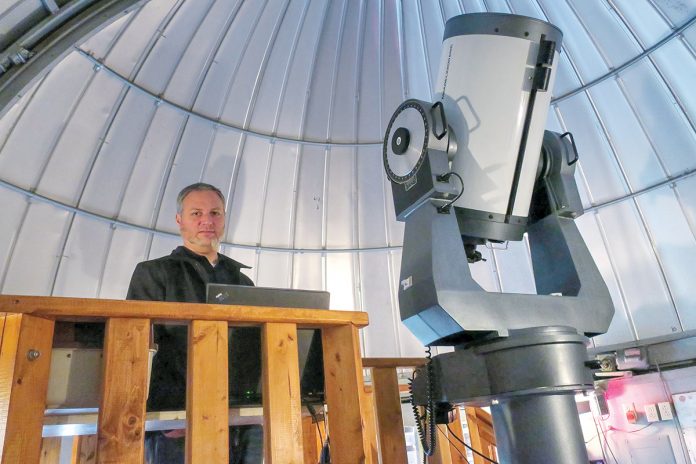 Located on land previously used as a U.S. Navy auxiliary landing field, the Frosty Drew Nature Center and Observatory lies at the edge of a nature preserve in a wide-open field – the perfect place for an unimpeded view of the night sky, says Observatory Director Scott MacNeill.
Named for Brown University alumnus and ecological-preservation activist Edwin "Frosty" Drew, the nonprofit Frosty Drew Memorial Fund Inc. supports science education and wildlife preservation at a facility in Charlestown. It is managed by an 11-person board of directors and supports a three-person staff and 17 volunteers. While the fund was established in March 1982, the nature center was opened in 1983, with the observatory added in 1988 and the sky theater in 2010.
MacNeill, who also works at Brown's Ladd Observatory, joined the center in 2009 and prioritized growing attendance and promoting astronomy and physics opportunities to local youth. In his early days with Frosty Drew, MacNeill said, "We were dealing with a small turnout" made up mostly of senior citizens who grew up in the "1950s golden age of astronomy."
However, he believes within the demographic currently stretching from third grade to high school is the first person who will walk on Mars.
One of the most effective platforms on which MacNeill and the center have helped promote science among youth is the center's weekly Friday night stargazing events. These sessions, which are open to the public, provide opportunities for everyone, especially youth, to interact with telescopes and view objects in space.
MacNeill added, they "help give people the idea that you don't have to be … a genius to make changes in astronomy and work in physics."
By his count, on "a clear Friday night" in the summer, upward of 700 people visit the center to view the stars. For the solar eclipse on Aug. 21, 2017, approximately 4,000 descended on Frosty Drew.
Located in Ninigret Park, the observatory is a facility you can drive to without having to get out and hike, said MacNeill.
"It's not very common you find a spot where you can see the Milky Way clearly and then drive back to the city," he said.
As with all nonprofits, said MacNeill, Frosty Drew's financial "existence is [made up of] ups and downs. We're constantly looking for money."
He added that while updating technological equipment, such as telescopes, is not often a challenge, thanks mainly to Champlin Foundation grants, the biggest opportunity for donations is from members and corporate sponsors. MacNeill said foot traffic along the nature preserve in the summer would allow any corporation to "step out of the [traditional donation method] box" and spread awareness of their brand.
With roughly $3,500 left to raise, Frosty Drew expects to open a second robotic observatory by the end of the year. While not accessible to the public, the new telescope will link to the original and elongate the seasonality of operations, allowing the public to view winter skies from the comfort of the indoor viewing gallery.
OBSERVATORY DIRECTOR: Scott ­MacNeill
TYPE OF BUSINESS: Nonprofit science education and wildlife-preservation organization
LOCATION: 61-62 Park Lane, Ninigret Park, Charlestown
EMPLOYEES: Three (nature center)
YEAR ESTABLISHED: 1982
ANNUAL BUDGET: WND