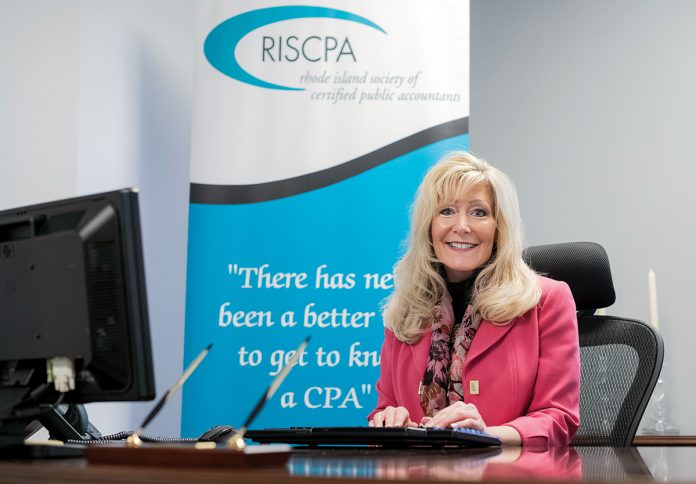 Melissa D. Travis is breathing new life into the 2,100-member Rhode Island Society of Certified Public ­Accountants.
The Cumberland native is president of one of the largest industry groups in the state and the first woman appointed to its helm since its formation in 1905.
"Her considerable background in business development, finance and government advocacy, as well as having strong organizational management and leadership will make her a great president," John Ayers, vice chair of RISCPA's board of directors, said in a statement.
Leaving her role as commercial sales director for HealthSource RI for Employers in February – when she was chosen to lead RISCPA – Travis is clearly not afraid to try new things. That's also evident by RISCPA's Real Jobs RI grant she successfully applied for to provide education and skills training.
"We're excited about 'RISCPA 2.0,'" said Travis, adding that the group has a strong foundation on which to build.
Travis was still new to the job but felt the Real Jobs RI grant was imperative to fund a program to address the accountant-workforce shortage, to replace those retiring from the field in Rhode Island, training them in soft skills such as communication and marketing. A state society such as RISCPA had never received such a grant before, said Travis.
The grant effort was a collaboration with several partners. Word that the Accounting and Financial Collaborative program grant was approved was met with a great rush of hope for Travis as a solution to the workforce-gap problem. Accountant retirements are coming at record levels, with a lack of needed skills in the current pipeline. The R.I. Department of Labor and Training and the nonprofit Skills for Rhode Island's Future will be collaborating on the effort, along with other partners, she said.
She's a strong believer in forming partnerships and maintaining connections that might be tapped later.
'I am good at setting up people. That is my strength.'
Melissa D. Travis, RISCPA president
Travis has experience in international trade, customs support and managing other global business relationships. Past sales roles include working for Teknor Apex Co. in Pawtucket.
To promote the benefits of not working in silos, she continues to give back in the area of international business, serving as a judge in Bryant University's International Business Practicum program.
She serves as a Rhode Island Manufacturers Association board member working to promote legislative advances and economic development and as a board member for the state chapter of the U.S. Green Building Council. She also sits on Cumberland's Open Spaces Planning Commission.
"I don't say no to very much," she said. "But if I do … I offer an alternate way, such as, 'Here is a way we can work together,' " said Travis. "I can call Dave Chenevert [RIMA executive director]. He says 'yes' before I finish the sentence. That's what's nice about already having these relationships."
Maggie Lague, vice president of operations with RISCPA, said Travis has brought energy and vision to the industry challenges faced by the society.
"Working with someone who has her level of enthusiasm, energy and creative ideas has been fantastic," she said. "She brings tremendous experience in developing new programs and partnerships and I know we will benefit greatly."
The grant program is just one way Travis, who returned to her home state six years ago after living in New York and Texas, makes a habit of going above and beyond.
Her preparation for the RISCPA annual meeting, for example, included citations for those in attendance, adding a recognition aspect to the event.
"I want people to know we're not just phoning it in," said Travis. "We want them to know we really care."
Relationships, connections and partnerships are key to momentum for Travis. Recognizing the contributions of others to the work effort is part of that strategy.
She is also intent on making sure the CPA society is ready to absorb and respond to innovation, such as blockchain, artificial intelligence and other market disruptors, citing a need to "be comfortable being uncomfortable" with technological change.
Helping to introduce and maybe recruit those as young as high school age into the world of accounting, it's important to see information technology applications, such as data analytics, said Travis.
As she does with other ventures, she remains at the ready to welcome expertise wherever she can find it.
"I never assume I am the smartest one in the room," she said. "I am good at setting up people. That is my strength."