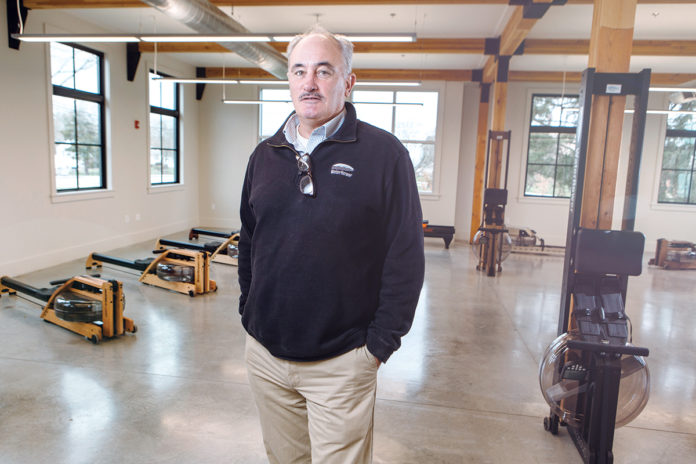 WaterRower Inc. has expanded steadily in Rhode Island over the past several years, with a product line dominated by stylish, high-performance rowing machines. The manufacturer, based in Warren, moved this year into a newly constructed headquarters, with attached showroom. Its expanded manufacturing facility produces about 60,000 to 80,000 units annually, according to CEO and President Peter King.
The company, which had 50 full- and part-time employees five years ago, post-recession, had 89 by the time it started planning for its expansion. This year, WaterRower has more than 200 employees and is once more hiring.
Is Rhode Island a good place to grow jobs? Why? It used to be a better place. Back when we first started we were in a [state] economic-development zone. We had benefits, state taxwise, for job increases and payroll tax increases. Unfortunately, that disappeared a few years back, which has taken part of the attraction out of being in Rhode Island. Is it a good place? In terms of where we are based, in the Northeast, and being this far south of Boston means for the lower-skilled workers it's a more-affordable rate because the cost of living down here is cheaper, certainly than further south, heading into Connecticut and New York. Our being here is a slight sweet spot, in between those traditionally expensive Northeastern [locations].
Why does that benefit your company, because people can live less expensively? Yes. The demand for the level of pay is lower. Certainly, there are lifestyle benefits being in Rhode Island but [it is] not as congested. There are a lot of expenses you wouldn't have if you were based in a congested environment … closer to New York or in Boston: that being travel, transport, parking, etc. Traditionally, manufacturing has been done in provincial areas, not in big, urban areas because of that cost.
If the government could do one thing to help businesses grow jobs, what would it be and why? It depends on what sort of jobs you want. When you're a medium-size business like ours, tied to the export market, any business is really based around enhancing its ability to compete. In our case, competition is all around the globe. … It's not even in Rhode Island or the Northeast states. It's not even national. As a manufacturer, 50 percent of what we do here is exported. Obviously, our competition is other countries. That's really a … federal issue. The higher burdens of taxation on business make it difficult. Our investment, our ability to attract return on our investments, is taxed quite heavily. In other countries, it's less so. [So] lower the tax burden, the governmental burden.
JOBS
2016: 186
2017: 216
What is the most important attribute a business leader needs to grow their business or add jobs? In this environment, it's certainly drawing on the community. I've worked hard on our attachment to community. Our employees, for the most part, are entrenched in the community. So, having that paternal sort of organization is quite strong for us, so people enjoy working here.
How does that work? Do your employees recommend their family members, and that's how you get new hires? Yes, all the above. We do have several generations of people working there, particularly in the unskilled area of the factory. We do have the sons and wives and mothers and such working. That's because if you treat people respectfully and give them a good place to work and have good benefits, that word travels. Some of these people at that entry level, the minimum wage-or-above level, are often quite mistreated.
What industry do you think is going to have the greatest potential for job growth in Rhode Island in the coming years, and why? I would like to think that it's going to be manufacturing, but that's very difficult. The focus has been on manufacturing [that] has a job base above the national average in income. When you're talking about that level there, you're talking about high-tech manufacturing jobs. There is clearly a strong demand for those.
But you don't think that's going to be the growth industry? There is [a chance] if the government can get out of the way. The groups of manufacturing CEOs I know are very dynamic, and they've got good, strong businesses. There are always struggles people have. One of the greatest is the worker's compensation insurance and issues with that, more fraudulent issues with that. We've had people who have slipped on ice or picked up a half-bucket of water over 12 months ago and they're still off on worker's compensation. I could tell you stories that would make you hair stand on end. And it just seems to be an accepted norm. How do you change that? I don't know.
How has your product market changed in the past five years? Probably the biggest change domestically is we're selling a lot more to the commercial-fitness market. They can include the large gyms. The big change in fitness is boutique-style fitness, such as Orange Theory fitness. They're a small format, an instructor who is very hands-on and short, 45-minute classes. They really appeal to that millennial crowd, they like to get in there. There are a lot of formats for group cycling and we've got the group rowing, instructor-led sessions.
What portion of your sales is in this portion of the market? In the domestic market it would be about 20-plus percent, from the single-digit percentages three, four, five years ago. It's happened very quickly that these boutique outlets have become more popular.
How has your international market changed? We've been expanding our office space. In the last five years, we've opened offices in China, which is going quite strong. On singles' day, which is Nov. 11 [a cultural celebration of being single in China, now a day to shop for yourself], we sold 400 machines in a day, enormous. … We're opening [in] different regions. As these regions get wealthier and have the western taste for fitness and their lifestyle, obviously we take advantage of that.
Have you contemplated what will happen if rowing loses its popular appeal? We [will] downsize, look for other markets. We do have a nonrowing-machine line of products. And, also, we penetrate the different cost categories of our specialty, which is rowing. Rowing machines are [becoming] more popular. There is a lot more competition out there. It's certainly no longer under the radar.
Rowing machines have been around for a long, long time. We have a museum here at the offices. Some of those rowing machines go back to the turn of the last century. … Part of our growth is that it's come into style, that we've been able to bring it back into style because it has a benefit of [rugged] exercise. They seem to be popular because people are accepting them as a great form of exercise.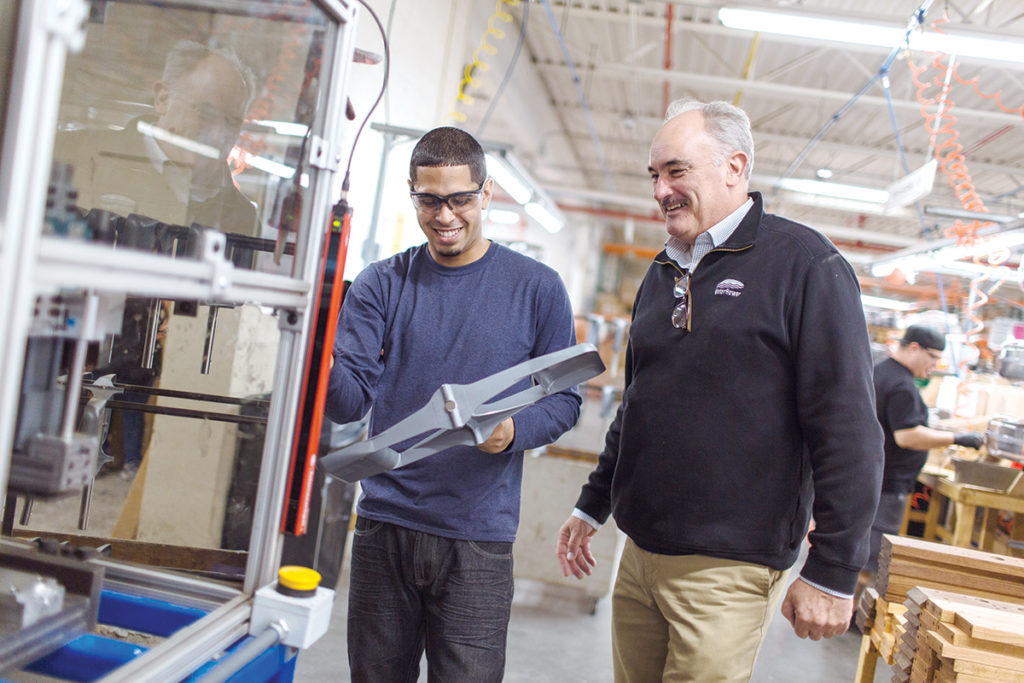 You said in hiring you have turned to an outside agency. What was the reason for that and how effective has it been? The whole process of how we had been advertising, having sandwich boards on the side of the road, or connecting with employees was quite difficult. To give us a broader field of capture, we have gone with four different agencies now. The benefit they give you is they filter people, do drug tests and that sort of thing. They're doing some screening themselves before we get to see them.
What do you gain from this? When we hire more than 10 employees, there can be quite a bit of follow-up on that.
What kinds of positions do you have open now? We've got product designers, social media people, we've got manufacturing engineering, those are typically office positions. The production positions, we're always trying to build our production staff. It's a tough reality. We do have turnover.
Do you pay minimum wage for production staff? It's minimum-wage plus. Then there [are] benefits. Benefits can be worth $4 or $4.50 an hour. We typically are expecting 40 hours a week. After the qualification period of three months, these would come on. We've taken more effort recently with signs or posters showing what the cost of the additional benefits are to the company … to try to monetize that. They sometimes don't see that, getting sick pay, or holiday pay or subsidized medical.
We pay 80 percent of a single person's medical benefit, a 401(k) [with company match]. Even on the professional end, they don't necessarily see that these are additions. So, we have started the policy of showing that when we do reviews for the professional people. … It can be $9,500 a year.
Tell us about your new headquarters. It's certainly made for a nicer work environment. It's nice to be all back in the same precinct. We expanded the manufacturing facility and part of the expansion required us to move our offices out of there. And [we] turned the offices over to manufacturing. So, we've almost doubled our manufacturing space. We're at 55,000 square feet of manufacturing and storage, and 28,000 square feet [for] office and showroom.
How many units does WaterRower sell annually? Between 60,000 and 80,000.
And what portion of those are international sales? Over 50 percent is international.
Has the suspension of filming for the Net­flix drama "House of Cards" impacted your business? (WaterRower had a machine featured in most episodes.) They postponed production. They're going to keep it going. It was good exposure. The more recent … shows, it's been the Robin [Wright] character who's using the machine.