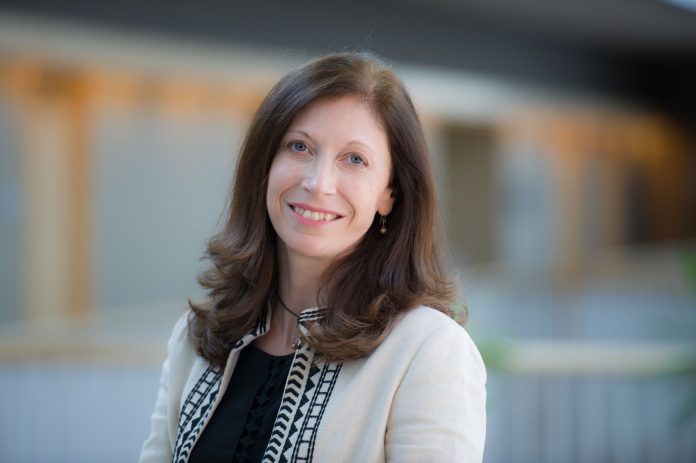 Susan Moffitt is the director of the Taubman Center for American Politics and Policy at Brown University's Watson Institute for International and Public Affairs and an associate professor in the political science department.
The author of two books and many articles, Moffitt's scholarship focuses on the development of governmental and nongovernmental capacity to put policy into practice, with a particular focus on health and education policy.
She is currently the co-principal investigator of a large grant from the Spencer Foundation examining the development, use and implications of educational standards on educational inequality. She grew up in Ohio and remains a resilient Cleveland sports fan.
PBN: In July you were appointed the director of the A. Alfred Taubman Center for American Politics and Policy, what are your top priorities for your tenure?
MOFFITT: During my tenure as director, I strive to have the center's work contribute meaningfully to global, national and local policy and practice. Making that happen in a small center [such as] ours will depend on our ability to build sustained partnerships both inside Brown and beyond. It will also depend on promoting sustained public discourse and offering accessible, credible research.
PBN: You're more than six months into your first of three years directing the center, how have you begun to address those issues?
MOFFITT: I began my tenure as director by refocusing the center's work – its poll, its research, its public programming – around three themes: the cost of living, the value of democracy and the price of security.
Aligning the center's work around those themes has enabled it to:
Forge new partnerships. For instance, consistent with our theme of the price of security, the Taubman Center has partnered with the U.S. Naval War College in Newport to host this year's Women, Peace and Security Conference.
Restructure the Taubman Poll. Starting this year, we will be taking a different approach to polling that will allow us to provide both national and local portraits of public policy opinions connected to the center's three themes. Our new approach will allow us to connect the poll more closely with faculty research, courses taught at Brown and vibrant policy debates.
Consider local issues in national and international contexts. Taubman's upcoming conference on Citizenship and the City, for instance, will feature professor Domingo Morel's work, whose research began with a close look at education in Central Falls. By bringing together scholars from around the country, the conference offers a way to put considerations from Central Falls into conversation with research on Newark, N.J., Flint, Mich., New Orleans, and Baltimore.
PBN: You are the fifth director in the center's history and the first woman, how will your leadership build off and differentiate from that of your predecessors?
MOFFITT: [Past directors] Tom Anton, Derrell West, Marion Orr and Jim Morone built a strong foundation for Taubman through their dedicated energy and deep commitment to public policy.
All of us at the center are fortunate to have a new institutional home within the Watson Institute for International and Public Affairs, giving us an opportunity to approach American policy and politics from a global perspective. This means both understanding the reverberating effects of American politics and policy in other countries and learning from other countries as we wrestle with enduring challenges in the U.S.
My approach is integrative. Taubman's programming will connect to the center's core themes; connect faculty, students and community partners in their research and practice; and connect local, national and global perspectives. To give one example, instead of creating a separate domain for studying the gendered impacts of public policy, Taubman integrates the study of gender … throughout its research and programming.
PBN: What is the center's role in educating Brown students about American politics and policy and exposing them to how these forces are shaped?
MOFFITT: The Taubman Center has a number of important partners on campus, especially the academic concentrations offered through the Watson Institute (undergraduate public policy, international relations and development studies concentrations and the master of public affairs). We at the Taubman Center see ourselves as a research and training center that supplements the academic concentrations. We strive for all aspects of our work – our poll, our research, and our public events – to connect with undergraduate and graduate training. We accomplish this by:
Connecting the public opinion poll to undergraduate and graduate methods courses, so students can learn the ins and outs of survey research and its challenges.
Providing research opportunities for students through thesis grants and faculty-student partnerships.
Providing special workshops and skill-building training sessions for students on topics including negotiation, data visualization, public speaking and others that supplement the policy skills students learn in their courses.
Promoting internship opportunities for students to engage meaningfully with politics and policy in practice.
PBN: What challenges does the center face researching American politics and policy given the current tumultuous political climate?
MOFFITT: Meaningful discourse poses a significant challenge in the current era. Because of this, I have made it a priority to connect each of our public speaker events directly with one or more courses offered on campus. A typical public speech, standing on its own, does not normally give students the opportunity to engage deeply with difficult subject matter. By linking speakers to classes, our students are presented with the time and forum conducive to the kind of sustained political dialogue we hope to encourage.
A second challenge arises from a climate of public distrust in science. This augments the responsibility of a center [such as] Taubman to render its science as transparent and accessible as possible. Our new approach to polling provides an illustration of how we will be putting this into action. Through interactive graphics on our website, public users will be able to engage with our data to create visuals and explore aspects of the data that relate to issues they consider most important.
Emily Gowdey-Backus is a staff writer for PBN. You can follow her on Twitter @FlashGowdey or contact her via email, gowdey-backus@pbn.com.