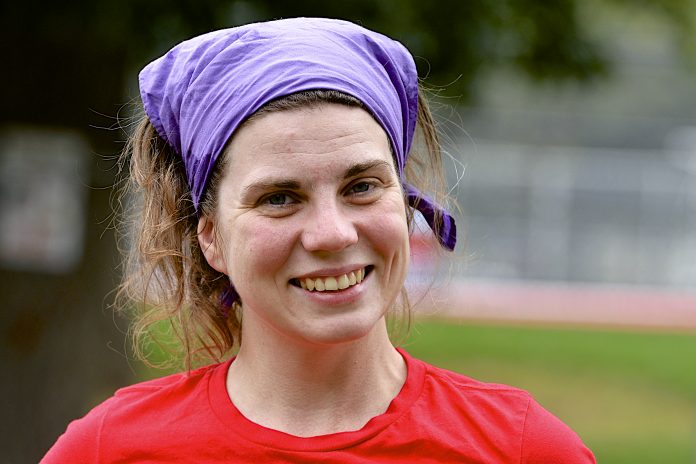 This year, Katie Gradowski, industries director of nonprofit community arts organization AS220, is organizing the Providence Mini Maker Faire with longtime supporter Brian Jepson. Now in its 10th year, the event is part of PVDFest, which will be held June 8-9 in downtown Providence.
PBN: Is part of the spirit of the Faire – with your website calling for "anyone who creates with delight" – part of its overall brand?
GRADOWSKI: Absolutely, yes. One of the things that has always characterized the Maker Faire is that it's cross-disciplinary and wide open in terms of content – it's a space for amateurs, professionals, hobbyists, artists and technologists to share projects and ideas they are excited about. Anything goes and all are welcome! Those ideas can be professional projects, or they can be totally exploratory and open and unfinished. The idea is to share work that you're excited about to invite people into the creative process to build connections across disciplines.
PBN: How has the event grown over the past decade?
GRADOWSKI: The Mini Maker Faire has changed a lot! It started life in 2009 as Rhode Island Maker Faire, before Maker Media had an official licensing program to allow third parties to license the Maker Faire brand. Brian Jepson and Kipp Bradford, who started the Rhode Island Mini Maker Faire, worked for and advised Maker Media, respectively, so they were able to get permission to do this in 2009 as an experiment. That year, and several thereafter, WaterFire hosted us. Experiment evolved into practice, the Rhode Island event became a Mini Maker Faire, and we tried a couple of different homes, such as Foo Fest and a standalone event, finally joining PVDFest. That's where we are today, and the event is run as a program of AS220 in partnership with the city of Providence.
PBN: Are there any new aspects to the Faire this year in particular?
GRADOWSKI: We're excited to be spotlighting some of AS220's wider programming. This includes commissioned work by local artists, hands-on demos of tools in our shop, a sneak preview of AS220 Youth's design work for "FUTUREWORLDS 5: Escape from JollyWorld," updates on the AS220 All Access Campaign, and the incredible work being done to increase accessibility and affordability at AS220 and beyond.
PBN: The Faire is designed to make people inspired to make things, whether it's an artistic, scientific, technical or a manufactured item. Why is this important?
GRADOWSKI: Because anybody can do it! Lots of people think maker culture is all about making fancy objects – 3D-printed objects, laser-cut designs, apps, products, whatever – and that it's all about tech. It's not. Anyone can make things, everyone is a "maker." It's really about creating things together, sharing skills and knowledge, demystifying technology and inviting other people into your creative process.
PBN: What should attendees not miss this year at the Mini Maker Faire?
GRADOWSKI: Definitely check out Hairiones by local artist Nafis White, featuring Afro-Victorian sculptures using materials from local beauty shops, as well as El Handy Dandy, a local shop that remixes men's clothing to fit all genders. Open Blocks Redaction Project is a new block-stacking game featuring redacted text from the Mueller report. We'll have an all-night inflatable photo booth designed by local fashion designer Mr. PPho. Also, Vintage Robot, Steel Yard, Gather Glass, Fab Newport, the Mobile Maker Lab, Rhode Island Virtual Reality – it's all pretty incredible, the list goes on! We have over 40 makers participating this year, with artists and technologists from across Rhode Island sharing their amazing projects.
Susan Shalhoub is a PBN contributing writer.