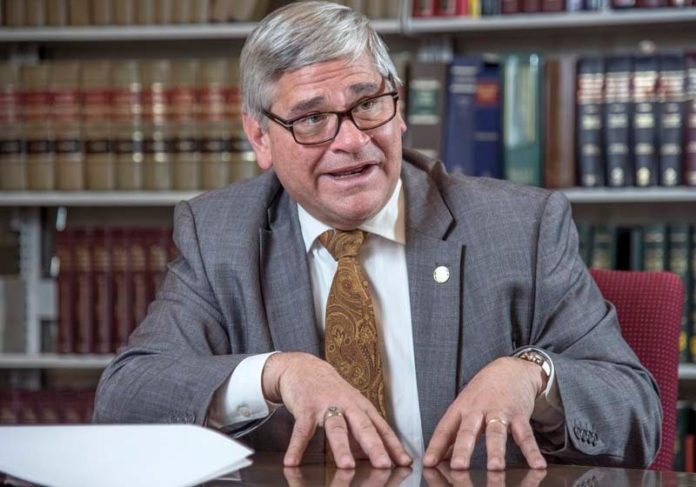 PROVIDENCE – The state attorney general on Tuesday filed a legal objection to Gov. Gina M. Raimondo's petition to release 38 Studios LLC grand jury material.
Attorney General Peter F. Kilmartin argued the governor's request failed to justify the release of such documents, which are typically kept secret.
"The governor has failed to establish that exceptional circumstances exist and that the particularized need for the release of the requested materials because of public interest outweighs the weight of the authority upholding the historic role of the grand jury in the administration of justice," Kilmartin wrote, according to documents filed in R.I. Superior Court.
The objection stems from Raimondo's petition to the court to release grand jury records related to the criminal investigation into the state's failed investment into the now-defunct video game company 38 Studios. The state issued $75 million in taxpayer-backed bonds, leaving Rhode Islanders on the hook to pay back the loan when the company went bankrupt two years later.
The criminal investigation, which closed without any charges or indictments last summer, was considered by a grand jury.
Raimondo, urged by constituents advocating for full transparency, made the request earlier this year, arguing the "public interest in transparency is immense," according to court documents.
Kilmartin, however, contends the transparency-based argument goes against centuries of legal precedent protecting the grand jury and its process, and openly criticized the governor's efforts.
"The governor's petition and public statements have done nothing but fuel misguided speculation about the grand jury process, undermine its integrity and cast a negative light on the entire process," Kilmartin wrote.
The debate is complicated politically and publicly by Kilmartin's involvement in 2010 when he voted in favor of the legislation to allow the bond issuance. He was then serving as a state representative. Kilmartin, who later headed the 38 Studios criminal investigation, has been criticized for a possible conflict of interest.
And when the R.I. State Police earlier this year released documents related to the criminal investigation, interview transcripts with most state representatives involved at the time were included. An interview with Kilmartin, however, was not.
Nonetheless, Kilmartin is accurate in his argument about precedence of confidentiality in grand jury proceedings. It's very rare such documents are released.
"Without sufficient legal basis, the governor threatens the confidence of the protections afforded the grand jury, the sanctity of which must be maintained," Kilmartin wrote, citing a legal case from 1997.
"In summary, the governor's petition is without merit and must be denied," he wrote.