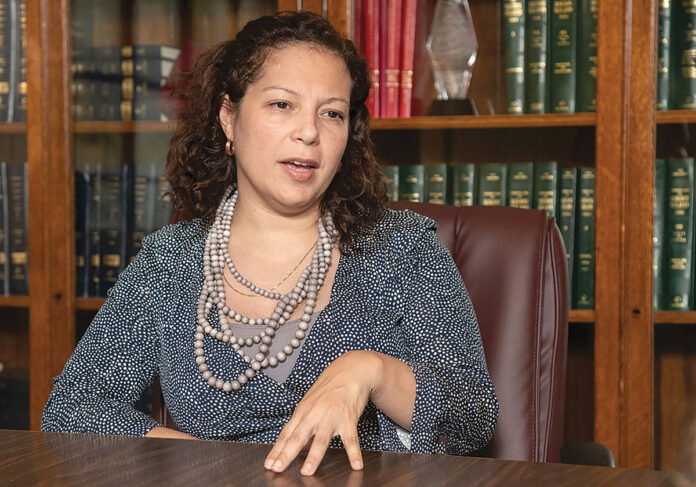 EDUCATION
---
The education sector across Rhode Island and southeastern Massachusetts has transformed in numerous ways in recent years, ranging from new leadership taking over at several local colleges to the state of Rhode Island taking over Providence's failing school district.
Change at the top isn't unusual, but since 2018, eight local colleges hired a new president, in some cases replacing people who had served for more than a decade.
In June 2018, John J. Bowen retired as Johnson & Wales University's chancellor, CEO and president after 44 years with the university. Mim L. Runey, JWU's Providence Campus president, was named the chancellor.
The Rev. Kenneth R. Sicard was appointed Providence College's president in 2019 after the Rev. Brian Shanley's 15-year tenure. At Salve Regina University, Kelli J. Armstrong became the university's first lay president in 2019 after the retirement of Sister Jane Gerety, who was Salve's president for 10 years.
Ioannis M. Miaoulis began his tenure as Roger Williams University's president in August 2019, filling in a vacancy left by the death of Donald J. Farish.
In 2020, Ross Gittell filled the shoes of retiring Ronald K. Machtley at Bryant University in Smithfield. Machtley had been Bryant's president for 26 years.
Rhode Island's state university also saw a change at the top. Marc B. Parlange, the former provost and senior vice president of Monash University in Melbourne, Australia, became the University of Rhode Island's president on Aug. 1. He succeeded David M. Dooley, who retired in June after 12 years.
Rosanne Somerson called it a career at the Rhode Island School of Design in June after close to 36 years working at the arts school, the last six as president. David Proulx became RISD's interim president.
And the changes didn't stop at the state border. In September 2020, Robert E. Johnson stepped down as the University of Massachusetts Dartmouth's chancellor after three years to take the president's job at Western New England University. Mark Fuller has been serving as UMass Dartmouth's interim chancellor.
COVID-19 forced its own kind of changes on higher education when it reached pandemic status in March 2020.
Institutions such as Rhode Island College and the Community College of Rhode Island saw decreases in enrollment and employee layoffs. Across the sector in Rhode Island, losses were projected at $200 million in 2020 due to unplanned spending on COVID-19 protocols and the loss of room and board revenue, according to estimates from Daniel P. Egan, president of the Association of Independent Colleges and Universities of Rhode Island.
State elected officials and education leaders are urging for some of the new stimulus money to be invested into higher education.
Rhode Island also made pushes to address school building infrastructure. In 2018, voters approved a $250 million bond to make repairs to school buildings across the state. In addition, General Treasurer Seth Magaziner said in April that the state has invested $1.3 billion to either repair or replace 160 school buildings in the state.
North Providence, Barrington, East Providence, Smithfield and Newport are among the communities that are planing to build or have built new schools.
Some changes in education, though, will be a significant process. The Johns Hopkins Institute for Education Policy released a scathing report in 2019 about the Providence Public School District, concluding that the city's schools were failing.
R.I. Education Commissioner Angélica Infante-Green, hired in 2019, used the findings to justify taking over control of the struggling district, but problems continued. In January 2020, Harrison Peters was appointed Providence's school superintendent, but he was forced to resign 15 months later when Providence administrator Olayinka Alege was arrested for allegedly taking a juvenile's shoe off at a Warwick gym and forcefully massaging his foot without consent.
Peters acknowledged knowing that Alege had been accused of doing something similar in the past but hired him anyway.
An angered Providence Mayor Jorge O. Elorza also expressed frustration about the slow pace of PPSD's turnaround. He urged the R.I. Department of Education to invoke the Crowley Act, a state law that he asserted could be used by RIDE to alter the contract with the Providence Teachers Union.
The focus on public education has gone beyond Providence. In early 2020, the Rhode Island Foundation established a fund to accept donations from individuals, businesses and nonprofits to help improve public education across the state. Then, it committed $1 million and introduced a 10-year plan offering recommendations and strategies to improve K-12 education in Rhode Island.
"Imagine 10 years from now, we have a world-class education for our students, and we have one of the healthiest states in the U.S.," said Neil D. Steinberg, foundation CEO and president. "We would then not have to do major recruiting, in my mind. Companies would flock here. It's that important to the students that are here today. It's that important to the future of the state that we be competitive, provide the workforce."