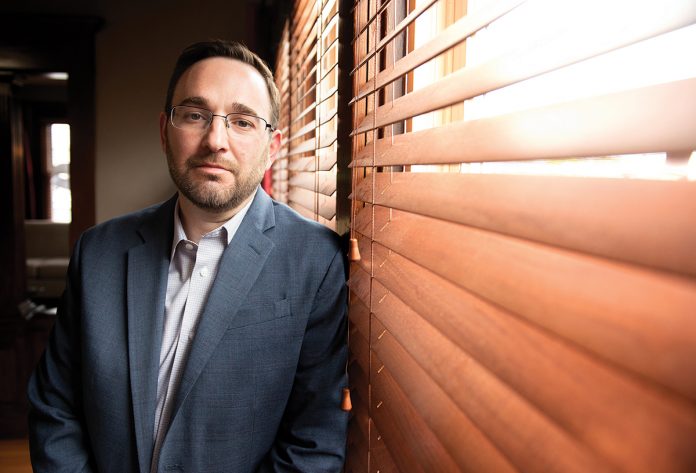 After working for Rhode Island Medical Imaging Inc. for two decades, the last seven as its executive director, Wayne Arruda believed he had found that the company was overbilling Medicare and Medicaid for unnecessary or unrequested tests.
Soon after going to the company with these allegations, Arruda says, he was fired and had his reputation besmirched, a result that led to him filing a "whistleblower" civil lawsuit against the company that has ended up in U.S. District Court.
While not a frequent occurrence, these types of lawsuits do happen with some regularity, according to attorneys who handle them. Two industries receive a significant proportion of such legal action, defense contractors and, as in Arruda's case, the health care industry.
"The most common complaints seem to be with health care companies and billing," said attorney Thomas J. Enright of Enright Law LLC in Cranston. "It could be a hospital or nursing home accused of double billing."
The company has denied the allegations in the lawsuit, while attorneys for both RIMI and Arruda did not return phone calls for comment.
Whistleblowers in Rhode Island can seek recompense through both the federal and state False Claims Acts equal to double the loss of salary and benefits, plus other losses and compensation for emotional distress and reputational damage.
In both cases, the government is entitled to compensation as well, since the person filing the suit is doing so on behalf of the federal or state government.
'The employee typically just wants to put it behind them.'
THOMAS J. ENRIGHT, Enright Law LLC attorney
For example, a 2015 report filed by the U.S. Department of Health and Human Services Office of the Inspector General revealed that the Rhode Island Medicaid Fraud Control Unit investigated more than 42 reports of fraud, waste and abuse in 2014, with 10 resulting criminal convictions and 24 civil settlements and judgments. All told, these efforts yielded $535,000 for the state.
In addition to the compensation based on salary, benefits, distress and reputational damage, the whistleblower can share in any recovered expenditures that the case yields. If, for instance, the state joins the whistleblower lawsuit, the plaintiff could receive anywhere from 15% to 25% of proceeds from a court action or settlement. If the state doesn't join, the whistleblower's take goes up to 23%-30% of the proceeds.
The proceeds are driven by a finding of liability to the accusations, with civil penalties of between $5,500 and $11,000 per violation, plus three times the amount of damages sustained by the state due to the violations. The federal adjudication functions similarly.
Enright said settlements are the norm in civil whistleblower cases, with only about 3% of cases going to trial. And whistleblowers don't return to their old jobs in most cases.
"They can ask to be reinstated, but there are usually bad feelings, and they don't want to go back," Enright said. "The employee typically just wants to put it behind them and move on with their life."
In addition, there is a range of retaliatory actions employers have been accused of, said attorney Thomas Greene of the Boston law firm of Greene LLP, which also serves Rhode Island. Foremost, he said, can be firing or demoting a whistleblower. It also can involve more subtle action, such as ending or reducing benefits or privileges, or isolating the person, or not giving him or her meaningful work.
As a result, Rhode Island, like on the federal level, also has a state Whistleblowers' Protection Act, which focuses on protections for both government and private-sector employees against employers retaliating for reporting violations. If a claim under this act is upheld, the law also entitles defendants to damages.
In addition to health care, Greene said, whistleblower complaints often stem from abuses in federal defense contracting.
"Defense industry cases can often involve [waste or fraud] in big government contracts," Greene said. In addition, whistleblower complaints come from custom duties fraud, securities fraud and tax fraud, among others, he said.
Despite specific whistleblower laws and provisions of other laws, however, legal loopholes sometimes can be found, said attorney Richard A. Sinapi of the Warwick law firm of Sinapi Law Associates Ltd.
For instance, Sinapi said employees hired through staffing agencies who report violations at the companies where they are assigned may not be covered by whistleblower protections because, it could be argued, the staffing agencies are their employers, not the companies where they work.
He also said that while whistleblower laws protect employees who report legal violations, they likely would not be covered when reporting practices or behavior that only break internal company policies or procedures.
"Generally," he added, "whistleblower laws apply only to state and federal regulations."
Scott Blake is a PBN staff writer. Contact him at Blake@PBN.com.