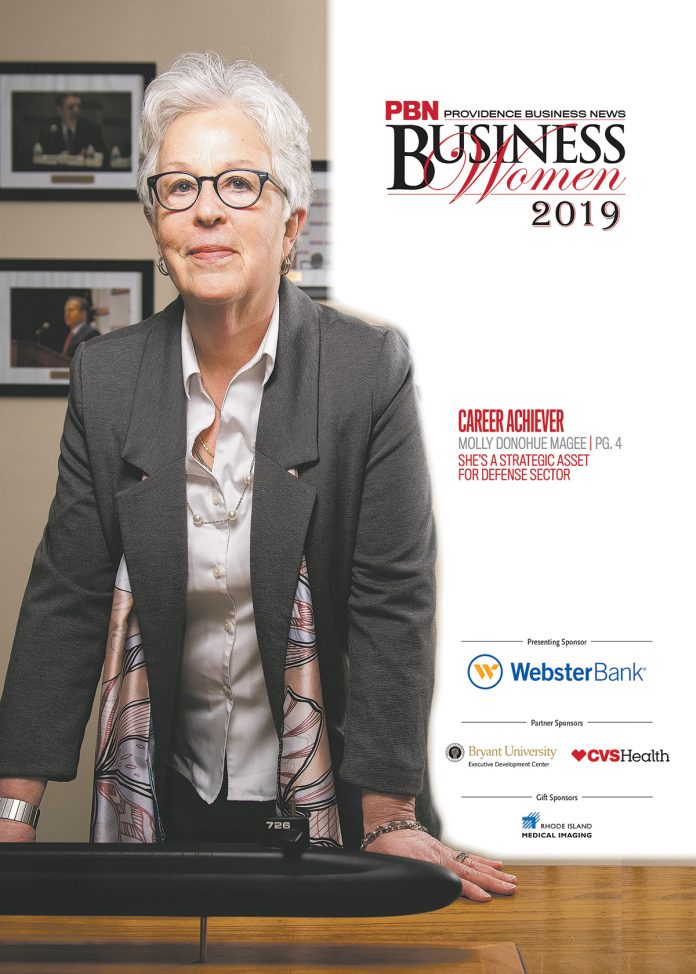 PROVIDENCE – Three hundred business leaders from Rhode Island and beyond attended Providence Business News' 12th Business Women Awards luncheon Thursday to honor 28 accomplished women, ranging from a food entrepreneur making kimchi to the founder of a group that advocates for defense industry contractors in the region.
The Career Achievement  award, the program's highest, went to Molly Donohue Magee, executive director of Southeastern New England Defense Industry Alliance. Her trip to that honor proved that fresh challenges can come at any time.
After nearly two decades in executive roles with the Naval Undersea Warfare Center Division Newport, including years as the organization's chief financial officer with responsibility for a $1 billion budget, she founded SENEDIA in 2013, taking it from an all-volunteer organization to one that today has a $1 million budget and five employees.
In remarks to attendees, Magee said that while she appreciated the award, "in all honesty, it is a team award. I have succeeded because of my co-workers, my mentors, my bosses, my family and friends, what I call my network and my team."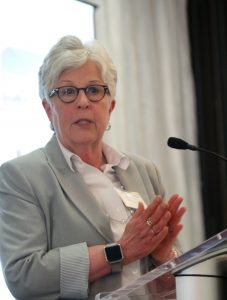 Tying herself to others who have accomplished much, she recognized a historical project by Roger Williams University that tracks the achievements of women throughout the state's history, from Colonial times to the present. "Of interest is how much history we have with Rhode Island women and what they've achieved. We all know that the women who are past have led the way for us.
"It's interesting, Anne Hutchinson [a Puritan religious reformer who was banished from the Massachusetts Bay Colony], has a quote, 'Is there one standard for men and another for women?' And [20th-century] Judge Florence Murray is quoted as saying, 'You need to go out and take what you need to do to achieve your goals because no one is going to give you an invitation to do so.' Great advice today and great insight today."
Recognized as Outstanding Mentor, Kimberly Silvestri, a project executive for BOND Brothers Inc., a major contractor, recounted her career path as often the only woman in an industry dominated by men. But she acknowledged the help from a series of leaders and mentors who saw her passion and helped her achieve her goals.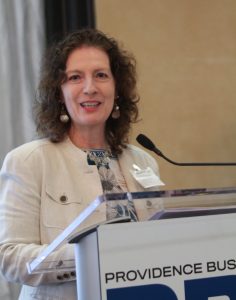 Now, "I enjoy mentoring people," Silvestri said. "I have classes and the students give me more than I give them every day. … I've had a wonderful career, and I've accomplished some amazing things, and I can tell you it's tremendously rewarding to forge your own path in life, but it's infinitely more rewarding to help someone forge theirs."
The full list of honorees for the 2019 Business Women program are profiled in the May 24-30 issue of PBN and list below by category:
Creative Services Industry Leader: Mary Jean Keany, Anamika Design, owner
Creative Services Woman to Watch: Beatrice Thouveny, NFI Corp., marketing director
Financial Services Industry Leader: Kathleen Ryan, Washington Trust, executive vice president and chief wealth management officer
Financial Services Woman to Watch: Ashley Abbate Macksoud, Merrill Lynch, financial adviser
Health Care Services Industry Leader: Crista Durand, Newport Hospital, president
Health Care Services Woman to Watch: Kathleen Snelgrove, University Orthopedics, chief operating officer
Nonprofit/Social Services Industry Leader: Joanne McGunagle, Comprehensive Community Action Program, president and CEO
Nonprofit/Social Services Woman to Watch: Erin Donovan-Boyle, Newport County Chamber of Commerce, executive director
Professional Services Industry Leader: Elizabeth Robson, JF Moran Inc., president
Professional Services Woman to Watch: Carrie Majewski, Women in Leadership Nexus, founder and CEO
Legal Services Industry Leader: Lauren Motola-Davis, Lewis Brisbois Bisgaard & Smith LLP, managing partner
Legal Services Woman to Watch: Angela Carr, Barton Gilman LLP, partner
Technical Services Industry Leader: Rachel Barber, IGT Inc., senior vice president and chief technology officer, gaming and lottery
Technical Services Woman to Watch: Catherine Anders, Naval Undersea Warfare Center Division Newport, head supervisory human resources specialist
The Achievement Honorees for 2019, profiled monthly throughout the last 12 months (listed alphabetically):
Kathy Bartels, LLB Architects, principal
Janelle Blakely Photopoulos, Blakely Interior Design, owner and principal interior designer
Jennifer Brinton, Grey Sail Brewing of Rhode Island, co-owner
Margaret Brooks, Rhode Island Jump$tart Coalition, president; and Rhode Island Council for Economic Education, president
Melissa Denmark, Gracie's restaurant, executive pastry chef
Minnie Luong, Chi Kitchen, founder
Patrice Milos, Medley Genomics, president and CEO
Lisa Ranglin, Rhode Island Black Business Association, founder and president
Katie Schibler Conn, KSA Marketing + Partnerships, owner
Shannon Shallcross, BetaXAnalytics LLC, CEO
Melissa Travis, Rhode Island Society of Certified Public Accountants, president
Kristin Urbach, North Kingstown Chamber of Commerce, executive director
The presenting sponsor for the 2019 PBN Business Women Awards is Webster Bank. Partner sponsors include the Bryant University Executive Development Center and CVS Health Corp.