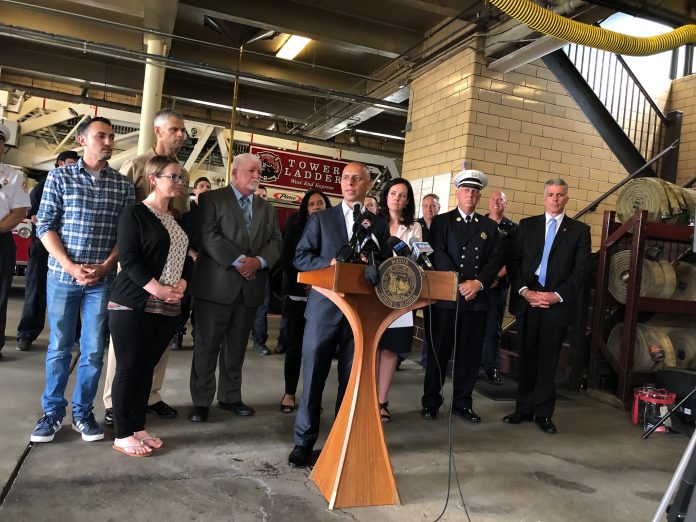 PROVIDENCE – Providence Safe Stations, a service that allows people with substance use disorders to seek help at any of the city's fire stations, has received its 100th visitor.
The milestone was celebrated last week by city officials, who also named five recipients of a total $375,000 in Providence State Opioid Response funds.
"Providence Safe Stations has been the first step to recovery for many struggling with addiction in the capital city," Mayor Jorge O. Elorza said. "We're excited to reach this milestone with those participants and encouraged by the broad interest in launching similar efforts so that all Rhode Islanders know that they are not alone on their journey to sobriety."
About 1 in 4 overdose deaths in Rhode Island take place in Providence, according to Prevent Overdose RI.
Providence Safe Stations, launched in January of 2018, provides 24/7 access to treatment and recovery services for those struggling with addiction.
The program, based on models in New Hampshire, is a partnership between The Providence Center, the R.I. Department of Health and the R.I. Department of Behavioral Healthcare, Developmental Disabilities and Hospitals.
Since its inception, 92% of users have requested to enroll in peer-led recovery support, the city says.
City officials also announced the agencies picked by the Providence Healthy Communities Office to receive grants from the BHDDH State Opioid Response fund.
Awarded agencies and programs are:
Project Weber/RENEW received $166,000 to train and distribute naloxone and fentanyl test strips to those at risk of overdose, and conduct outreach to engage the community in peer-led recovery support groups.
The Miriam Hospital received $69,970 to support social, emotional and physical health needs of those who have been impacted by overdose.
Rhode Island Hospital received $68,000 to connect discharged patients with substance use disorders to appropriate care and social supports.
Refugee Dream Center received $45,856 to educate recently settled refugees about proper use, management and risks of opioid medications through its Journey to Health program.
Building Futures RI received $24,144 to integrate the "Opioids & Construction: Why it Matters and What We Can Do" curriculum into the pre-application building trades program.
Providence State Opioid Response funds will also go toward providing city firefighters and EMS with naloxone and overdose-prevention information to distribute to people who have been involved in overdose calls or related issues.