On a sunny, June afternoon, two women stop to greet one another – one entering, one exiting Seven Stars Bakery on Hope Street, on Providence's trendy East Side. Across town later that day, two men meet and embrace at a Broad Street bus station outside Asian Bakery & Fast Food.
Separated by a highway, river and socio-economic gap, the bakeries serve different clienteles but are alike at their core.
Inviting venues where friends meet up, these businesses – along with residences, community organizations and hangouts, be they bodegas, bakeries or barbershops – reflect the neighborhoods in which they exist.
Local tourism specialists and city administrators are eager to leverage these cross-neighborhood similarities and differences to attract visitors from inside the state and out.
At 18 square miles, said Stephanie P. Fortunato, director of Providence's Department of Arts, Culture + Tourism, the city's "scale lends itself to being connected."
Yet, for more than 20 years, since "the building of the R.I. Convention Center and bigger hotels," she said, "the focus of the tourist product here has been downtown," with occasional spotlights on the Roger Williams Park Zoo, Federal Hill and Benefit Street.
Providence Warwick Convention & Visitors Bureau's May publication of guides to 15 capital city neighborhoods is an attempt to turn some of the tourism spotlight back on the neighborhoods. Produced in partnership with Fortunato's office, it is the latest tourism product geared to an increasingly digital, social media-focused demographic.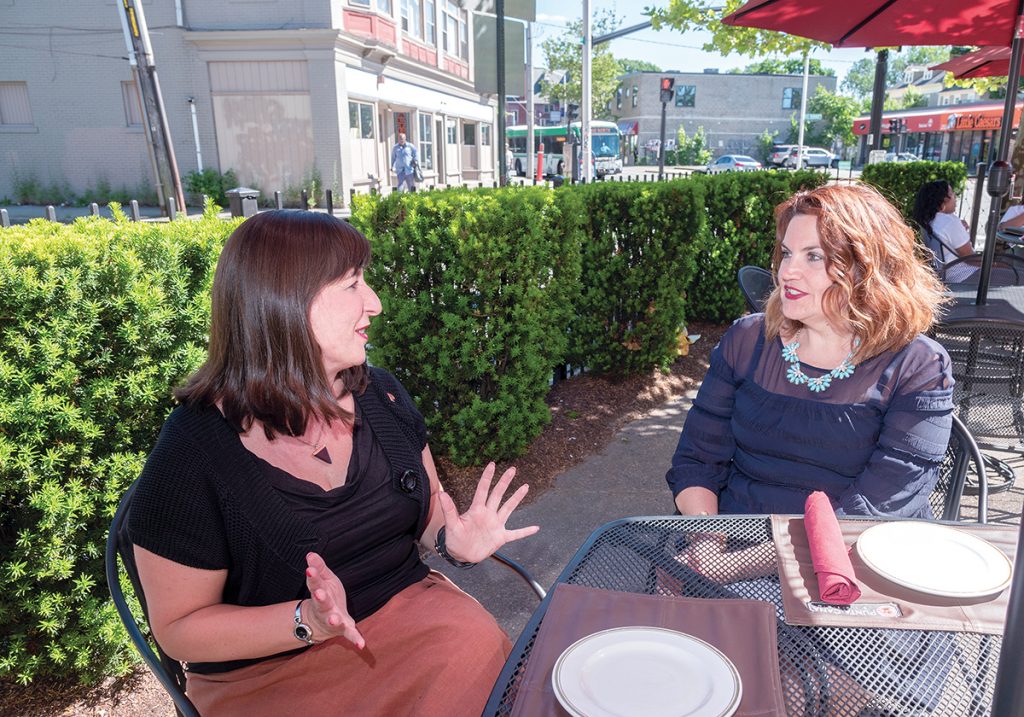 BE A LOCAL
The guides cover as far south as Elmwood, north to Hope Street and Summit, east to Wayland Square and across the breadth of the city to Silver Lake and Olneyville.
These neighborhoods were chosen from the 25 distinct regions of the city because each has a "unique character and identity," said Fortunato. "We want to find ways to [identify] cross-cultural experiences" among them to encourage further exploration by tourist and local alike.
Since the 1990s, she explained, "Not only have people's habits changed, the ways in which they travel and find out about what to do have changed [too]."
Today's tourists want to "count themselves … among the locals," said Fortunato. Often, they are identifying such opportunities through online means, including TripAdvisor, Yelp and Airbnb. The PWCVB hopes its website can join that group.
The goal, per Fortunato and Kristen Adamo, PWCVB vice president of marketing and communications, is to meet potential tourists where they are researching and planning – online – enticing them to visit by providing as much information as possible but also encouraging participation and input from locals via #PVDPicks.
Before the May launch, explained Fortunato, the city's Department of Arts, Culture + Tourism only worked "loosely" with neighborhood and merchant associations sponsoring and marketing "one-off" festivals and street fairs throughout the year.
It was this inconsistent collaboration that helped spark the idea of the guides.
There is "great value" in such partnerships, said Fortunato, who helped arrange quarterly meetings among Providence's many neighborhood associations. Cross-interest collaborations began – among them, the 15 online neighborhood guides.
A year in the making, Martha Sheridan, PWCVB president and CEO, drew inspiration for the guides from Chicago and San Francisco, cities she says embraced tourists' desire to live like a local early on.
In prior PWCVB campaigns, explained Sheridan, "our ability to expand product offerings to the visitor has … resided with technology." For example, she said, adding Google Maps to the organization's website "helped us get people beyond the central core of the city."
Four years ago, the PWCVB released a self-guided walking tour for the East Side. Two additional tours, of downtown and the West Side, followed last year. A fourth – the Jewelry District – is planned for late fall.
The new neighborhood guides were developed with the help of Rebecca Pazienza, a freelance writer who also felt the same neighborhoods and attractions in the city had been promoted again and again.
"It's easy to frequent the places you're used to," said the lifelong Providence resident, who added that she and her friends started brunching at new restaurants after she began the project, including Milk Money in the Wickenden Street area and downtown's The Black Sheep.
Pazienza, tasked with outlining the 15 neighborhoods, said her goal was to bring the "hyper-local" to the forefront and, within each, represent "a pocket of the city you can explore" walking or biking.
The project cost the PWCVB "under $5,000," for Pazienza's fee, according to Sheridan. By June 26, online traffic to the guides had created 14,856 page views.
SHOPPING DRAW
"It's no accident we've been here as long as we have," said Asher Schofield, co-owner of 17-year-old Hope Street gift shop Frog and Toad LLC.
When it opened in 2001, the corner shop was across the street from a bank and a bus stop, parking was available and the demographic was "potentially a very loyal and supportive customer base," said Schofield.
And not much has changed. On a recent Monday afternoon, Frog and Toad was packed, as shoppers milled through the eclectic curation of gifts, clothing and crafts.
A longtime buy-local proponent, Schofield knows shops such as his draw tourists. Run by locals and often selling locally produced stock, he said, "It's this experiential retail operation that tells the story of a city's people.
"It's by virtue of the character and culture of the city's small businesses that we define the culture and character of that city," he added.
Dixie Carroll, co-owner of 10-year-old women's clothing shop J Marcel, also on Hope Street, launched the business at the height of the Great Recession. Even then, she said, neighboring merchants were "very supportive" of new, independent businesses "and we felt [the area] had a lot of potential."
Successful Hope Street businesses, said Carroll, are multitaskers. For example, she said, upholsterer Kreatelier LLC also offers interior-design services. Evolve Apothecary and Spa, she said, has "elevated" the street by listing massages and body treatments.
Vincent Scorziello, Wickenden Area Merchants Association president and co-owner of Campus Fine Wines on Brook Street, said "unique offerings help keep a business relevant."
Some businesses help Wickenden Street stand out because they "are the only [example] of their kind in the area between Boston and New York," he said. They include Chinese noodle bar Jahunger LLC, art gallery Lore Collection, adult store Mister Sister Inc. and houseware/vintage shop N.A.V.A. Inc.
Also nearby are Brown University and the Rhode Island School of Design. Scorziello said a diverse group of residents and tourists attracted to the colleges keep WAMA businesses afloat.
While he has watched some shops come and go, Schofield remains on Hope Street. Calling the businesses "who want to get involved in community building" his "partners," he said good entrepreneurial investment is "reciprocal. When you commit to strong investment in your community, that support returns to you."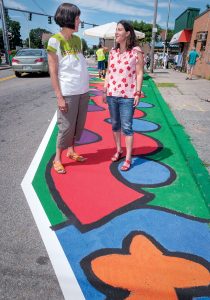 Similar entrepreneurial spirit, says Marta V. Martínez, Rhode Island Latino Arts executive director, pulses on the roughly 4-mile stretch of Broad Street from Trinity Square to Washington Park, home to 23 bodegas, by her count.
While Broad Street does have a large Latino population, she said, entrepreneurs of other ethnicities – including Cambodian, African and Chinese – "all sell Latino food because they know the makeup of the neighborhood."
Broad Street's restaurants and markets have become "places to socialize" for neighborhood residents, she said.
Unlike Hope and Wickenden streets, Broad Street businesses are not reliant on tourist dollars, said Martínez, adding, "The people who live there are the ones who keep the stores open."
As co-chair of the city's Council for Arts, Culture and Cuisine, Schofield said the PWCVB neighborhood guides are a "promising response" to a repeated community request.
HIGHER ED
Eleven degree-granting colleges and universities operate within Rhode Island – five are headquartered in Providence and two maintain satellite campuses in the city.
From fundraisers at which adults can relive their childhood at The Children's Museum to innovation-focused, industry-specific presentations at the Social Enterprise Greenhouse and soon-to-open Wexford Science & Technology Campus, multiple educational draws exist in the Jewelry District.
Together with Brown, Johnson & Wales University, Rhode Island College and the University of Rhode Island – to name a few – the influx of educational institutions into the district has "brought incredible revitalization, energy, activity and demand for services," said Shannon Steele, Jewelry District Association president.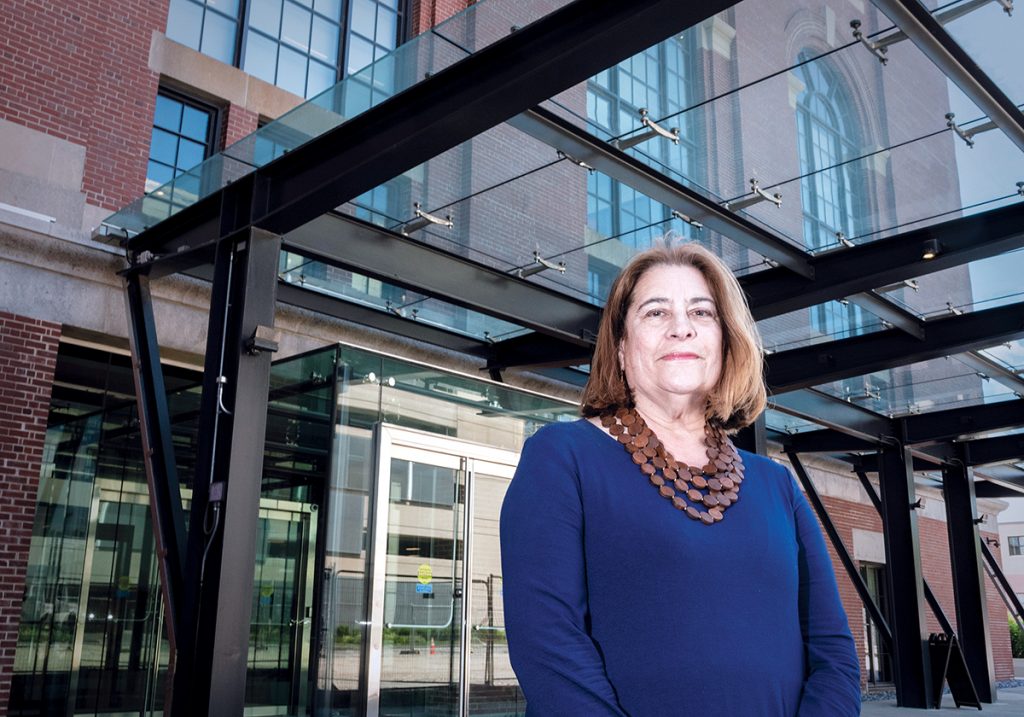 College Hill, the city's original higher education epicenter, said Pazienza, remains a top destination, too. The RISD Museum, she said, "offers something for everyone," with children's art events and exhibits featuring designers of national and international acclaim.
Pazienza also listed Brown's Haffenreffer Museum of Anthropology, which she says is sometimes overlooked by locals.
Downtown, home to JWU's main campus and Roger Williams University's Providence campus, borders the Jewelry District. In the Providence Arcade, Christine Francis owns Carmen & Ginger – a vintage boutique – reliant on students and tourists for 60 percent of sales. Similar to the Jewelry District, Francis said schools were drawn downtown because of real estate opportunities.
HISTORY
The city's history, exemplified by its ethnic and architectural mix, is also a significant tourist draw.
One of the oldest capitals in the United States, Providence has witnessed centuries of immigration spurred by religious freedom and economic prosperity. College Hill, Benefit Street, Federal Hill and Broad Street are among the neighborhoods to have witnessed the most frequent movement of people to the city throughout its four-century history.
"Immigration isn't something that happened 100 years ago and stopped," said Jennifer Wilson, assistant director of the Newell D. Goff Center for Education and Public Programs at the R.I. Historical Society. "Providence still welcomes people."
At one point, said Morgan Grefe, executive director of the R.I. Historical Society, there were so many in-bound immigrants in Providence, the city was the "fourth-biggest immigration port in the country."
Nonindigenous immigration began in today's College Hill area and spread over the ensuing decades to Benefit Street. Architecture from this period, said Grefe, dots the East Side, lending to the neighborhood's quality of life and attraction for outsiders.
Robert I. Burke, downtown French café Pot au Feu owner, calls Geoff's Superlative Sandwiches a trip down local memory lane. Its menu, he explained, is full of sandwiches named after famous Rhode Island "characters" dating back to the 1970s.
As a tourist, he added, "If you're told what each of those sandwiches mean, you would have a real mini-history of Rhode Island."
Burke is also founder of the city's 2.5-mile Independence Trail, which uses a green line to connect four centuries of Providence history, architecture and culture.
Federal Hill is a well-known culinary draw established largely by Italian and Portuguese immigrants during the latter half of the 19th and early 20th centuries.
One local hangout that still boasts "Italian family hospitality" is the back bar at Joe Marzilli's Old Canteen Italian Restaurant on Federal Hill, said Burke. Calling it a "throwback bar," Burke said the atmosphere is "as close as you can get to being invited in somebody's house for Sunday dinner."
The start of the Latino influence on Broad Street can be traced to the late 1950s, when a group of Dominicans set up shop, literally.
And the neighborhood only diversified from there. Martínez recounted Cambodian and Laotian refugees appearing in large numbers in the 1990s, followed by African immigrants, mainly Nigerians, more recently.
The Southside Cultural Center of Rhode Island, "smackdab in the middle" of Broad Street and Elmwood, said Pazienza, reflects the local "global flavor." Residents and tourists are encouraged to learn more about the neighborhood through "cultural and ethnic experiences," including lessons on Cinco de Mayo, drum circles and storytelling classes with the Rhode Island Black Storytellers.
Martínez, who leads tours along Broad Street, hopes the PWCVB guides bring more awareness to the city's immigrant foundation and to contemporary issues. Providence, she said, "and particularly the Broad Street area, was sustained by immigrants."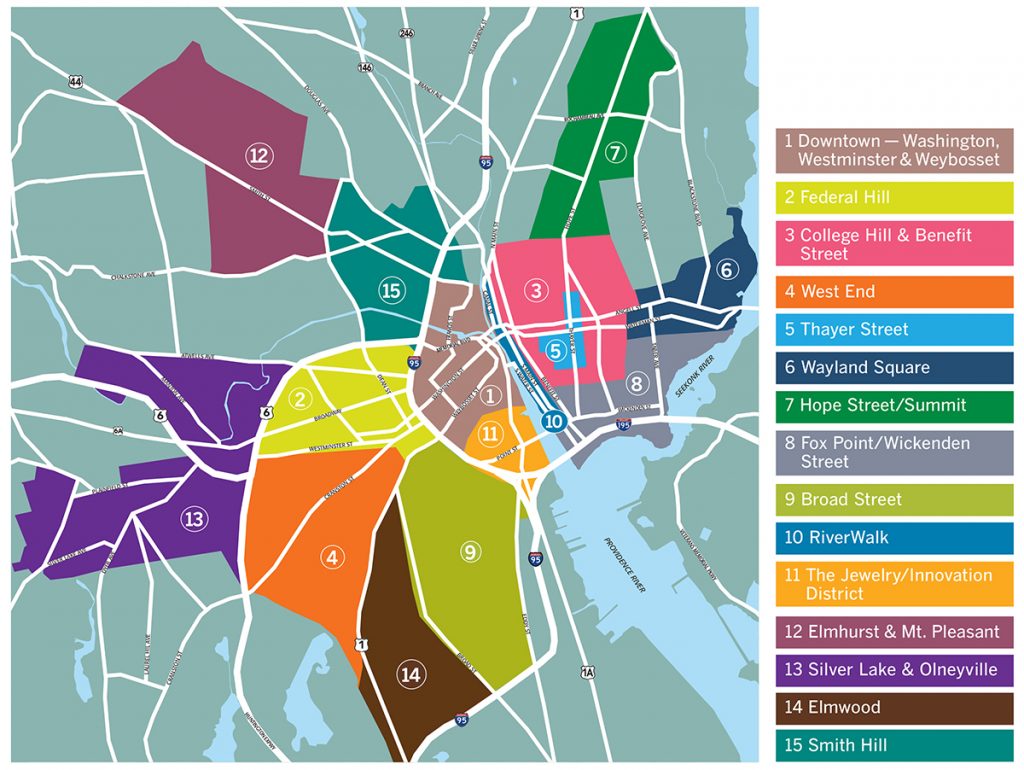 FOOD UNITES
For many, their first taste of Providence is the city's food. Home to award-winning culinary school JWU, the city both trains and supports restauranteurs, chefs, food producers and farmers representing global culinary traditions and 21st-century innovation.
"Yes, lots of places have good food," said Sue Anderbois, a former San Francisco resident now serving as the state's director of food policy. "But we have this unique [mix]" of cultures that lends itself to a diverse culinary experience.
Anderbois said that while each Providence neighborhood is different, "Food is the thing that unites the city."
Representative of Rhode Island culture, said Anderbois, Federal Hill has a lot of "charm," as well as the influence of "new and exciting" ventures from nearby West End haunts The Grange, Julian's and Nick's on Broadway.
Moving east, on Broad Street, "You see a lot more of the restaurants that reflect the changing population in the neighborhood," she said, and Rhode Islanders "embrace" that diversity.
Impact of local African communities, said Eat Drink Rhode Island owner and founder David Dadekian, can be seen in the seasonal Sankofa Market on Elmwood Avenue. Held June through October at the Knight Memorial Library, the market is sponsored by the West Elmwood Housing Development Corp. and was founded in 2011, with the aim of improving economic and nutritional opportunities for West Enders.
Dadekian also feels notable eateries – including Bocaro Restaurant and Dave's Coffee – that call RiverWalk home – have helped establish Providence as a worthy food-centric destination.
Dadekian and Anderbois agree the city's bustling food industry is reflective of its citizenry.
"It's not a secret and it's not new," Anderbois said of the city's food attractions, "But it's still something we need to remind ourselves" is worth marketing.
BUILD A FOLLOWING
Constantly evolving, the nature of a city does not lend itself to a static anthology of neighborhoods, something Fortunato and the PWCVB knew when they undertook the project.
"When we sat down with the PWCVB, we realized there was no way these guides could be comprehensive," said Fortunato. "Every person has a different experience of the city."
Wanting a way to "crowdsource" what was not named in the first edition of the guides, she said, a hashtag, #PVDPicks, was built into marketing materials.
Acting as a public feedback forum, #PVDPicks transcends city limits to potential visitors across the globe. The PWCVB also hopes it will entrench itself locally to promote the previously unseen micro-businesses and neighborhood anchors that form the character of Providence.
Frog and Toad's Schofield has high hopes for the guides. He predicts lasting impact if the PWCVB commits to it.
With something as organic as a neighborhood guide, he added, "You can't just launch it, you have to … cultivate it."