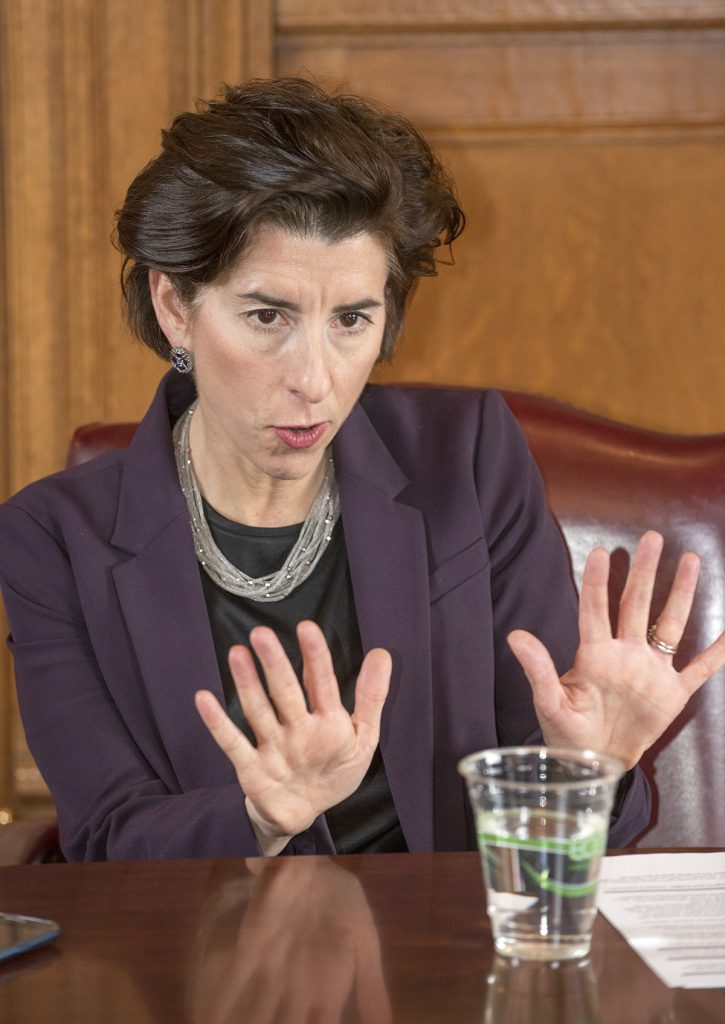 By halting a proposed acquisition of Care New England Health System by Boston-based Partners HealthCare, Gov. Gina M. Raimondo is showing leadership despite the eleventh-hour timing of her intervention, say political observers.
It's a more active leadership role than she's been willing, or able, to take with other recent issues involving high-profile Rhode Island businesses.
Raimondo earlier this month called for a halt to an ongoing state review of the proposed deal so CNE and Lifespan Corp., the state's two largest health care providers, could renew discussions about forming a unified in-state system. The latter would include Brown University's medical school.
She gave the three entities until roughly the end of the summer to find a way to collaborate. If talks fail, a merger between Partners and CNE would be back on the table.
"Using the office of the governor to bring the [three] sides together is totally appropriate," said Gary S. Sasse, founding director of the Hassenfeld Institute for Public Leadership at Bryant University.
Still, Sasse said, the nudge may have been more effective had it come earlier in the process.
The proposed deal with Partners was announced in 2017, and the two sides were in the midst of completing applications for an expedited state review.
Had Raimondo stepped in sooner, she may have been able to get independent evaluations of the various proposals, Sasse said.
Raimondo was an early, if not vocal, supporter of a new ballpark for the Pawtucket Red Sox. But she often deferred to General Assembly leaders on a much-debated financing plan that team owners ultimately turned down last year in favor of a better deal to move to Worcester, Mass., in 2021.
More recently, she and state legislative leaders displayed a united front to Hasbro Inc. executives, publicly offering support as the toymaker mulls a move from its Pawtucket headquarters.
Raimondo's office did not immediately respond to requests for comment.
Robert Hackey, a professor of health policy and management at Providence College, said behind-the-scenes talks with the health providers present a different challenge for Raimondo.
State leaders could "put cash on the table to incentivize people to do things" when dealing with the PawSox and Hasbro, he said. "There really aren't a whole lot of carrots you can put on the table" in negotiating with nonprofit health care networks.
But Raimondo may still have a hand to play, says Patrick J. Quinn, executive vice president for District 1199 SEIU New England, a labor union that represents employees at Women & Infants and Butler hospitals.
"I think it's more than a bully pulpit," he said of the governor's position. "A large amount of the money that's spent in health care … is state money, and the governor has the power of the purse."
Elizabeth Graham is a PBN staff writer. Contact her at Graham@PBN.com.