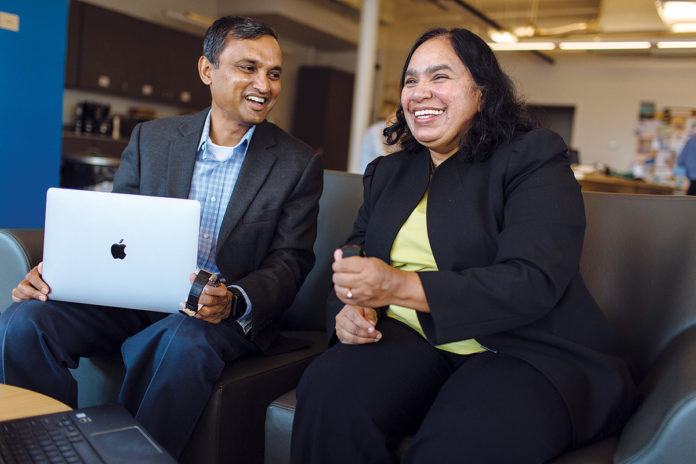 The distance separating Jayanthi Narasimhan from her parents in India is tough enough without the added stress of being their caregiver.
"My mom always forgets to take her medication," Narasimhan said.
Narasimhan – a veteran of the telecommunication sector – started to research solutions to try and make the connection easier. After finding none, she decided to create her own health-related company and launched WatchRx Inc. in 2015.
The wearable-device startup sells watches designed to help aging parents live independently and to better manage medications and health conditions remotely. It reminds folks when to take medicine and displays the name of the medicine, an image and the dosage, with instructions.
Caregivers can keep tabs on everything using a smartphone and send messages or even call the watch. If a person fails to take their medicine, or isn't wearing the watch, the caregiver is alerted. The system is designed to ease the more-strenuous part of the relationship between caregivers and those receiving care.
"Parents love that you call and talk to them, but they don't want you to call them just to say, 'You have to take your medicine now,' " Narasimhan said.
WatchRx started in Acton, Mass., but Narasimhan has opened an office in Providence and plans to incorporate here. She was lured to the Ocean State by the Social Enterprise Greenhouse Health and Wellness Accelerator, a 12-week program designed to help burgeoning startups grow.
Beyond the accelerator, however, Narasimhan also sees Rhode Island as a suitable place to flourish in the health industry, as there's a high density of pharmacies, hospitals, universities and other care-related organizations in a relatively small geographic area. Not to mention, the median age has increased in recent years.
"The population is aging, and people want to live independently," she said. "I'm expecting to make a lot of connections in the Rhode Island market."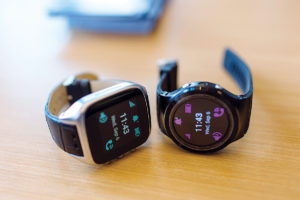 Narasimhan has gone through extensive beta testing and started selling the watch, which has a SIM card and a data plan so it isn't reliant on Wi-Fi and can be used outside the house. It also supports Global Positioning System, which is attractive to people who have been diagnosed with Alzheimer's.
"The watches become a good thing for people because they don't have to think of it as a medical device," she said.
Looking forward, Narasimhan hopes to continue to develop the watch. She's working with another company to integrate fall-detection capabilities, so caregivers can receive alerts if someone falls while wearing the watch. She also hopes to connect with the University of Rhode Island to work with students and professors who are researching how to improve the quality of life for an aging population.
"There's a synergy out there," she said. "It gives me a good avenue to be in Rhode Island."
OWNER: Jayanthi Narasimhan
TYPE OF BUSINESS: Medical ­technology
LOCATION: 10 Davol Square, ­Providence
EMPLOYEES: Two full time, one part time
YEAR ESTABLISHED: 2015
ANNUAL SALES: WND