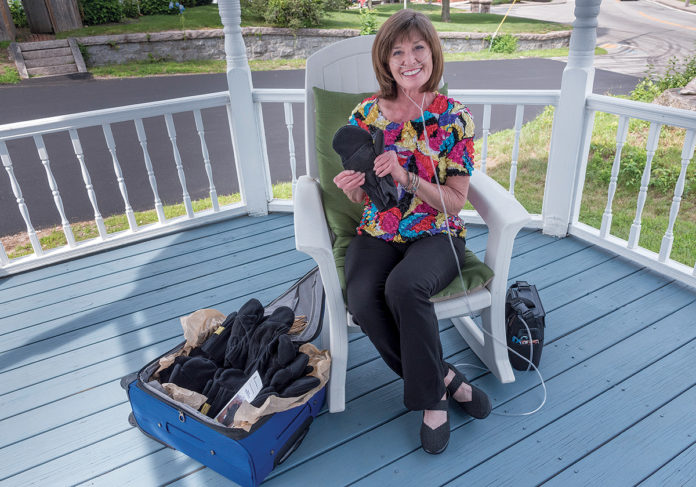 Up until recently, Marita Loffredo didn't think of herself as a businesswoman, "but necessity is the mother of invention," she said.
With late-stage rheumatoid arthritis, the West Warwick resident struggled for years to find gloves for hands contorted by the inflammatory disease. Having sensitive joints, putting on gloves could be a chore in itself, not to mention trying to complete any task with them on made her feel like she was operating with "clown shoes" for hands.
Arthritics and those affected by similar maladies, such as Raynaud's phenomenon, have a unique need for efficient hand covering, Loffredo explained, as even slight changes in temperature can trigger painful spasms or numbness.
Loffredo would take gloves to the supermarket, for instance, as the coldness of the refrigerated section could trigger an attack in her hands. Trying to scrape ice off her car in the winter, she said, could cause pain so intense it was nauseating.
Even though the Centers for Disease Control and Prevention estimates that about 54.4 million Americans suffer from some form of arthritis, Loffredo found it difficult, even online, to locate resources for a problem countless Americans share.
"I went on a message board and one lady from Texas said she wore tube socks for gloves and cut out the heel for her thumb," Loffredo said. "There was just nothing out there."
Loffredo had been thinking fancifully about making a pair of mittens for herself when her hand surgeon gave her the push she needed. "He said it was the No. 1 complaint, 'there's nothing out there, go for it.' " Loffredo said. "Those words kept coming back to me."
It would take Loffredo 10 years to translate her idea into a marketable product: Phalang-Ease mittens.
Every facet of the gloves was precisely chosen and serves a specific purpose. Instead of sliding a hand in – a potentially painful and laborious effort for those with arthritic conditions – the gloves have a flap on the bottom that allows users or caregivers easy access.
The high-quality fleece is 100 percent windproof and water resistant, while the elastic is strong enough to keep out breeze but not too tight that it agitates the wrist.
"It's a universal design, so you don't have to have handicapped hands to wear them," Loffredo said. "If you cross-country ski, snowboard, if you're a parking valet, anyone can wear these mittens."
In 2012, the first Phalang-Ease prototype was made. After she worked out how to produce a pair herself, she found a small manufacturing company, Ridgeview Manufacturing, in New Hampshire, to produce the gloves.
After she finally brought Phalang-Ease gloves to production, a diagnosis of pulmonary hypertension temporarily brought things to a halt. "I'm pretty much full spectrum with what can go wrong with the disease," she explained.
The precariousness of her condition, especially considering the launch in 2014 of Phalang-Ease Mittens LLC, led Loffredo to transfer ownership of the company to her sons Peter and Michael, though she still helps with events and marketing.
While production has been in process for years, actually selling the gloves is new, Loffredo said.
"We don't have a brick-and-mortar [shop] or even a spare bedroom," Loffredo added, "but we now accept credit cards!" The company doesn't yet have a website and still advertises primarily out of its public Facebook page.
Loffredo says the business is planning on expanding, though, to a web page and to social media platforms soon.
This past winter was the first selling season. Loffredo estimates that she sold or comped about 60 pairs from an initial order of 188 from the manufacturer. They sell for $37.50 a pair.
Public events such as the 2017 Walk to Cure Arthritis in Providence have offered Loffredo new opportunities to sell the mittens.
"The first thing people say is they can't believe how soft the gloves are," Loffredo said, beaming, "and then that it's a great idea and they can't believe no one thought of it sooner."
Though she never trained in business, Loffredo has an instinctual acumen and attention to detail that have helped her transition to the commercial world. Instead of occupying herself with the thought of profits and dividends, though, Loffredo says she considers the impact her gloves have on others to be most important.
"If I can help somebody feel better in cold weather, that would be wonderful," Loffredo said. "I've tried to keep costs low because I want everybody who needs them to be able to afford them and have some comfort."