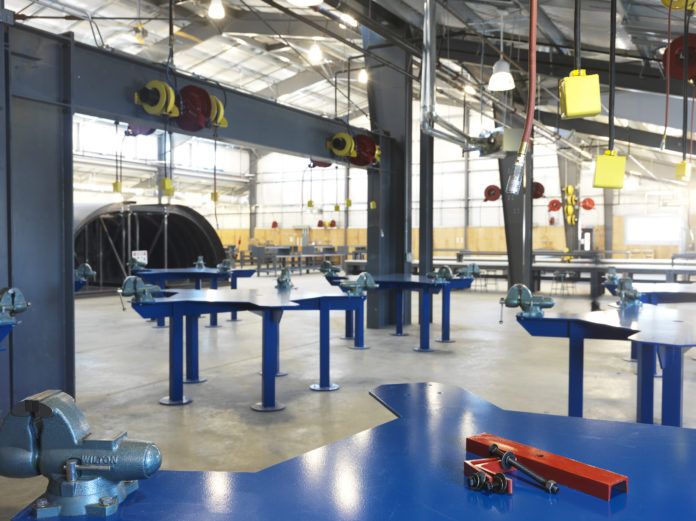 WESTERLY- The Westerly Education Center opened for business with a ribbon-cutting ceremony featuring Gov. Gina M. Raimondo, according to a press release from the R.I. Office of the Postsecondary Commissioner Friday morning.
The center, at 23 Friendship St., will aim to deliver educational classes to meet projected workforce growth in the region. The space also will be available to rent for businesses who wish to run training sessions or to engage with higher education institutions to develop customized courses.
The new venture will focus on workforce training, featuring courses from General Dynamics Electric Boat, University of Rhode Island, Community College of Rhode Island, Rhode Island School of Design and Rhode Island College.
The 14,500-square-foot building, purchased by the Royce Family Foundation, cost $5.1 million to construct and will contain 15 classrooms, two computer labs and one multi-use meeting room. The center sits on what was previously a 2.5-acre abandoned railway yard.
Following construction, the RFF gifted the building to the Westerly Higher Education and Job Skills Center, a nonprofit corporation that is part of the charitable arm of the Rhode Island Foundation. The state of Rhode Island will lease the building for $1 per year for 20 years commencing in 2017.
According to the release, the inaugural program offerings in maritime pipefitting, sheet metal, and electrical work enable General Dynamics Electric Boat to meet obligations for contracted work with Rhode Island and Connecticut employees.
"I believe we have a collective responsibility to make sure that Rhode Islanders are getting the good jobs that our businesses are creating," said Raimondo in a statement. "The only way that's going to happen is if we make sure that people have the training and education that businesses require. I talk to business owners every day, and they tell me the hardest part of growing is finding the educated workers for the jobs they need to fill. The Westerly Education Center is an important step toward filling that need, connecting hard working Rhode Islanders with the skills they need to get good-paying jobs. Congratulations to everyone involved in making today a reality."
Funding for the building came primarily from the Royce Family Foundation, who donated $1,775,000 for the facility, but also came from the R.I. Department of Environmental Management, an appropriation from the R.I. General Assembly, the town of Westerly, the RIOPC and private donors. More information can be found on the center's website.
Chris Bergenheim is a PBN staff writer.