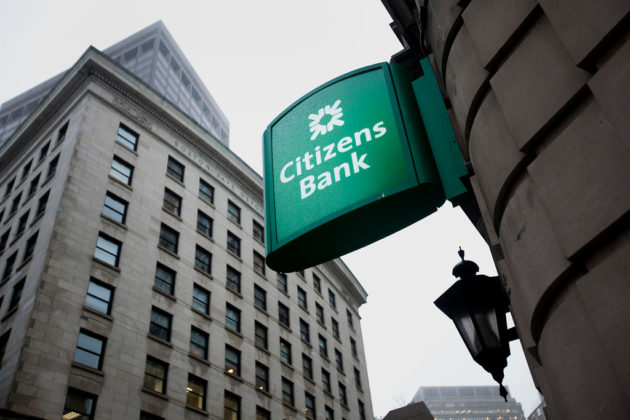 PROVIDENCE – Citizens Financial Group Inc., parent company of Citizens Bank, Friday reported double-digit growth in net income and total revenue for the second quarter.
Citizens, the largest Rhode Island-based bank, reported earnings of $425 million in the quarter ended June 30, a 33.6 percent increase from the second quarter of 2017. Earnings per share rose to 88 cents for the quarter, from 63 cents a share in the second quarter of 2017.
Year-over-year total interest and non-interest revenue grew 14.2 percent to $1.8 billion, driven by a 17.1 percent increase in interest income, which totaled $1.4 billion for the three months ended June 30. Non-interest income increased 4.9 percent to $388 million for the quarter.
"We are pleased to report another quarter of strong earnings growth and meaningful improvement in return on tangible common equity," Citizens Chairman and CEO Bruce Van Saun said in a statement.
"We continue to execute well, with strong balance sheet management and smart investments in fee-based product capabilities, as well as in technology applications, digital channels and data," he said. "We are well-positioned to continue our momentum in the second half, as we work hard towards building a great bank that delivers well for its stakeholders."
Also Friday, Citizens announced the launch of the next phase of its "Tapping Our Potential" efficiency program, designed to drive continuous improvement in the company's overall efficiency and effectiveness, while self-funding investments to drive future growth.
The program is expected to deliver pre-tax expense and revenue enhancements of about $90 million to $100 million by the end of 2019.
Loans and leases grew 4 percent year over year to $113.4 billion, a major portion of the 2.7 percent increase in assets, which stood at $155.4 billion on June 30. Deposits grew 3 percent year over year to $117.1 billion.
The bank saw a return on average total assets for the period of 1.11 percent and a return on average common equity of 8.65 percent, increases from 0.85 percent and 6.48 percent, respectively. The net interest margin for the bank rose from 2.97 percent in the second quarter of 2017 to 3.18 percent in the most recent reporting period.
Scott Blake is a PBN staff writer. Email him at Blake@pbn.com.