"There's absolutely an appetite on diners' parts to be dazzled!" This observation in a recent published report from Caroline Potter, the chief dining officer of the online-reservations platform OpenTable, indicates good news coming from restaurant row during the first few weeks of the new year.
Fine dining appears to be making a comeback. This has been reported at high-end restaurants in places such as New York City and Chicago. Here in Rhode Island, there was a noticeable uptick during the Providence Restaurant Weeks held Jan. 14-27.
The special-dining offerings at nearly 100 eateries always bring out large numbers of guests who are hungry to try new places or revisit long-missed favorites. This winter, the weeks were more popular than ever.
Fine dining has returned to Providence, especially during restaurant weeks, says Christine Phillips, of the Providence Warwick Convention & Visitors Bureau, which puts on the special promotion. It is a positive for restaurants and restaurant-goers alike. "There [are] people who [are trying] the higher-end restaurants … and people are spending!" she reported.
The January weeks had virtually the same number of restaurants – 90-plus – that take part in the longer-established summer version. From the diners' side of the table, the idea seems to have returned that going out to dinner is the evening's entertainment, instead of just a fuel stop before or after the plans for the night. Phillips agreed, "especially in Providence." She also observes that spending is on the upswing, with more diners not skimping on specialty menu items or tipping – good news for restaurant staffers.
In discovering the new attraction to upscale, or at least up the experience, the tone seems to be what some are calling "finer dining." The idea, like so much else these days, is influenced by millennials. Phillips notices them in Providence: "The millennials know! They know farm-to-table, they want what they want, and they know their food!"
Nationally, food writers and industry professionals noticed some common threads in the renaissance of finer dining.
There appears to be an unwritten rule of "no burgers" on dinner menus at least. Waiters are fairly dressed up – or at least have left their rock star T-shirts at home. And there is the return of splurge-worthy menu indulgences and high-end wines.
In Providence for restaurant weeks, the eateries showed off their best. A sampling of some of the chefs' offerings tells the tale of finer dining.
Gracie's offered Crescent Farms Duck, roasted winter squash and salsify; or herb-marinated swordfish with shaved fennel and Meyer lemon beurre blanc. CAV represented the French connection and kept a restaurant-week tradition of serving duck confit – a double leg modernized with blood orange brandy demi-glace and sweet potato sage puree, or bourbon pecan glazed top sirloin with goat cheese pomme puree and broccoli rabe. And real chairs were at the cloth-covered tables, reservations were accepted and honored, and the playlist and décor were fun but not crushingly loud.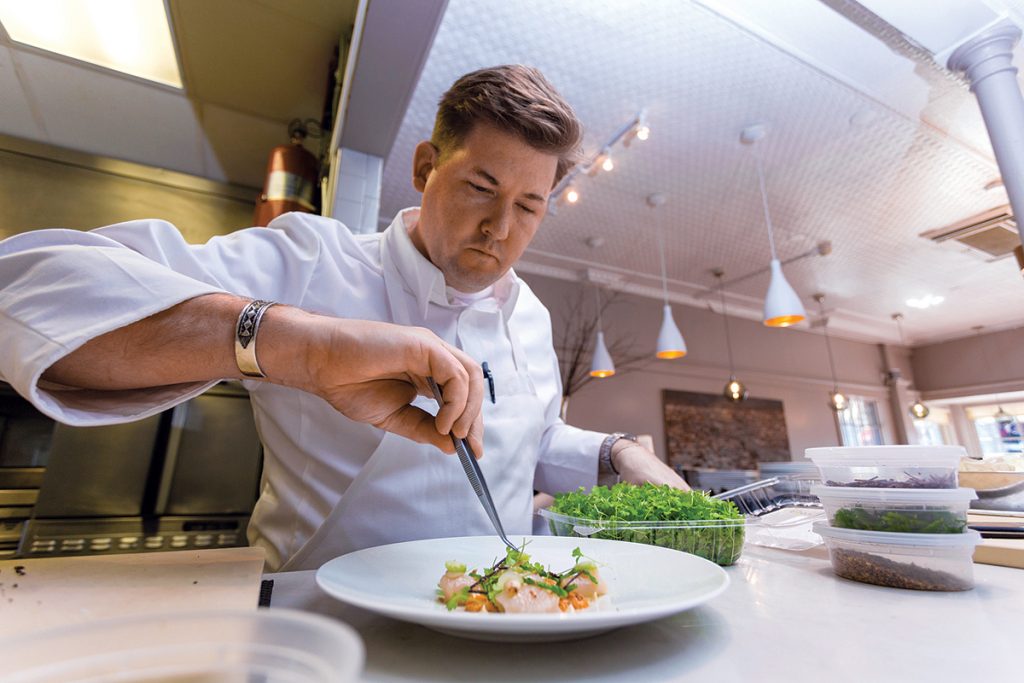 Phillips pointed out the increased representation of newer spots in the city such as Pastaio and East End Café, and places that are still considered new or at least untried to diners such as Persimmon and KG Kitchen Bar. Put it together with the added attraction of spending the evening experiencing the state of the culinary art in the city and fine dining – or at least finer dining – has returned.
Bruce Newbury's Dining Out radio talk show is heard Saturdays at 11 a.m. on 1540 AM WADK and through the TuneIn mobile app. Email Bruce at Bruce@brucenewbury.com.