Johnson & Wales brings a legacy of food and hospitality excellence

 

to its growing healthcare programming
Johnson & Wales University has a long and impactful history as a global educational leader in the food and hospitality industries. The university has transformed these industries through innovative approaches, thought leadership, and ingenuity. For over two decades—the introduction of the first dietetics program was in 1999—the university has invested in building health and wellness programming with its legacy verticals of food and hospitality woven throughout. It's this interdisciplinary approach, paired with a focus on applied learning, that makes the university's health and wellness curricula so distinct.   
Click here to read more content from JWU.
Whether working alongside Johnson & Wales' College of Engineering and Design students in the Occupational Therapy doctorate program, or taking a culinary lab called Cooking for Health and Wellness as part of course work in a variety of majors— Dietetics and Applied Nutrition, Exercise and Sports Science, Physician Assistant Studies, or Public Health—the university strives to ensure a uniquely collaborative, hands-on approach. 
---
PARTICIPANTS: From top, Laura Galligan Ph.D., Dean of the College of Health & Wellness, Johnson & Wales University; Paul Ullucci, PT, Ph.D., DPT, ATC, SCS, CSCS, Associate Dean of the College of Health & Wellness, Johnson & Wales University; Nancy Dooley, Ph.D., OTR/L, CDP, Program Director and Associate Professor, Occupational Therapy, Johnson & Wales University
---
Johnson & Wales seems to be approaching health and wellness education differently. Can you share how the College of Health & Wellness is making a mark on an increasingly competitive area of study? 
Laura: The College of Health & Wellness has a natural affinity to the welcoming and caring approaches in the hospitality and culinary fields. Our humanistic approach to healthcare values the individual's culture in decision-making and upholds patient dignity and autonomy. Wellness is a core component in our programs in part by the inclusion of a "cooking for health and wellness" lab course. When Dietetics students collaborate with Exercise and Sports Science students, rehabilitation and performance are both improved. And when Occupational Therapy and design students work together to create a device that could allow someone with a disability to remain at work, the results can be life-changing! 
Interprofessional education allows more students to experience state of the art labs and equipment. The occupational therapy driving simulator provides an opportunity for collaboration with physician assistant students on the complex needs of our elderly population, the physician assistant cadaver lab is a great benefit to exercise and sports science students in understanding exercise physiology, and the exercise and sports science equipment that measures metabolism is essential to dietetics students prescribing specialized diets. The best healthcare happens when providers work as a team and our students are well prepared to understand the roles of other professionals and to collaborate with them.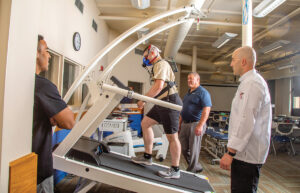 Nancy: We designed the occupational therapy curriculum to take advantage of the opportunities available to students at Johnson & Wales. It is common for occupational therapy students to work collaboratively with other healthcare professionals like nurses and physical therapists. In the university's occupational therapy doctorate program almost every course has an interprofessional education experience and many of them are outside of traditional healthcare boundaries. We want students to be able to share their knowledge with a wider pool of professionals, so this collaborative effort extends to the College of Food Innovation and Technology and the College of Engineering and Design. This past spring, students worked with product design students and professors to develop real world solutions for people with disabilities. One of the most intriguing and promising projects would assist people working in medical laboratories to prevent repetitive strain injuries and continue working despite arthritis or other conditions. 
Exercise and Sports Science is a healthcare field that's really taking off. Can you talk about Johnson & Wales' program and how it's leaning into the university's legacy in food innovation?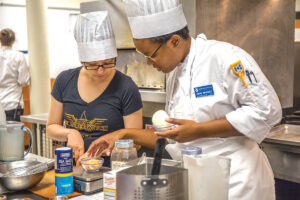 Paul: Food is medicine here at Johnson & Wales! Food and nutrition are critical components to Exercise and Sports Science students' ability to maximize the performance, wellness and rehabilitation of clients, as well as themselves. Culinary and dietetics faculty collaborate with our Exercise and Sports Science program equipping our students with evidence-based practices related to weight management, gaining muscle mass, and enhancing performance and reducing the risk of injuries. This unique collaboration allows Exercise and Sports Science students to learn not only the applications of these dietetics practices, but also the preparation— working with faculty chefs and registered dietitians, they will learn how to prepare recommended foods. This extremely practical knowledge makes our students very desirable to employers and clients. Students also learn state of the art training techniques on equipment designed for professional athletes while they work with faculty committed to undergraduate research.  JWU's Exercise and Sports Science program students are more than prepared to meet workforce demands or stand out from the crowd should they decide to apply to graduate programs in Occupational Therapy, Physician Assistant Studies, Physical Therapy or even medical school. 
The College of Health & Wellness often talks about its applied learning approach being a core differentiator to its programming and outcomes. Can you share a bit more on this subject?
Laura: People often think about internships when we mention experiential learning and while that is true, it is just the beginning at JWU. Experiential learning is learning by doing, and our students learn by doing all the time! They participate in original research and publish their results. These include articles about gambling among young people, smart phone addiction, texting and traffic accidents, screen time and mental health, truly relevant topics for our college students. Classes include case studies of current events for students to study and solve. Students in our labs determine when an injured athlete is safe to return to play, or determine ideal body composition for a variety of sports.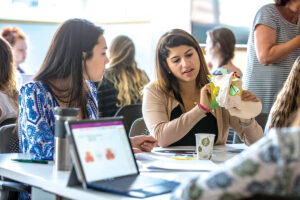 Nancy: In the occupational therapy doctorate (OTD) program we recognize that students value learning with a direct connection to their future roles, so we focus on providing relevant experiential components in each class. We use case studies, videos, role-play, discussion and group activities so that students actively use their new knowledge, rather than sit passively in a lecture. We have also built simulation into our curriculum so that students can act as therapists in scenarios carefully crafted by faculty to correspond to course content in four major practice areas. Students in the OTD program participate in more than 50 of these scenarios and we are currently studying the impact that these learning opportunities have on student skills and anxiety levels. 
Paul: Students are motivated to learn when they are engaged in solving a problem whether it be in the classroom or the research lab. Our Exercise and Sports Science students will work in our labs with real athletes and real clients of all ages and abilities to solve real life problems— whether it be improving athletic performance, maintaining optimal weight or being able to perform everyday tasks. Students will use state-of-the-art technology to assess the physical capacity of their clients and determine the type of program they need to develop to address their client's needs. JWU faculty and Exercise and Sports Science students will utilize the resources of the Undergraduate Research Center and our two labs to conduct research and solve real-world challenges in the field.  
Looking to the future, what can the state and industry expect to see from the College of Health & Wellness?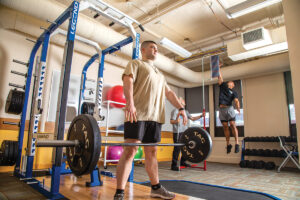 Paul: The university's College of Health & Wellness (CHW) will continue to expand, adding undergraduate and graduate programs, which will provide the people of Rhode Island with the skills and knowledge needed to obtain a satisfying and rewarding career. CHW faculty and students will work with Rhode Island employers and businesses to address specific needs whether they be in workforce development or answering research questions. CHW faculty and students will partner with healthcare providers to provide patients and clients services that they need to ensure that they can safely get back to everyday activities, allowing them to contribute to building a strong economy. Our Registered Dietitians, culinary and Exercise and Sports Science faculty will be able to assess how exercise, diet and food impact body fat and lean body mass to better help our clients achieve their goals. Our human performance lab has the equipment to assess an individual's risk of injury as well as determine when it is safe to return to work or sports.
Laura: We have developed a comprehensive plan for the College of Health & Wellness to provide greatly needed healthcare workers to Rhode Island and surrounding states that address the various aspects of health while providing JWU students the opportunity of satisfying and well-paying careers. We will add graduate programs to provide our students even greater opportunities and touch all aspects of health. Our selection by the Accreditation Council for Education in Nutrition and Dietetics to open a Future Education Model Masters in Registered Dietetics (MSRD) program has been very gratifying and demonstrates the value of our approach. We will serve as a model to other institutions who wish to develop a modern MSRD. Our dieticians' culinary experience makes them extremely desirable in the marketplace and very effective when helping clients change their eating plans. As we continue to expand, we will open new programs deepening our study of public health, health science and expanding into mental health and other allied health fields.