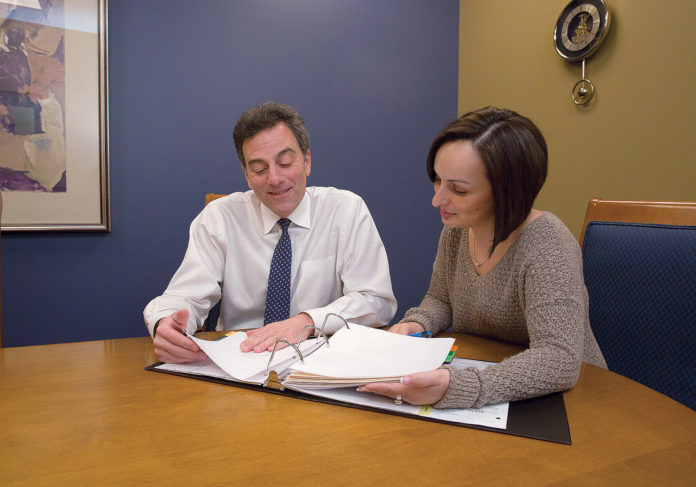 Hospice service, which includes nursing care, assistance with daily living activities, light housekeeping and companionship, can be a salvation for individuals who are expected to die in six months or less.
Founded in 1976, Pawtucket-based Home Health & Hospice Care of Nursing Placement, one of eight agencies licensed by the R.I. Department of Health to provide hospice services, currently cares for 60 hospice patients, though the number varies, said Kari Raposa, hospice clinical manager.
"One of our nurses visits a hospice patient in a nursing home once or twice a week and collaborates with the home's nursing staff to ensure the patient is as medically comfortable as possible," Raposa said, adding certified nursing assistants visit more frequently to assist with activities of daily living.
Raposa said nursing home residents may seek hospice care if they are not getting the one-on-one attention they need at the end of life, or because nursing homes are not always familiar with end-of-life comfort medications such as morphine and Ativan.
Nursing Placement, which contracts with Medicare, Medicaid and local commercial insurers for hospice services, also contracts with 25 nursing homes in Rhode Island to offer such services. Federal regulations require that Medicaid pay the hospice for all Medicaid expenses incurred by a nursing home hospice patient, and the hospice reimburses the nursing home for its expenses.
The problem-plagued, mid-September launch of the integrated health and human services eligibility system of Rhode Island's Unified Health Infrastructure Program complicated enrollments and reimbursements.
"UHIP is meant to enroll individuals eligible for Medicaid, but we've not been paid for 25 percent of our Medicaid-eligible hospice patients (some now deceased) because months later, they're still not registered," Nursing Placement administrator and co-owner Michael Bigney said.
Pre-UHIP, Bigney said Medicaid applications were processed between 30 and 90 days at the most; now it's many months. With nursing homes not receiving payment for their Medicaid-eligible-but-not-yet-enrolled patients, some must borrow to cover payroll and necessities.
Reimbursement delays also plague Bigney's company, though he said the state has advanced some funds.
"The system now … is a disaster; they took something that was working for the most part and blew it up," Bigney said, adding he had to hire the equivalent of three full-time employees to resolve UHIP-generated software problems impacting his business.
In response, R.I. Department of Human Services Acting Director Eric J. Beane said, "The challenges … families and providers have experienced with the UHIP system are inexcusable. We are continuing to hold Deloitte accountable for delivering a system that works and to put the necessary pieces in place on the state side to best manage this project and serve our customers."
While CNAs caring for Medicaid patients received a raise to $10.50 an hour last year – their first in nine years – the Medicaid reimbursement rate is still too low, assert Bigney and Nicholas Oliver, executive director, Rhode Island Partnership for Home Care, the trade association representing home care and hospice providers, who see CNAs seeking more-lucrative employment elsewhere.
"The state has done absolutely nothing to make [CNAs'] work more attractive compared to the minimum wage," said Oliver. "Home care and hospice [CNAs] must spend money on training, continuing education, background checks, licensing and their own transportation; that market can't compete with a Cumberland Farms job posting offering a starting hourly wage of $13.25."
Oliver said access to home health and hospice is at an all-time low, with significant barriers, which he attributes to Gov. Gina M. Raimondo's Reinventing Medicaid initiatives.
However, Sophie O'Connell, director of executive communications, Rhode Island Executive Office of Health and Human Services, said, "This year's budget, submitted by the Raimondo administration, which is committed to supporting home care workers, invests another $11 million to raise caregiver wages and expand availability of such services."
While Bigney acknowledged the challenges have made it increasingly difficult to care for patients adequately, he's not going to abandon them.
"Patients are ending up in more expensive settings [such as] emergency departments and nursing homes, rather than paying home care agencies," he said of the state's Medicaid initiatives. "The demand for what we do has never been greater, but supply is at a crisis level."