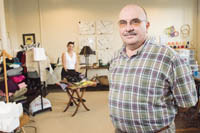 Artists, startups, light-industrial tenants drawn to raw authentic spaces
Len Lavoie has been in the business of real estate and managing mills for 25 years. But in the last nine, he has gone from selling and leasing space in the aging mills to rejuvenating them as affordable work space for artists.
Through his firm, Rhode Island Commercial Industry Realty, Lavoie and business partner Peter Giroux have helped revitalize nine mills in Pawtucket and Providence, and they are currently working on several more. They do this by working with the architect, the general contractor, subcontractors, the cities and the artists.
"My firm is trying to get everyone to communicate," Lavoie said.
"[Len Lavoie] knows the artistic market niche like the back of his hand," said Herb Weiss, Pawtucket's economic and cultural affairs officer. "I've been working with him for the past seven and a half years, and in those years, he can probably pull out leases of at least 500 people who he's signed."
"Any city that wants to revitalize itself for the arts," Weiss added, "needs to call upon a savvy Realtor like Lavoie who understands the niche."
Lavoie has been fundamental to the communication process between the City of Pawtucket and the developers he represents, said Weiss, with the result that artists are coming to the city and developers are building space for them.
"We have meetings every week with developers, and he is the voice of many developers who rely on him to bring concerns to the city's table," Weiss said.
But according to Lavoie, that first step of finding a developer interested in these types of projects is not easy. A lot of work often is needed simply to bring the buildings up to code, so when they're being turned into affordable work space, the return isn't high.
"It's tough to find an owner that's willing to invest," he said.
Lavoie said many developers instead choose to turn the mills into "artist lofts" that are far too high-end for most working artists to afford – such as Pawtucket's Riverfront Lofts, priced at $295,000 to $799,000.
"The problem is making it economical for the artists to afford it," he said. "I've been waiting for nine years to do a [live/work] project that's not focused on granite countertops and was actually for the artists. It's a huge untapped market."
Lavoie finally has found a place, at 390 Pine St. in Pawtucket, to follow his dream. The project is in the planning stages, he said, but it will ultimately have 101 live/work spaces for sale.
At this point, however, he is content to point to a 306,000-square-foot building at 560 Mineral Spring Ave., in the Lorraine Mills complex, as his crowing achievement in work space development.
For 43 years, the building housed a plating shop. Today, it is divided into 60 spaces – all but four of them occupied. And although it has automatic electronic locks and a high-tech alarm system, Lavoie has made sure it still looks like a mill – with paint-speckled hardwood floors, for example.
"It's still what it was, but it's being used for a better use," he said. "With the floors, we left them spotted. We just cleaned them and applied poly. You're stepping on the history of the building."
The building, whose rehab was completed four years ago, is now filled with artists, artisans, light-industrial tenants and businesses of all types – even an ice cream maker.
"When it was complete," Lavoie said, renting the spaces "was like selling candy bars at an arena."
Donna DiNucci, a fashion designer and painter who rents space at the mill, said she adores the building.
"I more than love it," said DiNucci, who previously worked out of her basement. "The space gives me freedom. It has also allowed me to meet wonderful people. There's a lot of camaraderie among the artists."
For owner Jon Savage, this type of redevelopment is exactly what he envisioned.
"I've had a long appreciation of historical properties in Rhode Island," he said. "The old mill buildings are part of the history and part of the fabric of our communities, and I wanted to be a part of restoring them."
"And if you're a small business person or an artist," Savage added, "it's hard to find space when you're just starting out. The goal was to provide clean, safe, affordable space to help get their business off the ground. I'm very proud of it and I've made some wonderful friends with all of the tenants that are there. It's a tremendous reward seeing it all come together."
Savage said the fact that he could have made more money developing the property a different way doesn't bother him.
"I was satisfied with a more modest return," he said. "Maximizing profit was not my goal."