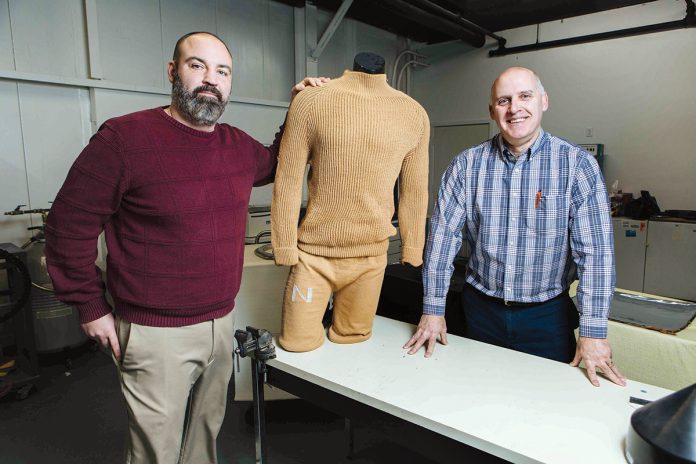 Response Technologies LLC
Product Innovation & Design | 2019 Manufacturing Awards
---
When David Pettey and Ed Bard founded Response Technologies LLC four years ago, they had enough industry experience to know they didn't have to go it alone.
They turned to startup experts with a plan for an additive manufacturing company that would use layered materials to "print" 3D flexible composites for use in such industries as defense, aerospace and automotive. The company's first product would be an explosion-resistant fuel tank.
First, they attended MassChallenge Boston, a startup accelerator that provides resources and opportunities for funding new ideas.
"MassChallenge Boston was of great value to Response Technologies," said Pettey, who is the CEO. "It provided phenomenal access to a network of seasoned entrepreneurs. What's more, we were connected to a team of advisers who were able to help us with our knowledge and experience gaps."
"Our 'cost-plus' backgrounds biased us toward making products cheaper, better and faster," Pettey said. "Our MassChallenge experience triggered a paradigm shift. We needed to create value for our customers' pain points. There is much greater value creation when solving customers' most painful problems. Disruptive innovation is faster and cheaper when customers and partners are able to evaluate minimal viable products."
Soon after, they were invited to attend the Sikorsky Innovations Entrepreneurial Challenge, along with 15 other companies from around the world. Response Technologies was awarded an honorable mention and continued working on one of Sikorsky Aircraft Corp.'s leading research and development programs.
Pettey and Bard didn't stop there. The two entered Response Technologies into the 2016 Rhode Island Business Plan Competition and won.
"While Sikorsky validated our technology, the RIBP competition validated our commercial path," Pettey said.
'Failing fast gives a startup the potential runway to evolve.'
DAVID PETTEY, Response Technologies co-founder and CEO
Entering these types of business competitions is a strategy that Pettey and Bard would strongly encourage other startups to pursue.
"The more often and more diverse the audience, the greater the value," Pettey said. "Time is a startup's greatest asset, or enemy. A 'no' is better than a 'maybe,' and failing fast gives a startup the potential runway to evolve. Living on 'maybe' can be a slow, painful and often permanent death."
Response Technologies' founding mission was to produce lower-cost, explosion-resistant fuel tanks for NASCAR, Formula One and other types of auto racing. With six employees, it now does much more, operating in a nearly 10,000-square-foot facility in East Providence with extensive analytical, engineering and manufacturing capabilities.
Response Technologies has remained profitable and experienced year-over-year revenue growth. According to Pettey, 2018's revenue was nearly 10 times greater than in 2015.
As the processes and products have evolved, Response Technologies' growing customer base now includes the federal Defense Logistics Agency, the U.S. Army and U.S. Navy, and Lockheed Martin Corp., the parent company of Sikorsky.
"Ed and I were both looking for something different to do," Pettey said. "We wanted to work within some of the same product spaces we had been in before, but we also needed to be able to differentiate our value from the well-established incumbents. "
Pettey has a background in the textile science industry. Bard is a former Army officer with a background in chemical engineering and management.
"David and I were confident that our technology could solve a lot of industry problems," said Bard, who is the company president. "Initially, we pursued a handful of markets to understand what the customers valued most. Our initial deep traction was for helicopter explosion-resistant fuel tanks for the U.S. military. My prior military service may have assisted us in our communications with the military, and of course it has helped me personally as a leader, businessperson and citizen, but I think our solution's immense value was the key driver to our rapid progress."
As additive manufacturing continues to develop, the advances have allowed Response Technologies to keep its footprint small and maximize its use of materials. Pettey said that efficiency should only improve in the future.
"Our future state process is a single [additive manufacturing] configuration that will 'print' our products from start to finish," he said.