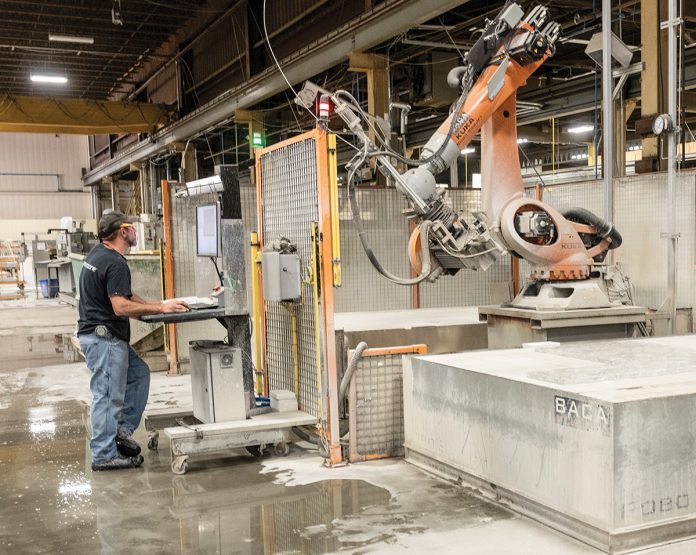 Manufacturers in Rhode Island who are looking for greater efficiency and productivity are turning to automated machines and programmable robots, but the technology creates its own need for human labor.
And some things are better done by people.
So, managers look for ways to have automated and manual labor complement each other, in a way that makes the best sense for the organization.
Over the past several decades, many Rhode Island manufacturers have found ways to automate the most repetitive, or monotonous, tasks, said Christian Cowan, center director for Polaris MEP, a nonprofit manufacturing association affiliated with the University of Rhode Island.
This achieves efficiencies and speeds up production, but also frees up workers who can then be used for other tasks, he said.
At The Beck Cos., a North Smithfield-based manufacturer of stone countertops and wood cabinetry, a robotic arm directs either a saw or high-pressurized water to make precise cuts. The robotic device, by BACA Systems, has allowed the manufacturer to create custom cuts and etchings, with a precision that would be impossible for human hands.
"We can do very fine detail," said co-owner Tracey Beck. "We make names in stone or we'll etch a design into the stone with the water, or we'll cut a circle. If you try to do that by hand, you're not going to get the same level of precision."
But no computer can make sure the stone is advancing through the automated process in the correct position or getting offloaded safely, in a manner that makes sure the stone is secure and no one is injured.
So, several people work alongside a robot daily, said Beck.
"You still obviously need the human component," she said. "You need someone to physically load and unload it. You need someone to program it. And you need someone to watch it, making sure the stone doesn't shift, or that it's doing what it was told to do."
At Yushin America Inc., a Japanese corporation with a manufacturing facility in Cranston, the company makes injection-molding robots for other businesses worldwide. But the assembly of the devices is done by workers.
Mike Greenhalgh, manager of operations for Yushin, said the robots created in Rhode Island are used for injection moldings, something that is automated and precise.
"For the plastic to have the properties that our customers are looking for, they need to have a consistent cycle," he said.
Before automated assistance, he added, human operators at injection-molding facilities would oversee the process, but between opening doors, removing parts, closing doors, adding parts and pressing various buttons, the cycle wouldn't be consistent. Even a few seconds are critical for a material whose properties change with cooling.
"If the plastic is heated too long, or if it sits in the barrel too long, it starts losing its mechanical properties," he said.
Consistency is the hallmark of robotic operations. But in the past several years, a trend in manufacturing has meant more customization in what the customers want their robots to do, Greenhalgh said. The different parts and functions of the Yushin robots don't lend their assembly to automation, he explained.
'We do a lot of customization. Everyone wants something different.'
MIKE GREENHALGH, Yushin America manager of operations
If a robot has several add-ons or customized functions, it makes no sense to automate that production, he said.
"[A] robot would be very good for assembly if you're in a Ford plant and you're going to churn out 5,000 Escorts," he said. "Whereas, what we're doing, we're building the robots and we do a lot of customization. Everyone wants something different. A lot of variety in our process doesn't lend itself to be an automated process."
For manufacturers who find a way to introduce automation, the payoff is increased production, higher volumes and a device that can, over time, be paid back with efficiencies.
The most simplistic model of robot at Yushin – those that rely on a pneumatic process – are sold for $5,000 to $6,000 per unit. More-complicated robots can cost up to $60,000, he said.
But even at that price, the efficiencies for a high-production manufacturer can pay for the device.
The most significant change in the past few years, among Yushin's customers, he said, has been requests for multiple robots.
Companies now want to purchase one device for the injection molding, which will allow it to continue on a particular pace, and have other devices for packaging or finishing.
"They buy a robot to work on the molding machine and then they buy a second robot to handle the downstream work, so they can keep their volumes up," Greenhalgh said.
Mary MacDonald is a PBN staff writer. Contact her at Macdonald@PBN.com.