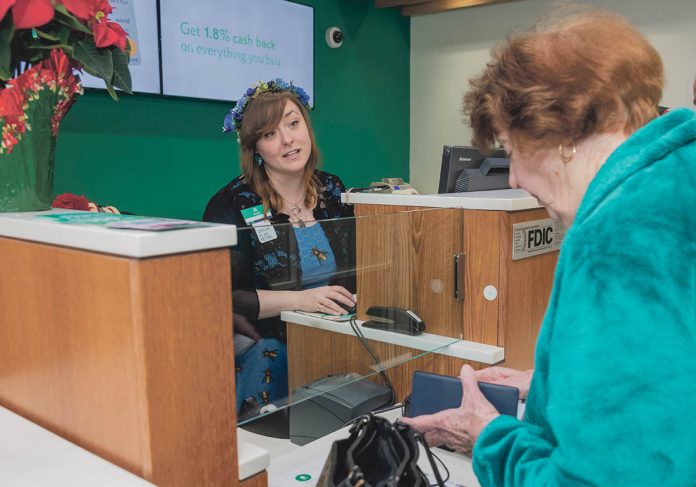 A decade after the financial crisis, the banking industry appears to be in great shape. Profits are way up and some of the regulatory requirements enacted in response to the crisis are on the way out, which has some federal regulators concerned.
One of the changes – called a Notice of Proposed Rulemaking – before the Federal Deposit Insurance Corp. would reduce the liquidity requirements for banks with assets between $100 billion and $700 billion.
"This would, in my view, unnecessarily weaken a central post-crisis prudential protection for the financial system and place the Deposit Insurance Fund at greater risk," FDIC board member Martin Gruenberg said in a recent statement opposing the change.
Another change would allow banks with assets between $250 billion and $700 billion to opt out of a requirement to account in their capital for unrealized gains and losses on securities – known as "accumulated other comprehensive income."
"The failure to account for unrealized losses on securities in bank capital during the crisis allowed banks to appear more strongly capitalized than they actually were," Gruenberg said.
The more stringent post-crisis rules still would apply to the largest banks – those with assets greater than $700 billion, known as "global systemically important banks." Bank of America Corp., for example, falls into that category. However, the eased regulations would apply to smaller, yet prominent banks in Rhode Island such as Providence-based Citizens Bank and Boston-based Santander Bank.
"Citizens is basically supportive of the NPR," the bank said in a statement. "The NPR defines appropriate criteria and thresholds to distinguish between financial institutions' risk and, as developed, a thoughtful and tailored regulatory framework based on these underlying risk criteria and thresholds."
Citizens also indicated it would remain diligent with its underwriting and accounting standards.
"Regardless of any potential compliance and related risk," the bank said, "Citizens will continue to maintain its current risk-management practices, consistent with both best practices and our defined risk appetite."
FDIC Chairwoman Jelena McWilliams seems to agree with Citizens, saying the changes would allow for "more finely tailoring" capital and liquidity requirements for banks based on their size, risk profile and systemic footprint.
"Our largest, most systemically important banks would continue to be subject to the most rigorous standards, and their smaller, less systemically important peers would be subject to standards tailored to their risk profile," McWilliams said.
In May, Congress and President Donald Trump approved the Economic Growth, Regulatory Relief, and Consumer Protection Act. The FDIC and other federal banking agencies are tasked with putting new regulatory details in place, as outlined in the legislation. Officials also are considering separate proposals that would ease certain regulations for small banks with less than $10 billion or $5 billion in assets.
But the centerpiece of the so-called "Dodd-Frank rollbacks" is the Regulatory Relief Act applying to larger banks. It raises the asset threshold from $50 billion to $250 billion for banks to be subject to the enhanced capital and liquidity requirements of the Dodd-Frank Wall Street Reform and Consumer Protection Act, passed in 2010 in response to the crisis. Some policymakers have criticized Dodd-Frank as being too restrictive on the banking industry.
McWilliams noted the new legislation gives the Federal Reserve the authority to apply enhanced standards under certain conditions to banks with assets between $100 billion and $250 billion.
Meanwhile, profits for the banking industry totaled nearly $62 billion in the third quarter, which ended Sept. 30. That was a $14 billion, or 29 percent, increase from the same period last year, according to the latest Quarterly Banking Profile, recently released by the FDIC.
About half of the increase in net income was attributable to tax reform, McWilliams said.
"Improvement in net income was led by higher net operating revenue and a lower effective tax rate," she said, referring to the 2017 federal tax overhaul.
In the last quarter, she added, the banking industry's "loan balances grew, net interest margins improved, and the number of "problem banks" continued to decline. Community banks also reported another positive quarter, with loan growth and a net interest margin surpassing the overall industry."
The industry's return on average assets ratio – used by banks to gauge financial performance – rose to 1.41 percent, the highest quarterly levels reported by the industry since the Quarterly Banking Profile began in 1986.
Higher profits have carried over to the nine banks based in Rhode Island, which had a collective net income of $1.1 billion through the first three quarters of the year. That compares with $889 million in profits in the same period in 2017 and $697 million in profits in the same period in 2016, according to FDIC statistics.
With Democrats preparing to take control of the U.S. House, senior members said they plan to subject the financial services industry to greater scrutiny than it has faced in the past two years, according to the Financial Times.
Stock prices of major U.S. banks dipped temporarily last month after Rep. Maxine Waters, D-Calif., said there will be no more easing of bank regulations. Waters is poised to become chair of the powerful House Financial Services Committee in January.
"The days of this committee weakening regulations and putting our economy again at risk of another financial crisis will come to an end," she said.
Scott Blake is a PBN staff writer. Email him at Blake@PBN.com.