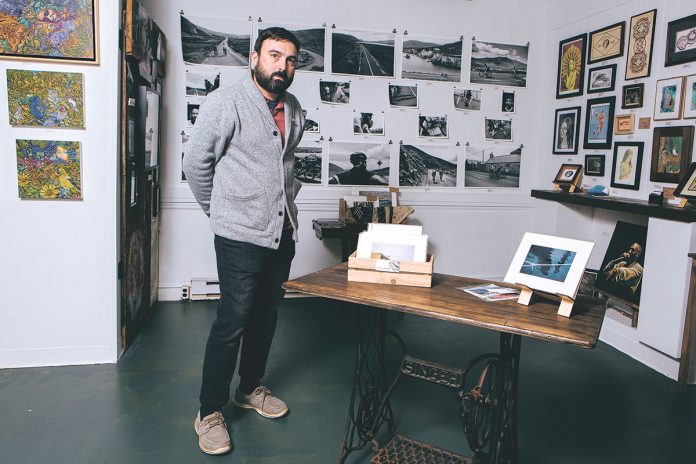 Relocating to Warren in 2015, Uriah Donnelly knew he wanted to open an arts organization and launch a music festival.
By Jan. 1, 2016, he and two co-founders – Adam Tracy and Jeff Danielian – had launched The Collaborative. They received nonprofit 501(c)(3) status early in the year and opened the gallery and educational arts space in March of that year.
Donnelly said The Collaborative was launched less as a reaction to a need for such a space than a desire led by a creative-minded group of friends.
"There wasn't too much happening in Warren – particularly on Main Street," said Donnelly of the arts community at the time. "If you look at it now, it's hugely different."
Donnelly, the volunteer executive director, said that in the three years since its launch, The Collaborative has grown its focus to include educational classes for individuals of all ages.
"At the end of the day," he said, The Collaborative is "about supporting creative folks in Rhode Island and getting their work seen by everybody."
Located in a former holiday pop-up shop rented by Tracy, The Collaborative boasts 13 member artists. Those whose work has been exhibited at the organization's headquarters include photographers, acrylic and oil painters, multimedia and photo-transfer artists, as well as a laser-cut-wood clockmaker.
On a rotating schedule, each month, the group highlights a local high school artist.
The Collaborative takes a small commission on every work of art sold through the gallery, except for those completed by student artists.
Begun in 2016, the Warren Folk's Festival is The Collaborative's major annual fundraiser. Featuring the works of local artists, sounds of local musicians and delicacies of local chefs, the festival reflects the community.
As a financial resource, said Donnelly, the festival has transformed the nonprofit from one funded "out of pocket" by the founders to one, hopefully, in 12 months, hiring "at least a part-time [paid] executive director."
Funds raised at the daylong festival have grown with each year. Donnelly calculated that the 2016 event raised roughly $3,000 followed by roughly $6,000 in 2017. Festival income "eclipsed $10,000" for the event held Aug. 5.
While Donnelly counts the nonprofit as a success – "particularly the events" – he listed "funding" as its biggest challenge.
"Getting major funders to believe in what you do is sometimes challenging," he said.
One reason the founders – all of whom taught high school at one point – decided to expand their scope was to do just that. "If you're not adding that educational element, it's extremely difficult to get funding," said Donnelly.
Furthering their growth, in addition to paid staff, The Collaborative's board and Donnelly would like to add onto or move into a larger space to accommodate increased educational programming in the next three to five years.
EXECUTIVE DIRECTOR: Uriah Donnelly
TYPE OF BUSINESS: Nonprofit arts organization
LOCATION: 489 Main St., Warren
EMPLOYEES: 10 year-round volunteers
YEAR ESTABLISHED: 2016
ANNUAL BUDGET: $16,500
Emily Gowdey-Backus is a staff writer for PBN. You can follow her on Twitter @FlashGowdey or contact her via email, Gowdey-backus@PBN.com.