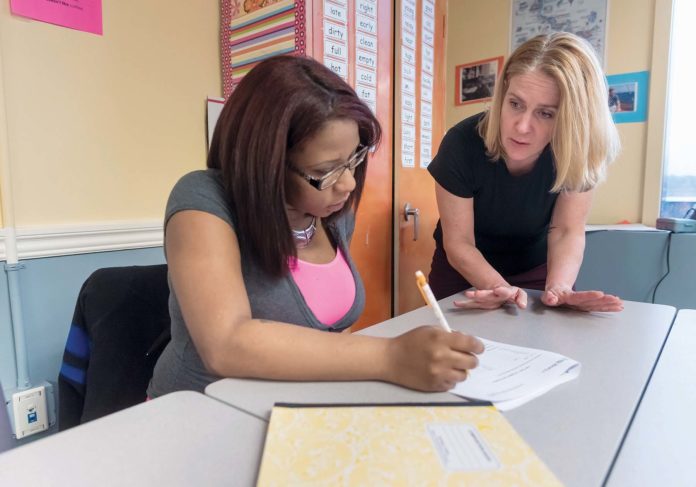 More than half of the 6,000 adults in Rhode Island taking part in adult-education classes are trying to improve their English-language skills.
But the demand is far greater. The R.I. Department of Education has a waiting list of almost 1,000 people, most of whom are waiting for English as a Second Language classes.
Against this backdrop, the potential for cutbacks in federal education funding worries adult-education program directors. In a broad overview of his fiscal 2018 budget, President Donald Trump has proposed to cut federal education funding by 13 percent.
State funding for adult basic-education services, including ESL classes, has remained steady for the past several years. But what appears to be changing is demand for services from employers, as well as students. Employers are trying to help employees bridge communication problems, and provide an opportunity for them to advance.
At Rhode Island Regional Adult Learning, which provides services for communities in northern Rhode Island as well as East Providence, calls from employers for site-based, English-language services are on the rise, said Executive Director Patricia Bellart.
She estimates she's had six calls this year, including one from a hotel manager, who wanted to see whether the nonprofit could provide specialized English classes, on-site, for its housekeeping employees.
As Bellart explained, mobile technology now allows hotel guests to access rooms directly, without checking in first through the main desk. This is putting room cleaners into direct contact with the hotel guests, more so than in the past. The hotel management recognized that it needed to help the staff improve its spoken-English skills. "A lot of the people who used to work in the background, the housekeepers, are going to be more of the front-facing [workforce]," Bellart said.
Other employers who have arranged on-site classes include Cranston-based Taco Comfort Solutions, which for several years has hosted adult basic-education classes.
Beth Proctor, director of human resources for the manufacturer Hyman Brickle & Sons Inc., of Woonsocket, recently spoke with Bellart about options for classes for production workers.
The company hires people with specific skills, including machine operators and sewing-machine operators, but for a small portion of the workforce, English-language skills are a barrier.
"They need to be able to read and write and communicate in English," said Proctor. "We do a lot of team events. They need to be able to communicate with co-workers and, for safety reasons, they need to be able to read all of our safety rules and precautions."
Proctor said she placed the call to RIRAL after several employees told her they'd like to have English classes.
Across Rhode Island, an estimated 35,000 adults indicated in the last census that they do not feel comfortable with their English skills.
Most of them are working. English learners often are found in entry-level jobs, in the hospitality industry, in agriculture and manufacturing, but more advanced English learners can be found in professional positions as well.
In the fiscal 2018 state budget now under consideration, Gov. Gina M. Raimondo proposed an increase in ESL funding for K-12 learners, including for the first time attaching a special funding formula to reflect the increased costs associated with English as a Second Language instruction.
But the state has not increased the levels of adult basic-education funding or adult ESL services.
Of the $8 million spent annually by the R.I. Department of Education on adult-education services in the state, about $2 million comes from the state's General Fund, another $3.5 million from the Governor's Workforce Education Board and $1.5 million from a federal source, the Workforce Innovation and Opportunity Act.
State-funded programs served nearly 6,000 adult learners, said a spokeswoman for RIDE, 3,575 of them English learners.
Kathleen Cloutier, executive director of Dorcas International Institute of Rhode Island, said her Providence agency helps about 1,200 people annually with ESL services.
Each trimester Dorcas has to turn people away because they do not have enough space in classes.
When employers request site-based classes, the instruction can be tailored to what the employees need to know in the workplace. This year, for the first time, Dorcas is conducting a class for employees at a work site. "This particular employer has recognized there is a significant improvement in their ability to communicate," Cloutier said, of the employee skills. "It's a win-win for both the employer and the employee."