There may be two kinds of chefs in this world's kitchens. The line of demarcation: Those who put dots of sauce on their plates and those who do not.
It seems there is a point of contention among chefs and food writers about the practice. The technique of finishing off an artistically arranged plate with a few dots of sauce is looked upon as an outward and visible sign of the chef's passion, attention to detail or overall dedication to the culinary art. Or it is the sign of an overly fussy and pretentious egotist.
This was recently brought to the forefront by Delia Smith, an old-school British cookbook writer who was quoted while receiving a lifetime achievement award: "If I get one more plate put in front of me with six dots of sauce on it, I will go mad!"
Chef and restaurateur Lou Perella made a point about how his menu contains several dishes created from customer requests and how, bursting with variety, such as several types of seafood and plenty of sauce, they were every bit as photogenic as the dot-adorned types – what Lou calls "pretty food."
In thinking about some of the more creative chefs here in Rhode Island and the number of culinary students ready to make their mark on the restaurant world at Johnson & Wales University, the question comes to mind: Would the dining scene here in Rhode Island be the same if the state's personality chefs took a back seat? I posed that very question to some local chefs.
Said Kevin Gaudreau, chef-proprietor of KG Kitchen Bar in the Hope Street restaurant row on Providence's East Side: "There was a point where there were many 'dots on the plate' and I believed that they were necessary to complete the vision of the dish. As trends changed and people's 'wants' changed, so did my dishes."
Gaudreau said he still features a few dishes with "dots," including a Port wine syrup dot for the roasted beet salad.
"It just makes sense and feels, tastes and looks right. I guess it's a way for me to hold to where I came from in my culinary upbringing," he said.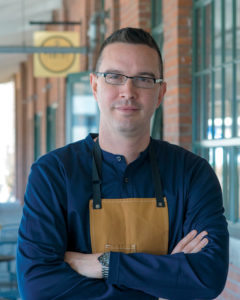 Nick Rabar, chef-owner of Avenue N American Kitchen in East Providence, responded with, "We're in an incredibly progressive period right now. With so many new eateries and options available to the consumer, the level of skill and innovation is better than ever. Chefs are transforming how food is prepared and presented so fast, that in many ways we're just getting started. Social media is such a big factor; food is being elevated with every passing post, and as a result, quality awareness is at an all-time high. It is our responsibility as chefs to keep our craft modern, relevant and interesting. It's proof that creativity, both through flavor and eye appeal, has always been an essential part of what makes our industry so boundless."
In the end, the joke may be on the anti-dot crowd. A National Public Radio broadcast described what was referred to as a "deliciously parodic" picture essay on a social media site. A chef using an online identity plated up the likes of Spam, hot dogs and Cheetos in the elaborate style of the sauce-squeezer-types. Meanwhile, in the real-food press, a recent story spotlighted a real chef – Jason Santos, who appeared at the Newport Mansions Wine and Food Festival – as he opened his latest Boston eatery. One of the signature dishes he brought with him? Flamin' Hot Cheetos Mac 'n' Cheese. Now this is "pretty food" that Lou would approve of.
Bruce Newbury's Dining Out radio talk show is heard Saturdays at 11 a.m. on 1540 AM WADK and through the TuneIn mobile app. Email Bruce at Bruce@brucenewbury.com.