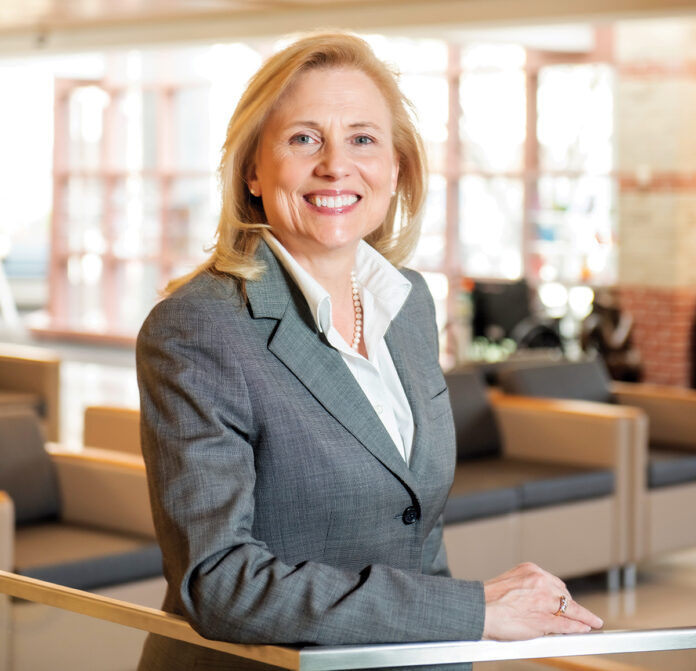 2022 C-Suite Awards: Career Achiever | Cathy Duquette, Lifespan Corp. executive vice president of quality and safety and chief nursing executive
---
Growing up in Rhode Island, Cathy Duquette always wanted to be a nurse like her mom.
After graduating from the University of Rhode Island, Duquette started as a new nurse working in an intensive care unit and "just loved taking care of very complex patients," she said. After doing that for about 10 years, Duquette had the opportunity to do some extra work supporting the quality department of the hospital she worked in. "It was the best of both worlds and I realized that in the quality arena, the opportunity to impact patient outcomes on a broader scale was so much more meaningful," Duquette said.
While working toward her doctorate, an executive level opportunity as senior vice president with the Hospital Association of Rhode Island presented itself that allowed Duquette to engage in health policy development and help impact patient care at an even greater level.
After seven years but feeling too far removed from the bedside and clinical care she valued, Duquette left and began her career with Providence-based Lifespan Corp. as chief nursing officer at Newport Hospital in Newport. She loved the role, "as it blended executive leadership, quality and nursing," Duquette said. But five years later, she took an opportunity to "expand my focus on quality on a bigger scale" and transitioned to Rhode Island Hospital in Providence to be chief quality officer, a role she held until 2012.
Today, as Lifespan's executive vice president for quality and safety and chief nursing executive, Duquette is a critical part of what she calls the system's "nurse-physician dyad," where she leads quality, safety, patient experience and strategy, as well as nursing.
Naturally, the COVID-19 pandemic has dominated work for Duquette and her colleagues over the past two years. She acknowledges COVID-19 has been the biggest challenge of her career.
"Nurses and health care workers came to work every day to take care of patients, despite the risks and unknowns. The same calling that attracted them to health care in the first place – the desire to care and help – is likely what kept them going," Duquette said. "The pandemic validated our commitment to our patients and made close professional connections even stronger."
Duquette is hard at work on several projects aimed at transforming not only how Lifespan provides care and service post-pandemic, but also positions the organization for future success. A Transformation Office was recently created to accelerate change and advance the system's most critical strategic priorities.
Duquette has also spearheaded efforts to attract and retain much-needed health care staff.
"As we work to be more visible to our team members, listen to what they have to say and what they need, and provide them with the resources they need to be successful, we know we are creating the environment where people want to work," she said. "Our people are the keys to our success. They are our future. We are making deliberate efforts to renew our sense of team and come together to advance key initiatives that have been impacted by the demands of the pandemic."
Tiffany DiBiasio, Duquette's executive assistant for more than 10 years, says Duquette is not only supportive, open-minded, fair and respectful but her unique leadership style breeds success and empowers the people around her.
"Cathy is very much engaged in the culture across our hospitals and sees the big picture of where the organization is headed, what it's capable of and what it will take to get there, both strategically and critically," DiBiasio said. "She has a quantifiable influence on leading executive leaders across the system to articulate, plan and implement innovative changes that impact patient care. Her leadership and ability to create teams that are organized, efficient, innovative and highly functional really adds value in solving problems on some of the most difficult challenges across the nursing departments."
Duquette feels fortunate that her role positions her to make a meaningful difference to so many.
"Every day brings a new challenge," she said, "but every day is an opportunity to make that meaningful difference for our patients, our team members and our community. That is my passion."

Want to share this story? Click Here to purchase a link that allows anyone to read it on any device whether or not they are a subscriber.