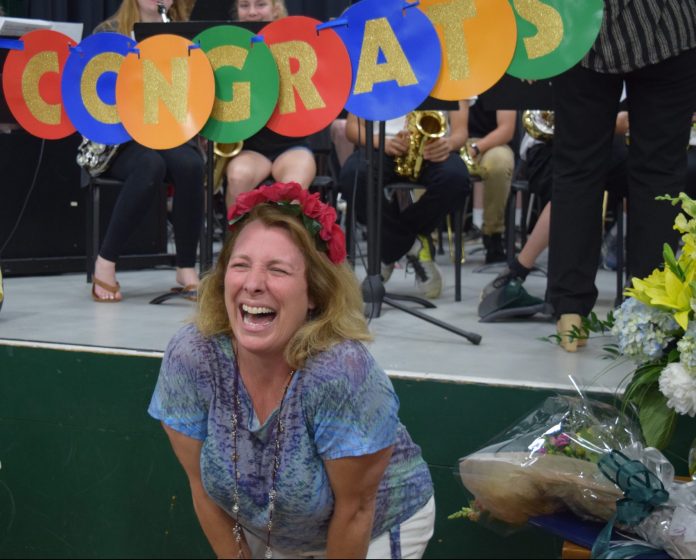 In a surprise announcement hosted by the R.I. Department of Education in May, Charlene Tuttle was named the 2019 Rhode Island Teacher of the Year. Tuttle, who is a sixth-grade teacher at Lawn School in Jamestown, was honored for her use of hands-on learning methods.
During the 2018-19 school year, Tuttle will transition to work alongside RIDE to develop school policies and procedures, and support education statewide.
Due to her recognition in May, Tuttle is also eligible to be nominated and represent Rhode Island in the National Teacher of the Year competition.
PBN: What first intrigued you about a career in teaching and why did you choose to devote your time to science and social studies?
TUTTLE: I have always been intrigued with how the world works and how people think. These two things are what led me to teaching.
PBN: How did you feel when your name was called as the 2019 Rhode Island Teacher of the Year?
TUTTLE: I was stunned, honored, humbled – a true mix of emotions. The roar of the crowd, the smiles of my students and colleagues buoyed me.
Being in a school with such expertise pushes me to learn more and apply new ideas and strategies in the classroom. This collaborative spirit makes it easier to tackle innovative ideas, ask for help and share personal struggles in the quest for deeper learning in our classrooms.
PBN: Many of your colleagues say you make learning come alive for the students with hands-on projects. Would you please explain the curriculum behind your SeaPerch program, which includes constructing underwater remote-operated vehicles?
TUTTLE: I find that when we open ourselves up to experiences, the [opportunities] for learning unfold. This is how the SeaPerch program began and continues to expand. A few summers ago, I was selected to be a science communication fellow aboard the exploration vessel, the Nautilus, run by Bob Ballard's Ocean Exploration Trust.
While working aboard the Nautilus in the Pacific Ocean, scientists and engineers were filming, collecting data and making observations using remotely operated vehicles in the depths of the ocean. I worked to communicate the science and engineering used in those exercises [to the public]. Not only could I add information to our life science curriculum but discuss the new ways that technology and engineering allows us to discover new things about our work and share this with the public.
Upon return, a training was offered by [the U.S. Naval Undersea Warfare Center] to participate in the building and implementation of SeaPerch, ROVs for student engineers. I took the training and began an after-school program working with students to build and "fly" our vehicles. This was made possible through collaboration with Patrick Burke of the Southeastern New England Defense Industry Alliance, who both assisted in the teaching and running of the program.
The following year we managed to integrate the program into the grade-six curriculum [and] … expanded not only the student interaction but the community interaction as well.
The program continues to expand. For example, this year we used a small pool donated by the Conanicut Island Sailing Foundation to practice underwater flying, which better-prepared students for the challenge.
Additionally, we started a SeaPerch 2.0 for students with previous experience and outfitted the vehicles with cameras to explore the local estuary. The excitement of seeing mussels feeding at a local shoreline was tangible, both for my students and me. This year, our final SeaPerch experience is integrating this camera experience for all the classes.
PBN: You're also a member of the state leadership team researching implementation of Next Generation Science Standards. What does your role on that committee entail and what have you learned while serving therein?
TUTTLE: Just last year, I stepped down from the committee to participate in other endeavors. However, I was a member for several years. It first started with the idea of new science standards, NGSS [Next Generation Science Standards], which have since been adopted by Rhode Island. We reviewed drafts and gave feedback on both the content and structure of the three dimensions of NGSS.
From there, I worked in collaboration with other science teachers and members of the community and industry to discuss a multiyear roll out. One of the ways we did this was implementing an experiential workshop for educators at the University of Rhode Island to have educators familiarize themselves with the new standards and consider shifts in instructional strategy and content. The work continues as we strive to make high-quality science and engineering available to all Rhode Island students.
PBN: You've been teaching for more than 25 years. What advice would you give recent graduates looking to pursue a similar career?
TUTTLE: I spoke about this subject during one of my interviews for Teacher of the Year, focusing on professional learning.
One type of [professional] learning involves professional development. These opportunities advance understanding in content and pedagogy. Another type involves expanding our own comfort level, stretching our comfort boundaries and experience enables us to better understand multiple cultures and the varied perspectives and experiences of students and families. Lastly, I would suggest personal growth and self-care as necessities. It is imperative to expand our own self-awareness and capacity for self-care. This is true in any profession; however, it is vital as we are integrating the teaching of social emotional learning competencies in our work. We must be proficient in what we teach in order to be effective.
Teaching is a grand task, one that must be approached with expertise, willingness to change, and a sense of humor and passion for the journey.
Emily Gowdey-Backus is a staff writer for PBN. You can follow her on Twitter @FlashGowdey or contact her via email, gowdey-backus@pbn.com.