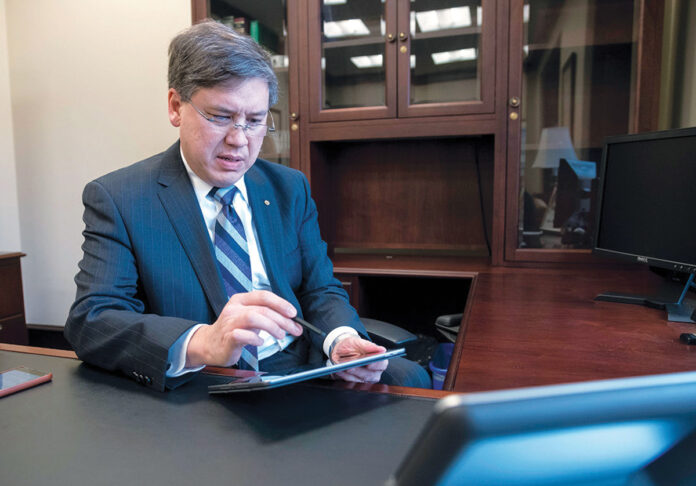 FINANCIAL SERVICES
---
Perhaps nothing has transformed banking more than technology.
Online and mobile banking are certainly not new. Websites, for example, first came on the scene in the late 1990s, while mobile apps ramped up with the smartphone debut circa 2007.
How comfortable and ready people were to adopt these technologies, however, was a very different story.
A combination of culture shift and necessity has trumped that hesitancy in recent years, particularly over the course of the COVID-19 pandemic as branch closures and stay-at-home orders forced the remaining holdouts to embrace the digital era.
Indeed, a July 2020 survey by Citizens Financial Group Inc. found the coronavirus crisis helped spur a 30% increase in digital banking among retail and business users. But even before COVID-19 became a household name, financial institutions large and small were looking to technological innovations to better serve their customers and compete against the countless fintech players and nontraditional banks looking to take virtual market share.
Amy Martel, executive vice president and chief operating officer for People's Credit Union in Middletown, joked in 2018 that technology played such a big part in the industry that financial companies would perhaps also categorize themselves as technology companies.
That same year Bank of America Corp., long-recognized as an industry technology leader, overtook Citizens for the top share of in-market deposits in the state, though it has since fallen back to second place. Now-retired Bank of America Rhode Island Market President William F. Hatfield chalked up the massive $4.8 billion year-over-year deposit growth to better mobile banking, including its new, artificial-intelligence-powered virtual assistant Erica.
Also in 2018, Citizens Bank rolled out a Venmo-copycat person-to-person payment system known as Zelle, letting customers send and receive money using an email address or phone number.
National banks may have had the initial leg-up on cutting-edge technology, but smaller, local players are holding their own.
In fact, the increasing reliance on mobile and digital banking may have actually helped make these technologies more affordable for smaller, cash-limited companies, including banks, according to Margaret Hartigan, founder and CEO of Providence-based fintech firm Marstone Inc.
Financial institutions across the board agree that the digital world will be key to future growth. But when it comes to brick-and-mortar branches, their strategies diverge.
TD Bank, Citizens Bank, Webster Bank and Berkshire Bank all announced plans to close some New England branches in 2021, citing the increasing shift to online and mobile banking. This continues a longer trend of national and regional players shrinking their regional footprints, though the latest wave of closures was more significant, in some cases slicing off almost a fifth of area branches.
Some community banks and credit unions are doing the opposite. Centreville Bank and The Washington Trust Co. opened new branches during the pandemic. Navigant Credit Union and BankNewport also expanded their physical presence in recent years. In Navigant's case, the credit union filled two spots left empty after a series of Webster Bank branch closures in 2017.
Smaller institutions see new branches as a way to grow, and they insist the human element of bank services is still needed and wanted.
"Obviously there's about a million people in Rhode Island, and I'm guessing there will be about a million people here in 10 years," said Gary E. Furtado, Navigant CEO and president. "Do we need to steal the business from someone else to grow? Yes. It's sad to say, but that's where we get some of our business."
Where to fall between the "high touch" and "high tech" is a balancing act financial institutions will continue to grapple with.
Also a challenge: hiring or training workers to support these technology-driven services.
The finance industry in particular has struggled with an aging workforce, with a higher percentage of workers at or over 55 compared with the state's overall labor force. Among the benefits younger employees may offer is that they're generally comfortable with technology.
Then there are the computer savants, those skilled in complex coding and data analytics.
Citizens in 2019 announced plans to hire hundreds of software engineers to upgrade its digital offerings, at least a portion of which would work at its new Johnston campus. Fidelity Investments Inc. was also on the prowl for tech gurus, with plans to add 50 technology-specific positions such as software engineers and data scientists to its Rhode Island labor force in 2021.
But of course, the rush for technology across industries means companies are competing for the same prospective employees, who so far have been few and far between.
In the interim, many financial services companies are partnering with the R.I. Department of Labor and Training or creating their own programs to bring workers up-to-speed on the latest software and technology – skills that will be an increasing part of any finance job into the future.
"The skills required tomorrow are different than the skills required today," said Susan LaMonica, Citizens' chief human resources officer.