Chefs never stop teaching. Peek into any restaurant kitchen and you will see an executive chef or chef de cuisine standing next to a sous chef or line cook going over the fine points of a new recipe, seasonal specialty or special request. The teachable moments don't stop during service. When it is ordering day, experienced chefs provide helpful information on quantities, varieties and sourcing of local ingredients.
And chefs are increasingly starting out younger. So, it stands to reason in this foodie culture that when summer comes along and thoughts turn to summer camp, some kids and their parents are going to be thinking about a culinary summer camp experience.
This summer, Johnson & Wales University is set to open its Chef's Choice Summer Cooking Camps for kids and teens. Taught by the university's industry-experienced faculty and held on its campus in two one-week sessions from July 22 through Aug. 2, the camps are reflective of the university's signature academic programs. Camps are designed for young people interested in culinary arts and baking and pastry arts and are taught by members of the school's College of Culinary Arts, offering participants an opportunity to immerse themselves in the university's first-rate kitchen facilities while acquiring hands-on experience. Both levels, each consisting of between 16 and 20 participants, incorporate curriculum to build individual communications, teamwork, critical-thinking and decision-making skills.
During the Kids Camp sessions, youngsters will spend the first half of the day exploring culinary, baking and pastry applications while learning to prepare regionally and globally inspired dishes. In the afternoon, the program expands to the university's Wildcat Center, where campers will delve into leadership topics through interactive games and activities.
Similarly, during the morning session of the Teen Camp, participants will prepare regionally and globally inspired dishes. In the afternoon, they shift gears to focus on baking and pastry arts. Throughout the day, campers will work in teams, a fundamental component of a successful professional kitchen.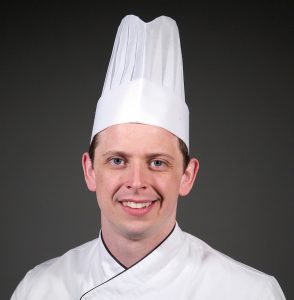 The teen camp will be taught by JWU chef instructor Wyatt Maguire, who worked as an executive chef at Boston restaurant Menton, where he worked under award-winning chef and proprietor Barbara Lynch. After becoming a father a year and a half ago, the chef has rediscovered what it is to be a kid and is ready to pass on that newfound knowledge.
"[Childhood] is all about tasting and learning," he said.
After graduating JWU in 2003, Maguire traveled from his hometown of Narragansett to "see the world through fine dining." His end goal was to bring his experiences back to JWU and share it with current students. And he includes his campers among them.
"We will go to India through making curries," he said. "Through tasting and preparing new foods, we will find there is more to the world and food is the way to discover it!"
The chef went to summer camp but not a culinary-oriented one. Still, he feels there are some things all camps have in common.
"I went to summer camp and thought it was fantastic. I learned about friendship and teamwork," he said. "But how much better would it have been if [in addition] I could have learned about something I was interested in."
Maguire recognizes not all of his campers will end up cooking in a restaurant kitchen, but he said someone who wants to be a better cook at home will get a great deal out of camping at JWU.
"I want them to fall in love with the kitchen," he said.
Bruce Newbury's "Dining Out" radio talk show is heard Saturdays at 11 a.m. on 1540 AM WADK, on radio throughout New England, through various mobile applications and his podcast. Email Bruce at Bruce@brucenewbury.com.