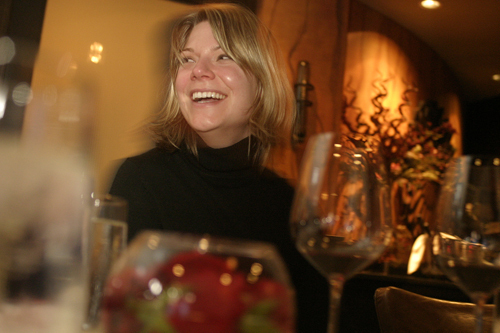 Anyone going to Eleven Forty Nine Restaurant in Warwick during its "Wine Divas" series might see up to 20 women sipping four kinds of wines paired with local and imported cheeses and preserves.
The women typically listen to a lecture about where the wines came from and what foods to pair them with.
"We cater to females on purpose," said Amanda Marcello, director of marketing and special events for Eleven Forty Nine, which opened in July. "They bring people together. They bring just as much to the market [as men]."
The restaurant started offering the women-centric wine education series two months ago because it wanted to be different from other restaurants offering similar programs. There are two more wine-and-food events at Eleven Forty Nine this month, on Feb. 12 and Feb. 19.
That series and others like it are seen by some in the hospitality industry as examples of culinary tourism, which attracts customers by adding something unusual to the experience of eating out.
Citron, in Providence, just launched its own program, "Wine Night Flight School," which will take place each Wednesday night in February and March. Audrey's Restaurant at Johnson & Wales Inn in Seekonk offers once a month "Wine Dinners," which pairs sample courses with six wines. And Cindy Salvato, who runs shopping tours on Federal Hill, recently added "Global Wine Blends: a Class and Tasting" to her offerings.
Both Marcello and Citron owner John Elkhay said they see the wine-education classes as a way to attract new customers. Customers who chose to purchase dinner after the wine class, for example, get a free chocolate molten cake dessert at Citron.
"We wanted to merchandise our flights of wine," Elkhay said.
Culinary tourism has become a major trend during the past three to four years, said Michael Sabitoni, department chair of food and beverage management and the center for international travel and tourism studies at Johnson & Wales University.
"Baby boomers especially, they don't just want to eat," Sabitoni said. "They want to do and learn."
Culinary tourism is all about the experience, he said. As people become more educated about food and beverages through media outlets such as HGTV's Food Network, they have become more curious about cooking classes, food and beverage pairings and traveling to destinations to experience food.
In response to the trend, Johnson & Wales this year added a culinary tourism class called "Essentials of International Food and Beverage," Sabitoni said. The class is mandatory for graduation.
The class is about food in different destinations and why people travel to experience food, he said. It is important because students might become tour operators after graduating and they will need to know how to create a culinary tourism package.
Local tour operator Collette Vacations, for example, is already exploring those types of packages. Sabitoni said the company recently contacted him because it wants the university to organize a chef-led food demonstration at the Johnson & Wales Culinary Arts Museum as a stop for one of Collette's New England tours.
Joe Hafner, executive chef at Gracie's in Providence, said culinary tourism is definitely "taking off."
Each month 15 to 18 people attend a cooking class at Gracie's. This month participants learned how to make a tart, then sat down to a three-course meal paired with wines and a little wine education, Hafner said.
"Some [participants] are foodies," he said. "Others just want to be in the kitchen; they like the novelty of being behind the scenes asking questions. … Some are there for the knowledge."
As a chef, Hafner has experienced the rise of culinary tourism on a national level as well. Last year, he was hired by a Boston firm called Bike Riders to accompany tourists on a bicycle trip through France.
During the eight-day trip the tourists went to local markets with Hafner to learn why and how he chose ingredients, and then sat down to a meal prepared by Hafner each day. This year he will be doing the same thing in Sicily.
For Cindy Salvato, of Rhode Island Market Tours, the incentive to expand her offerings from shopping lessons on Federal Hill to cooking studios and wine tastings came from customer feedback, she said.
People on the market tours would often ask if they could go back to Salvato's home and learn how to cook with the ingredients she had taught them about. So she added "Olive Oil Tasting and Seminar" at Costantino's Ristorante & Caffe and "Grilled Pizza: a Hands-On Class" at Geppetto's Pizzeria to meet their needs.
Salvato said she thinks what's driving culinary tourism is "people just want to know more about food. … It's a continuous lesson." •