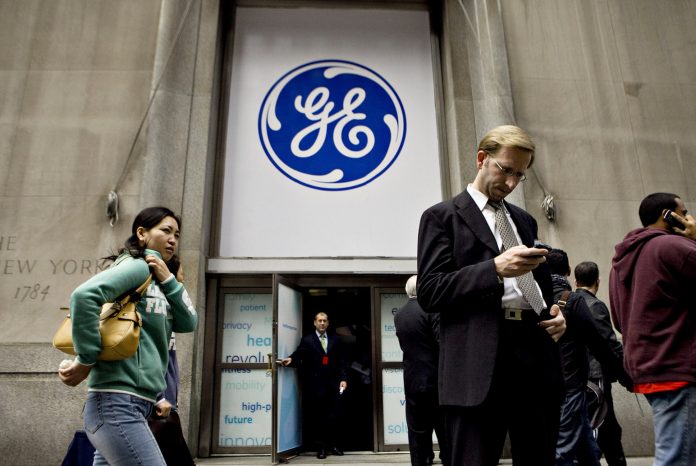 NEW YORK – General Electric Co. slashed its quarterly dividend to just a penny a share and outlined a reorganization of its troubled power division as new CEO Larry Culp moved quickly to save the ailing manufacturer.
The move will save about $3.9 billion a year, GE said Tuesday as it reported third-quarter earnings. The payout will drop from the current level of 12 cents a share.
The sharply reduced dividend, which was 24 cents a share just a year ago, underscores the dramatic decline of GE, once an icon of American industry and a reliable investment from Wall Street to Main Street. Addressing the cash crunch at the debt-laden company is one of the most-pressing issues for Culp, who took over this month as the board ousted John Flannery.
Net loss for the quarter was $22.9 billion, or a $2.63 loss per diluted share, compared with a $1.2 billion net income one year prior, or 16 cents per diluted share. The third-quarter loss was largely attributable to a $22 billion non-cash goodwill impairment charge related to GE Power, the company said.
Culp is "taking care of cash bleeding and deleveraging," said Karen Ubelhart, an analyst at Bloomberg Intelligence. "The big problem is Power."
The massive goodwill impairment charge drew the eyes of regulators.
The Securities and Exchange Commission is expanding its probe of the company's accounting to look at a $22 billion charge in the power-equipment unit. The Justice Department is also examining the writedown, which GE first warned of on Oct. 1.
The probe adds to the pressure on GE, which is already contending with one of the deepest slumps in its 126-year history amid cash-flow shortfalls and declining demand for its gas turbines. Culp, who was appointed in a surprise announcement Oct. 1, also unveiled the first steps of his turnaround plan, with a major dividend cut and a reorganization of the company's power division. He'll also have to deal with federal investigators as well.
GE said in January that the SEC was looking at accounting in the power division and an old insurance portfolio that prompted a $6.2 billion charge. The Boston-based company said it's cooperating with the probes.
First remarks
The new boss was tasked with accelerating a turnaround plan centered on cost cuts and a more-focused portfolio of manufacturing businesses. Culp has yet to publicly address shareholders or offer insight into the direction he'll take GE, making Tuesday's pronouncements among the company's most highly anticipated.
While the dividend cut is a blow to investors, it's not unexpected. Flannery had suggested a reduction was likely following a separation of the health care unit in another year, and many analysts had predicted the move would come sooner once Culp was ushered in.
The stock rose 2.1 percent to $11.39 in New York premarket trading. GE has plunged 36 percent this year to levels last seen shortly after the recession in 2009. Culp's appointment sparked a mini-rally earlier this month, but that fizzled recently.
New boss
Culp, who joined GE's board in April, has been visiting the company's businesses since taking over. GE has said his initial comments Tuesday will include a preliminary assessment of what's he's learned but that he won't give a thorough analysis until early next year.
The new CEO did, however, move to resuscitate the gasping power unit by splitting it into two parts. A unified business will combine the gas product and services groups, while a second unit will hold the portfolio of GE Power's other assets, including steam, nuclear, grid solutions and power conversion.
Third-quarter sales plunged 33 percent in the operation. The division has been hampered by a broad market slump, exacerbated by GE's ill-timed 2015 acquisition of Alstom SA's energy unit for $10 billion. More recently, GE disclosed that its flagship gas turbines are suffering from an oxidation issue.
GE Aviation, one of the bright spots for the company, boosted sales 12 percent as it rolls out a new engine for narrow-body commercial jets.
Total sales dropped 3.6 percent to $29.6 billion, GE said in a statement. Adjusted earnings fell to 14 cents a share, well shy of the 20-cent average of analyst estimates compiled by Bloomberg.
GE had been expected to reset earnings expectations with a reduced annual forecast. The Boston-based company said this month that it would fall short of its earnings and cash-flow expectations for 2018 because of the deteriorating power-equipment business.
Richard Clough,Thomas Black, Natasha Rausch and Tony Robinson are reporters for Bloomberg News.