Paul Leys in 2000 became co-owner of an independent real estate brokerage named for co-founder Gustave J.S. White, a prominent name in Newport since the Gilded Age.
By 2005, Leys and his business partner had become an affiliate of Sotheby's and had a choice about how to compete in an international luxury market in which the White name didn't carry the same weight.
He could strengthen the connection with Sotheby's by becoming a franchise, or take the company back to an independent brokerage. With agreement from his co-owner, Christina West, the brokerage became Gustave White Sotheby's International Realty.
"We looked at each other … and said, if we don't do this, go with Sotheby's, we're going to be competing with Sotheby's," Leys said. "And we didn't want to do that. Especially in Newport. As far as Rhode Island goes, it's the luxury market."At the time, they were the only affiliate of the luxury brand in Rhode Island to take up its requirement to become a franchise. Since then, more franchisees have joined in, including Mott & Chace Sotheby's International Realty, which is based in Charlestown.
The Gustave White franchise, which had $146 million in sales in 2016, still sells its share of condos and houses in the $300,000s, but the Sotheby's name in luxury puts it on the short list for new listings across its base in Newport, Leys said.
It used to be people associated that name with the auctions, no more. Now they say: "You must be in real estate," Leys said.
While independent real estate companies still operate in the Ocean State, they increasingly are competing with large, international franchises that lend their name and marketing power to local transactions.
This isn't just the luxury market. All tiers of the residential market are now covered by increasingly larger companies.
A single corporation – Realogy Holdings Corp. – owns not only the luxury Sotheby's, but brands that include Coldwell Banker, ZipRealty, ERA, Century 21 and Better Homes and Gardens Real Estate.
According to PBN research, this year, 15 of the 23 largest residential real estate companies, by number of sales in 2016, were franchise companies. Fourteen years ago, it was six of 14.
Leys doesn't regret his decision to become a franchise. The increasing sophistication of sales technology alone has made the partnership worthwhile, he said.
"They bring more to the table today than they did through 2005, when we were an affiliate," he said of Sotheby's. "When we were an affiliate, we were just borrowing their name and putting it on our letterhead. Now, the marketing, the SEO , the website, the technology – it's first up on the list."
For independent companies, the secret to success and survival is relationship-building and staying on top of the technology and marketing needs of agents. They compete for agents and sales, create attractive workplaces, upgrade and maintain slick websites and offer competitive commission structures – which ultimately determine how much money an agent makes on a given sale.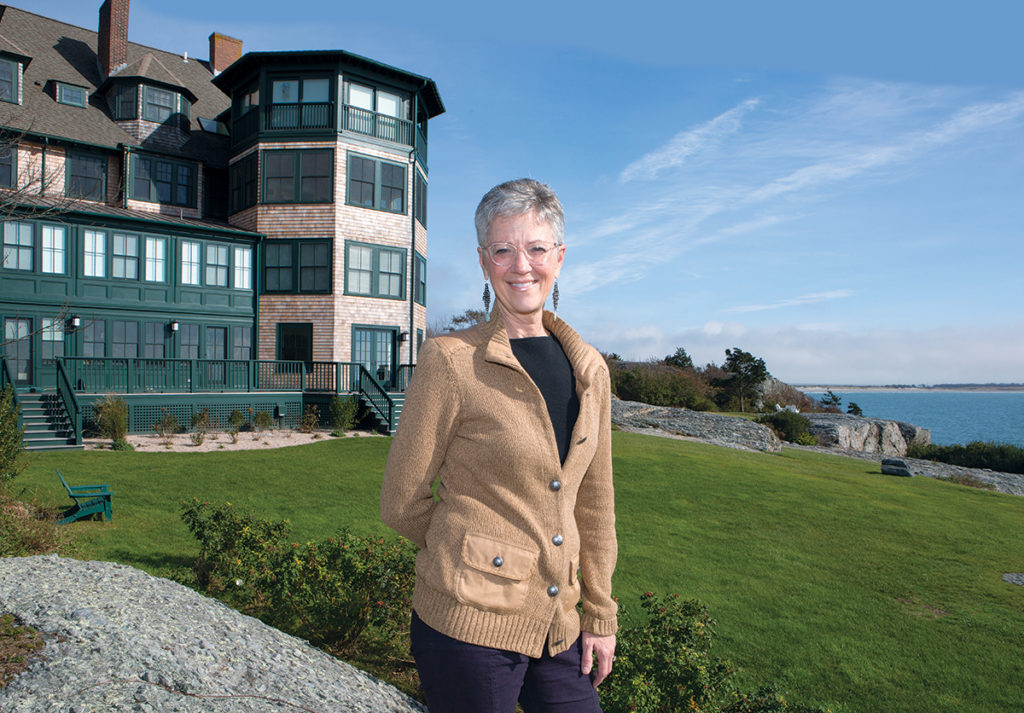 'RANCH BURGERS'
In an environment that's increasingly a seller's market, relationships within communities still matter, which is an advantage to the locally owned, locally known brands, according to Leslie Hogan, a broker and co-owner at Hogan Associates, based in Newport. And while a brand-name affiliation – a Sotheby's or a Christie's – may be critical for the top-tier properties, that end isn't what drives the luxury market in Rhode Island, she said.
Hogan Associates doesn't specialize in the stratosphere, which reflects the Rhode Island market, as opposed to the Hamptons or the West Coast, Hogan said. Family homes are as important to the business as luxury, seasonal homes.
"I don't do the $16 million homes, but I'm pretty good in the $1 million to $6 million range," Hogan said. "It's big news when something sells over $10 million. It would be fun to do that. But in between, you've got to sell what a colleague of mine used to call 'ranch burgers.' You've got to do a lot of ranch burgers in between to keep your head above water."
Hogan Associates, now in its ninth year, remains independent, although Hogan and her partner regularly get inquiries. In 2016, the company reported $69 million in sales, according to PBN research of residential agencies.
Through October this year, Hogan had 13 significant sales exceeding $1 million each. Another five were under contract at the end of October. Hogan, who had a long career in Boston in sales and marketing before entering the real estate profession with her late husband, established Hogan Associates with business partner and co-broker Matthew Hadfield. They have 27 agents.
How do they compete? By offering their agents a good place to work and a competitive split on commissions, she says.
Sally Lapides, president and CEO of Providence-based Residential Properties Ltd., runs an independent company that for the past three years has topped competitors in Rhode Island residential sales by volume and value of residences sold. In 2016, Residential had $789.1 million in sales, and is on track to surpass that amount this year, according to figures provided to PBN.
"We are an independent, and I'm proud of our independence, particularly since the field of independents has gotten smaller and smaller over the years," Lapides said.
The company dominates the residential markets of the East Side of Providence and Barrington, where, as Hogan observed, family homes are the luxury market.
Lapides noted the trend toward consolidations and franchises is not just within the luxury market.
"It's everywhere," she said. "What has happened to the smaller independents is that competitors who are national had so much more money to put toward marketing and technology that it forced [independents] to think about associating with [a national name]. This is all franchising. An individual, independent company will look at their marketplace and they'll look at what they're missing in their own companies, and they'll contact a firm they think will broaden their market."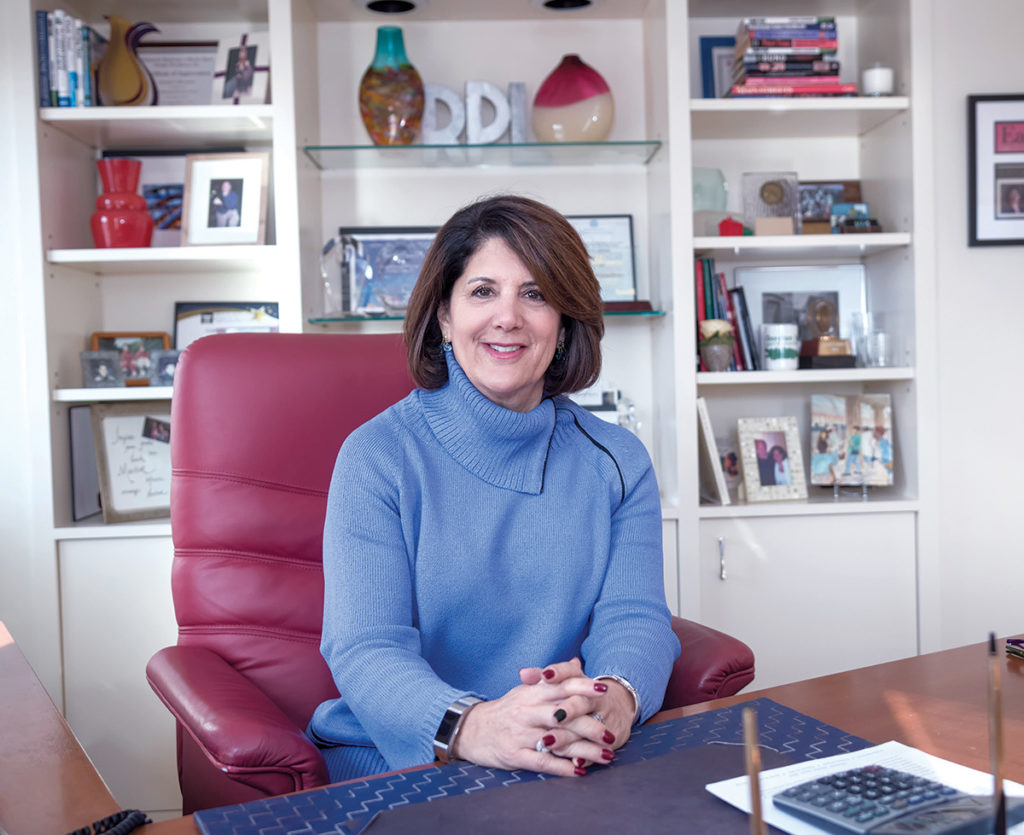 Lapides has bucked the trend by staying deeply rooted to local communities.
She started Residential Properties 36 years ago, so has an established name in Rhode Island, and has been able to recruit top agents. And those agents, in turn, are deeply involved in their communities, Lapides says.
"This is a people business. The deeper your connections are to the community, the more people know what you do," she said. "You want to be, as a real estate professional, the one somebody thinks of when they're selling their home."
Top agents, she says, value the comprehensive support system she can provide. Residential has a full-time videography team, which tells the story of a house not just through overhead drone images. She has a full-time writer, to help create the listing text, a full-time stager, who can best frame and present the rooms, and a full-time resettlement team.
Like other real estate companies, Lapides would not disclose her company's financial incentives or structure but said her greatest competition for agents are the franchises that offer 100 percent commission, in exchange for a flat office fee called a desk cost.
She can argue, she said, that after an agent subtracts the costs for marketing, including fliers, signs, photography and other expenses, the 100 percent commission is much lower.
"We provide, one of the things that makes our company successful, nearly everything for our agents," she said.
Hogan, likewise, would not disclose her company's financial structure but said it's competitive and below the fees associated with franchise companies.
In 2009, when she and Hadfield established the company, after the business she ran with her late husband was dissolved, most of the agents stayed on with them.
"It speaks to how important the individual is in the whole real estate business," Hogan said. "They're independent contractors. If you provide them with infrastructure and a culture that they're comfortable with, they will stay with you."
The commission split is simple and generous toward the agents, she said. "We don't have tiers. Everybody gets the same thing."
Competing requires a stable of performing sales agents and a supporting office that gives them what they need. To market effectively, a company needs an international component to their operation. But you don't have to be a franchise to do that, Hogan said.
Hogan Associates uses Who's Who in Luxury Real Estate, which operates a website with listings of companies by invitation only, based on sales.
Hogan, a self-described computer "geek," handles the technology for the office, a critical component when an estimated 90 percent of sellers and buyers start their shopping online, even before they've engaged an agent.
The current seller's market in Rhode Island has also put greater emphasis on networking. Agents want to be the first one called when a house is about to be put on the market.
Hogan attends seminars and national conferences to help grow her national network, so she can refer business across the country.
The company's split has helped attract leading agents to her, as has the greater autonomy of working for an independent broker. And Hogan said she and Hadfield have worked to create an atmosphere that is supportive within the office. While the agents are contractors, and not employees, they don't abide any drama.
"Matt and I really try to work on having a culture that's cooperative, helpful [and] positive. There are places where the reputation is … how do I put this delicately … more competitive. Everybody is out for themselves." Any kind of behavior like that is nipped quick, she said. "We squish it right down."
IS BIGGER BETTER?
Is it necessary to be affiliated with a luxury brand to sell luxury?
Judy Chace would argue yes, and points to her franchise company's results in the past four years.
Established in May 2013, Mott & Chace Sotheby's International Realty sold $40 million in its first year of transactions, then grew dramatically. Its 2014 sales of $98 million pushed the young company onto PBN's 2015 Book of Lists.
By 2015, its sales topped $136 million. Last year, the company had sales of $187 million, catapulting it over Gustave White Sotheby's, according to PBN research.
So far this year, Chace said, the company has had $351 million in sales.
"All you have to do is look at what we've been able to accomplish," she said.
When she and co-owner Raymond Mott formed the company, they knew they only wanted to do it if they could partner with a luxury, international brand.
A small, independent company would not be able to compete in the luxury marketplace, she said.
"We could have opened ABC Real Estate, and maybe after 10 years," people would have known who we were, Chace said. With Sotheby's, the same sign that has Mott & Chace listings has a luxury ranch in Australia or a lakeview home in England.
'Everybody understands what that [luxury] experience is.'
JUDY CHACE, Mott & Chace Sotheby's International Realty co-owner
"Everybody understands what that experience is," Chace said.
For franchise companies, as well as independent brokers, acquisitions and mergers have led to increased efficiencies and a broader network.
One of the largest in recent years has involved Randall, Realtors, which has grown dramatically. The Randall Family of Cos., the independent, Charlestown-based parent, now includes 27-year-old Randall, Realtors in Rhode Island and Connecticut, Kinlin Grover in Massachusetts and Page Taft in Connecticut.
Through its various divisions, the Randall parent has 31 offices and more than 550 agents, and is responsible for $1.3 billion in sales annually, according to the company.
In another prominent merger in 2015, the 55-agent Prudential Gammons Realty LLC joined Berkshire Hathaway HomeServices, and emerged as the combined Berkshire Hathaway HomeServices Gammons Realty.
The move was intended to bring the Berkshire Hathaway brand to a broader range of consumers, including those in higher-end markets. In 2015, it sold $91 million in homes, $3 million more than PGR sales the previous year, according to the 2017 PBN Book of Lists. By 2016, the sales had grown to $101 million, according to PBN research.
This past summer, RE/MAX Flagship, a Narragansett-based franchise, acquired RE/MAX Premier, which has offices in Providence.
The offices for the expanded company will include a new location on Post Road in Warwick, as well as the existing suites in Providence and the home office in Narragansett. The acquisition will bring 19 existing agents under the Flagship brand, to join the 30 agents in Narragansett.
Why grow bigger?
The move allowed the company to expand its reach across the state, primarily through more effective recruitment of agents, according to owners Christine Tanner and Michael Mita.
'Our customer really is the agent.'
MICHAEL MITA, RE/MAX Flagship co-owner
"Our customer really is the agent," said Mita. "This allows us to service our existing agents with more locations where they might be doing business," as well as add new agents not based in Washington County, who don't necessarily want to travel to Narragansett.
In 2016, prior to the acquisition, RE/MAX Flagship had $165 million in sales. At that amount, it topped several of the brands known for having a luxury reputation in Rhode Island.
RE/MAX has a reputation for having training programs that help agents grow professionally, and a 100 percent commission. The agents pay a flat fee to the brokers for the services provided but keep the rest, said Mita and Tanner.
"We look for two different profiles," said Tanner. "Top producers, by number of transactions, volume. Second, the rising star. [They are] newer in the business, and all of a sudden we notice they're doing good business in a short amount of time."
RE/MAX has a luxury brand, the RE/MAX Collection, which they can access and list for more reach. But the larger segment of the Rhode Island market is not luxury, Mita said.
"You'd rather sell probably three $300,000 houses than one $1 million house. They're easier and there are more of them," he said.
International buyers are not investing in Narragansett, for the most part. The average home price in the town is $350,000.
"We do luxury. And we do everything else. And lots of it," said Mita.