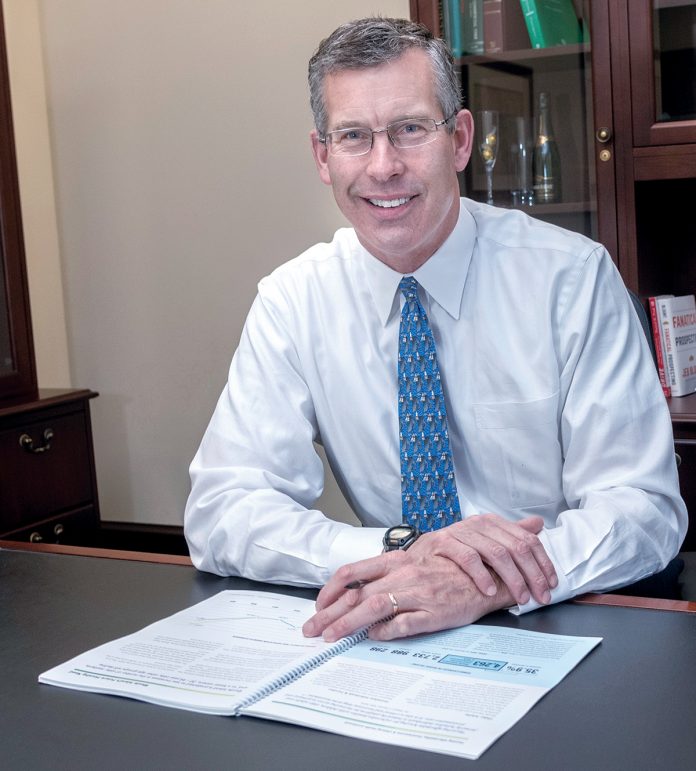 WESTERLY – Washington Trust Bancorp Inc. on Friday reported record-breaking quarterly profit, which grew 37.6 percent to $16.2 million, or 93 cents per diluted share, compared to $11.8 million, or 68 cents per diluted share, a year earlier.
The Westerly-based parent of The Washington Trust Co. reported total interest, dividend and noninterest income grew 12 percent to $56.2 million for the quarter ended March 30. Washington Trust, based in Westerly, is the second largest Rhode Island-based bank.
"Washington Trust started the year on a positive note, reporting record quarterly earnings and earnings per share, for the first quarter of 2018," said Edward O. "Ned" Handy III, chairman and CEO.
Handy assumed the top position at the bank during the quarter. His predecessor, Joseph J. MarcAurele, retired.
The bank reported interest and dividend income grew 13.4 percent to $40.4 million, thanks largely to a $4.2 million boost from interest and fees on loans. Commercial loans grew 3.3 percent to $1.8 billion and residential real estate grew 10.5 percent to $1.2 billion. The growth was slightly offset by declines in consumer loans.
Total loans grew 5 percent to $3.4 billion compared to $3.2 billion a year earlier. Allowance for loan losses, meanwhile, fell to $25.9 million compared to $26.4 million a year earlier.
Net interest margin grew to 3.03 percent compared to 2.87 percent the prior year.
Noninterest income grew 8.5 percent to $15.7 million thanks largely to growth in wealth management and mortgage-banking revenue. Wealth management revenue grew 8.4 percent to $10.3 million, while assets under administration grew 1.6 percent to $6.3 billion.
Total deposits grew 4.5 percent to $3.3 billion. Total assets grew 4 percent to $4.6 billion.
"Our continued profitability, very good asset quality and strong capital position provide a solid foundation for future growth," Handy added.
­Eli Sherman is a PBN staff writer. Email him at Sherman@PBN.com, or follow him on Twitter @Eli_Sherman.