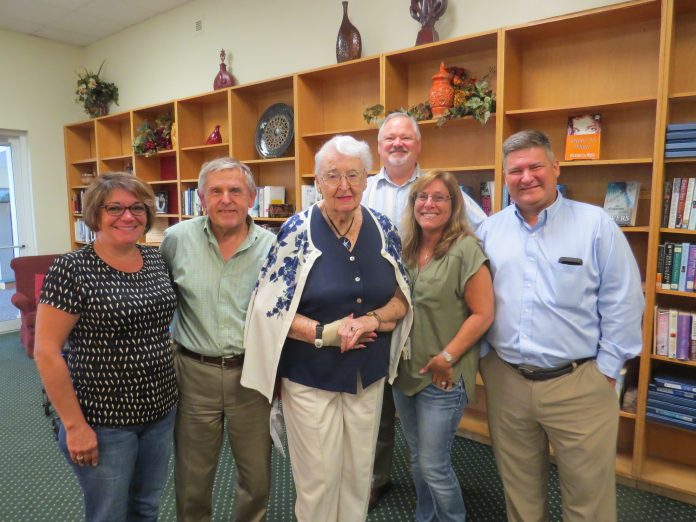 EAST PROVIDENCE – Emmalou Handford married her neighborhood sweetheart, Otto Kirchmeier, a U.S. Army gunnery chief stationed in Panama, while he was on leave in 1942, and wore the engagement ring he bought for 58 years.
Upon Otto Kirchmeier's death in 2002, Emmalou Kirchmeier sold the setting (the stone had been lost) and the rest of her jewelry, so her eldest son, John, a helicopter pilot chaplain and his wife, a nurse, could spend five years ministering in Kenya.
"I was determined to find the money for them to go," Kirchmeier said without regret. But she became nostalgic for the ring and the many years she'd shared with her husband.
In 2018, Kirchmeier relocated to Aldersbridge Communities' Winslow Gardens, an independent living facility in East Providence.
She bought a rose-cut lavender costume jewelry ring for $8 that was for sale in the lobby.
"I tried to recreate my engagement ring as best I could on my limited budget, but it didn't come close to what my husband had given me. Of course, his love was attached to it," she said.
In August, when Kirchmeier was asked by Aldersbridge Communities CEO Richard Gamache to participate in its new ElderVentures program, a wish-granting initiative for its residents funded entirely on donations, "I knew right away that my wish was to get the ring made," she said.
MRT Jewelers in East Providence worked with Kirchmeier to recreate the ring. She selected the stone size and verbalized every detail of its unique setting from memory. At an informal ceremony held recently in the Winslow Gardens library, she was presented with a 6-carat, high-quality emerald-cut amethyst set in a four-prong setting on a 14-karat yellow-gold band.
"It's a dream come true for me," Kirchmeier said. "I never saw this happening and thought it'd be selfish of me. Until this opportunity, I never thought of satisfying my own need, and didn't even realize how much I had a need. It's absolutely amazing. I'm never going to stop looking at it. I keep seeing Otto in it."
The nonprofit Aldersbridge Communities raised $13,000 at its annual gala in June to help fund the launch of ElderVentures. In addition to Kirchmeier's wish, Aldersbridge has since granted another resident's wish to attend a rock concert at Fenway Park with his children. A third wish is in the works to send a resident to upstate New York to visit her brother and sister-in-law.
"Imagine having the power to make someone's dream come true," Gamache said. "ElderVentures enables us to do just that. It's life-changing, heartwarming and, at the same time, extremely rewarding on many levels. It is our hope to grant as many wishes as we can, as often as we can."
At this time, the ElderVentures program is only open to residents who live at one of the four Aldersbridge Communities locations throughout Rhode Island:  Linn Health & Rehabilitation in East Providence, Winslow Gardens assisted and independent living in East Providence, Arbor Hill assisted living in Providence, and St. Germain assisted living in Woonsocket. Residents or their families can make wishes known to the administrators of these communities for consideration by a Steering Committee appointed to grant approvals.
For more information on Aldersbridge Communities' ElderVentures program, contact Director of Development Elise Strom at (401) 438-4456 ext. 136 or email estrom@umeldercareri.org.
Rob Borkowski is a PBN staff writer. Email him at Borkowski@PBN.com.