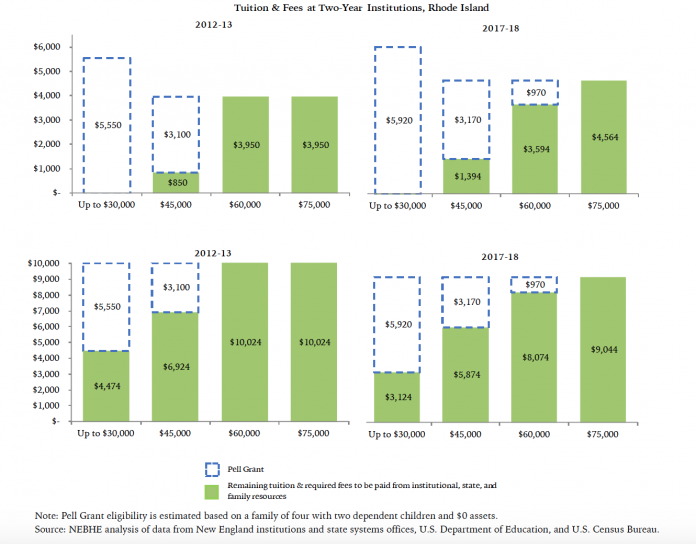 PROVIDENCE – Increases in tuition and fees at public colleges and universities across the region in the past five academic years have widened the gap between those able to afford higher education, at the most basic level, and those who cannot.
Released in November, a report by the New England Board of Higher Education shows the majority of New England-based undergraduates, 55 percent, chose to enroll at public colleges and universities in fall 2016. However, the decision by those institutions to raise tuition and fee totals, often by more than 10 percent, are what the authors of the report consider "prohibitively expensive."
According to the data, Rhode Island's institutions are split. Since the 2012-13 academic year, there has been a 15.5 percent increase in average in-state tuition and required fees at two-year public institutions while four-year public institutions have had a 9.8 percent decline.
Comparatively, two-year public institutions across New England saw a 16 percent bump in tuition and fee costs while tuition and fee amounts rose by 10 percent at four-year institutions.
Increases in tuition and fees for the 2017-18 academic year will cost University of Rhode Island students $14,138 for in-state tuition and $8,929 for in-state students at Rhode Island College, according to the report. These amounts each reflect a 7 percent year-over-year increase and, per the NEBHE data, are expected to net $2.8 million in revenue for the two public schools.
Similar to the region, more than half, or 51.4 percent, of undergraduates in Rhode Island enrolled in public institutions in the 2016-17 academic year. Yet even though Rhode Island's tuition and fee totals are less than the regional average, the November report found statewide public college and university enrollment has declined by 4 percent since 2009.
One factor that helps those less-fortunate to achieve higher education is financial aid. However, given the increase in tuition prices regionally, students are facing larger bills with a minimal increase in aid.
Since 2012-13, NEBHE reported a 15.5 percent increase in tuition and fees at two-year public colleges in Rhode Island and just a 6.3 percent increase in federal Pell Grants.
On the other hand, the 9.8 percent decrease in tuition and fees at four-year public colleges and universities in Rhode Island means households making up to $45,000 per year are able to cover nearly two-thirds of the cost of attendance at a four-year institution after financial aid.
The report noted the Rhode Island Promise free tuition program currently offered at the Community College of Rhode Island may help bridge the gap for some students if expanded to URI and RIC. If enacted, the expansion would cost an estimated $35 million.
While Rhode Island's two- and four-year public institutions saw different results in the past five years, both two- and four-year public institutions in Massachusetts experienced double-digit tuition and fee increases.
An 18.4 percent increase was measured at two-year schools and a 19.5 percent increase at four-year schools – both of which are higher than the regional average of 16 percent and 10 percent, respectively.
In an attempt to counteract the trend, the NEBHE report noted a commitment by Mass. Gov. Charlie Baker to increase college scholarship funding by $7 million, as well as legislation by the Joint Committee on Higher Education to remove tuition and fees for in-state residents at public colleges and universities in Massachusetts.
Published enrollment, tuition and fees, and financial aid figures from colleges and universities in Connecticut, Maine, Massachusetts, New Hampshire, Rhode Island and Vermont were compared regionally in the NEBHE report with U.S. Department of Education and U.S. Census Bureau figures.
Emily Gowdey-Backus is a staff writer for PBN. You can follow her on Twitter @FlashGowdeyor contact her via email, gowdey-backus@pbn.com.