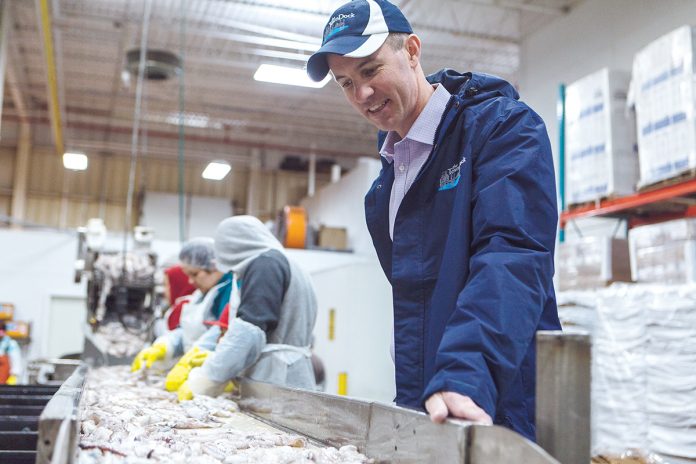 The Town Dock | Lean Management
Call it squid or calamari, but when it's on your menu, family-owned The Town Dock is likely to be the supplier.
Ryan Clark, president and CEO, declined to reveal specific market share data but said Town Dock, which annually handles more than 5 million pounds of calamari, is Rhode Island's largest calamari processor and the nation's largest supplier of the cephalopods to the domestic market.
The Town Dock supplies domestic calamari caught by its dedicated fleet of seven fishing vessels and partner fishing vessels along the East Coast, and calamari from the West Coast and other worldwide venues. Founded in 1980 by Clark's father, Noah G. Clark, the company has a customer base that includes restaurants, seafood and broadline distributors, caterers, and supermarkets.
Seventy-five of its 90 employees work in Rhode Island; others are scattered around the country.
After learning about lean management – a never-ending process of continuous improvement – from Polaris MEP, Town Dock's leadership embraced the concept and hasn't looked back. (Polaris MEP, an entity of the University of Rhode Island Research Division that is funded by the National Institute of Standards & Technology, guides Rhode Island's manufacturers toward sustainable growth, innovative technology and cost-efficiencies.)
"Most of my [employees] have been exposed to Polaris trainings, lunch-and-learns and events," said Clark. "Our team has brought [lean management] alive." These are but a few of Town Dock's lean improvements:
• Its processing plants in Johnston and Narragansett and its fishing-boat fleet added color-coded areas for tools and heavy equipment. The result? More-efficient inventory management and faster preventative maintenance and/or repairs to the fishing vessels.
• Using Kanban cards – a lean-management tool visually conveying a chore's progress through a system or process – on its reorder lines in its dry-goods warehouse contributed to more-efficient packaging and expanded inventory of the case packaging for the calamari lines.
• By learning how to create a spaghetti diagram – a lean tool visually depicting the actual workflow – a team identified problems with the work flow processes for the production personnel in the Johnston plant. The resolution – investing in weather-proof printers and workstations on the line where the production personnel worked – brought significant cost savings and order-accuracy improvements.
The company's growth is primarily due to the team's strength, cohesiveness and talent, and secondarily to lean management, whose return on investment is at least 10 times its cost, says Clark. Growth has been remarkable:
• Gross revenues grew by nearly 36 percent from 2015 to 2017.
• Developing and marketing locally caught calamari to compete against the dominant Chinese market has grown into millions of pounds of new annual sales, which led to hiring more than 20 additional employees.
• By investing more than $1 million to upgrade blast-freezing and processing methodologies and purchasing a 5,000-square-foot corporate office building in Narragansett, Town Dock can now handle 300,000 pounds of squid per day, up from the earlier 125,000 pounds daily capacity.
How does Town Dock differentiate itself? "It's the freshness and quality of the product from Rhode Island's waters, the team that [stands] behind every pound sold and the team's expertise to give customers the most consistent, best-tasting product that anyone can offer," said Clark. Later this spring, he revealed that Town Dock's main calamari line will be the world's first squid species to receive the blue fish label – akin to a seal of approval – from the Marine Stewardship Council, an international organization promoting scientifically grounded sustainable fishing practices.
In the never-ending process of continuous improvement, Clark hopes to take lessons learned from calamari-processing teams and incorporate them with employees working in sales, administration, global procurement and logistics.