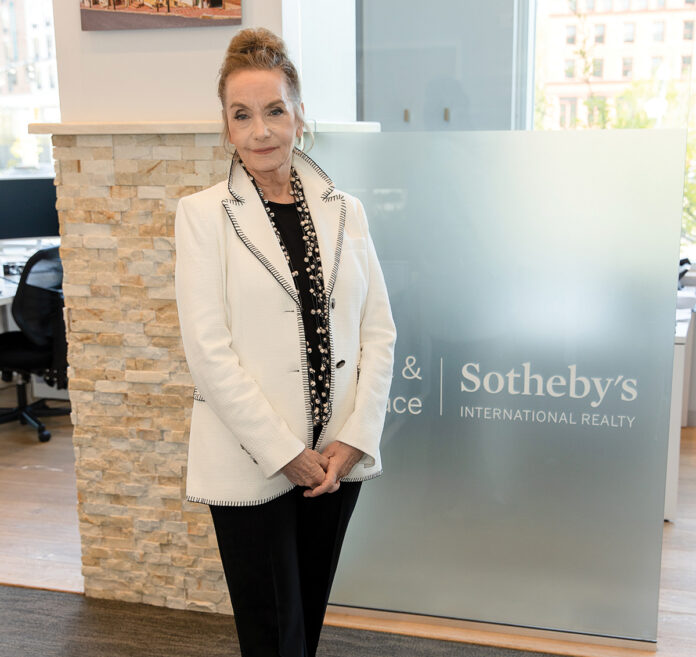 PBN 2023 Business Women Awards
PROFESSIONAL SERVICES INDUSTRY LEADER: Judith Chace | Mott & Chace Sotheby's International Realty co-owner and broker
---
A LOT OF PEOPLE think real estate is just about selling houses, according to Judith Chace, broker and co-owner of Mott & Chace Sotheby's International Realty. But she said it's more about building personal relationships, and then the sales will follow.
Chace has been in real estate since 1989, first with Lila Delman Real Estate Inc., then with Residential Properties Ltd. She started Charlestown-based Mott & Chace with Ray Mott 10 years ago.
"At some point I knew I wanted to have my own company," she said. "I had sacrificed a lot for my career, and I thought the time was right."
When the real estate agency started, there were just two other agents and the first company meeting was held in Chace's car. Now, Mott & Chace has 140 agents in seven offices.
The connection with Sotheby's, the famous British auction house, gives Mott & Chace name recognition and additional marketing clout. It also allows the agency to assist clients who want to buy almost anywhere in the world.
"Judy is one of the most entrepreneurial people I have ever met," said Mary Leahey, head of business development for Mott & Chace. "She had a vision for what she wanted to accomplish with this company, and she's worked tirelessly to achieve that. She felt there was a need for another voice in the luxury market in Rhode Island, and she wanted to be that voice."
Mott & Chace specializes in "the luxury experience" in locations such as Newport, Westerly, Little Compton, Jamestown, Barrington, Narragansett and more. Chace was born in Providence, grew up in East Providence and can trace her ancestry all the way back to Roger Williams.
"I'm very bullish on Rhode Island," Chace said. "The state is becoming more and more popular, more of a destination people want to come to."
She said the financial climate, such as mortgage rates, impacts all real estate, but luxury housing is a "micro-market" with its own particular issues. These are often second homes, or even third, and they might be discretionary purchases rather than necessities.
One issue Rhode Island faces is a lack of housing inventory – there are just not that many homes available. "If you build it, they will come," Chace said. "But there's a housing shortage in Rhode Island at all price levels."
Climate change has become an increasing issue for companies such as Mott & Chace that sell a lot of coastal property. "We're certainly more sensitive to that now. Superstorm Sandy really opened a lot of eyes," Chace said.
COVID-19 was an unusual and unexpected experience for the agency, Chace said. When the pandemic first hit, Mott & Chace held a Zoom call with its employees to try and figure out the path forward.
It turned out that homes in Rhode Island became extremely desirable to affluent urbanites looking to get out of big cities. Mott & Chace-marketed houses were being snapped up almost as soon as they went on sale.
"A global pandemic became a reason for people to discover Rhode Island," Chace said.
Chace said that over the past decade, she has backed off from selling houses herself and spends more time as a mentor. "Sometimes I'm the 'deal doctor,' but it's mostly about supporting the 140 agents in the company … I feel very close to my agents," she said.
Leahey said Mott & Chace has taken great care to create a collaborative culture at the agency, which includes both agents and staff, and Chace herself is accessible to everyone in the agency.
Mott & Chace has also been a philanthropic force in the community, supporting organizations such as Crossroads Rhode Island, the Rhode Island Hospital Foundation and others.
Chace is known for her abiding interest in animals. The agency is among the top sponsors of the Potter League for Animals, and Chace is founder of The Whinny Fund, an equestrian rescue organization.
"I've loved animals all my life," she said.

Want to share this story? Click Here to purchase a link that allows anyone to read it on any device whether or not they are a subscriber.